Prepare for a turbulent El Niño winter — with a major wild card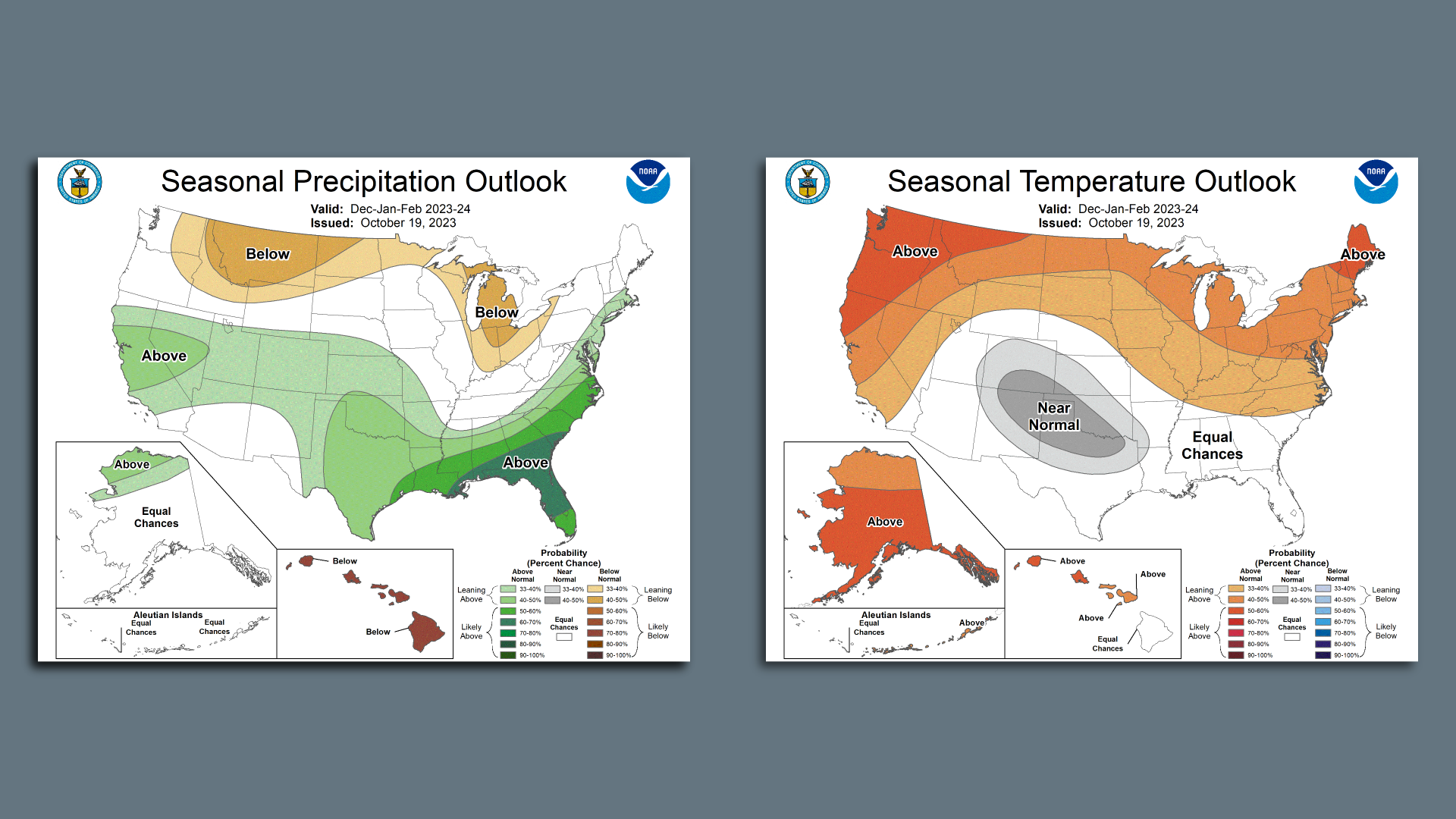 The combination of a strong El Niño in the tropical Pacific Ocean and record high global ocean temperatures are likely to shape the upcoming winter season across the U.S., per an NOAA outlook released Thursday.
Why it matters: Everyone from ski area operators to water managers, public works departments and insurance companies — plus ordinary winter storm lovers (and snow-haters) — heed the outlook for planning guidance.
The big picture: El Niño, which is currently rated as strong and forecast to intensify further, typically has its greatest affects on weather patterns across North America during the winter months.
As far as temperatures go, there are higher than average odds for unusually mild conditions across much of the Lower 48 states, particularly along the northern tier and into the Northeast, as well as in northern Alaska, NOAA states.
However, this will not necessarily translate to a lack of snow in these areas.
El Niño winters in the U.S. tend to feature a split jet stream flow across the country.
That entails an active southern branch carrying storms from California and across the southern tier of the country, bringing above average precipitation to areas from central California to Florida. The northern branch of the jet stream would have cold, Arctic air with it.
In situations where the northern and southern branch can closely interact, or "phase" with one another, major, moisture-rich storms can form.
Between the lines: If temperatures are cold enough over land, the heavy precipitation could fall as snow.
Jon Gottschalck of NOAA's Climate Prediction Center said Thursday that the main storm track along the East Coast tends to be suppressed south and east during El Niño years, raising the likelihood of heavy snowstorms for the Mid-Atlantic states.
He noted that the winter of 2009-10, when Washington, D.C. saw the major "Snowmageddon" blizzard, among other storms, was a winter with a strong El Niño.
"There's hope for snow-lovers," he told reporters on a conference call, despite the expectation of above average temperatures for the season.
Gottschalck noted that while El Niño events typically bring above average rainfall to parts of California and the West, that is an unusually uncertain part of the forecast for this winter, partly because no two El Niño events are exactly alike.
The intrigue: It's not yet clear how record warm global average air and sea temperatures will tip the scales in terms of air temperatures and precipitation trends this winter, though forecasts did take it into account.
2023 is on track to become the hottest on record globally, with every month since April setting a record for the warmest ocean temperatures yet recorded.
Such warmth has ramifications, such as increasing the odds of warmer-than-average conditions through the winter months.
What we're watching: How other factors that affect winter weather on shorter timescales, such as the North Atlantic Oscillation, affect this winter.
This feature, also known as the NAO, is a pattern of air pressure over the North Atlantic Ocean that can help spark and steer storms.
Go deeper: Explore Axios Visuals' in-depth project on El Nino's global impact.
Go deeper