Doctors question Medicare quality program as more face steeper penalties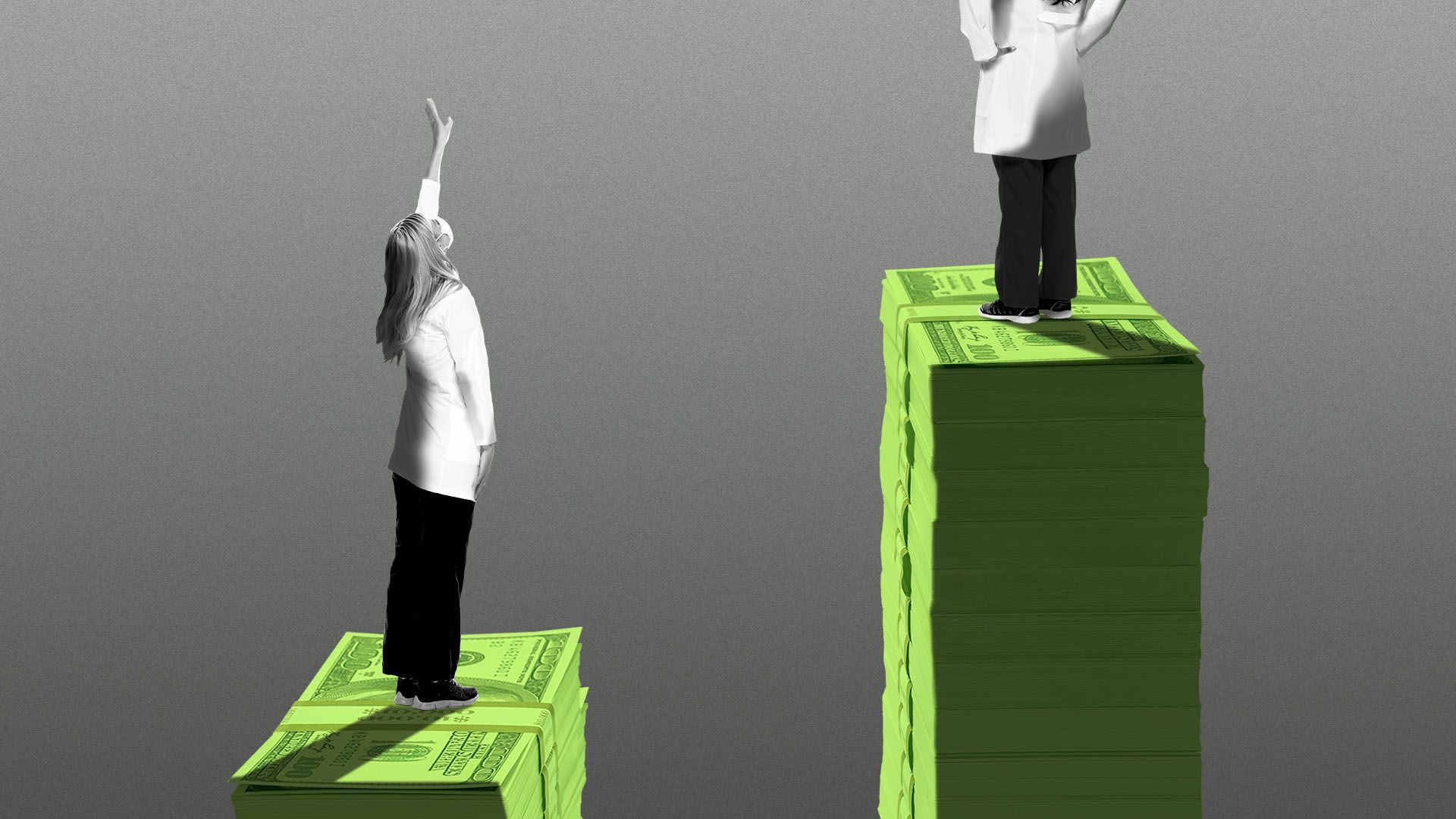 For years, the vast majority of physicians who participated in a Medicare program incentivizing high-quality care got payment bonuses.
But more doctors than ever are expected to soon be penalized for falling short of tougher new Medicare standards, prompting increased questions from providers about the program's impact.
Why it matters: The program, known as the Merit-Based Incentive Payment System (MIPS), was designed to get tougher as providers got more accustomed to tracking quality metrics, but providers say it's causing more trouble than it's worth.
The program launched in 2017 as part of a Medicare overhaul aimed at pegging physician pay more closely to care quality.
"[T]here is growing evidence that this program is unduly burdensome, completely divorced from quality improvement, and exacerbating health inequities," the American Medical Association wrote to the Centers for Medicare and Medicaid Services.
Catch up quick: Medicare payment for doctors and other clinicians is adjusted up or down based on the quality of care they provide.
Most participate in MIPS, though providers can instead choose to join a more advanced value-based care program that comes with greater rewards or penalties.
Quality bonuses are primarily paid out from penalties on lower-performing providers.
In the first five years of MIPS, most clinicians met or exceeded quality standards. This year, for example, 96.7% of clinicians avoided penalties, which meant the payment bonus for even the top performers was relatively modest at 2.34%.
Driving the news: The AMA said it's heard that more providers and practices are getting hit with penalties for next year, which can reach as high as 9%. That's especially concerning doctors as they face a cut to their base Medicare payment next year, the AMA told Medicare.
While the data won't be publicly available until spring, officials previously estimated that 67.5% of clinicians would avoid penalties in 2024 — a sharp decrease from this year.
CMS raised the threshold for earning a performance bonus. It also factored cost of care into performance scores for the first time since the pandemic began. But providers didn't get updated information about their costs during the performance period last year and therefore didn't have the opportunity to adjust, according to the AMA.
The bonus payment program was paused during the pandemic, so some providers also may not have realized it started up again, said Jeff Davis, health policy director at McDermott+Consulting.
Where it stands: CMS signaled that its standards are only going to get tougher. More than half of providers will see their pay docked in 2026 for failing to meet performance standards the agency has proposed for next year.
The big picture: The program was meant to be an on-ramp to more ambitious alternative payment programs, but provider groups say it's fallen short of that goal.
"I don't think it's delivered as promised," said Darryl Drevna, senior director of regulatory affairs at the American Medical Group Association.
"Our members started to realize this is just one of those exercises we go through, but it's not really going to drive systemic change to health care," he said.
Program scores don't necessarily correlate with quality of care doctors provide, according to a JAMA study last year.
CMS told Axios a voluntary MIPS reporting option that started this year, which tailors quality measures to specific specialties and conditions, is "the future of the MIPS program" and "offers a more connected assessment of quality of care."
MIPS has helped consolidate quality measures physicians face from various programs, said Lesley Yeung, a lawyer for Epstein Becker Green who advises providers on Medicare payment programs.
But MIPS hasn't yet evolved from a tick-the-box item for providers into a true catalyst for value-based care, she said.
"That was always the goal, was my understanding, but getting there through the current process has just been long and arduous and still needs some work," she said.
The intrigue: While MIPS penalties get steeper next year, a select few providers will see higher rewards than ever before, partly due to an additional bonus pool that expires next year.
The highest performers will reportedly see an 8.25% pay increase to all their Medicare claims next year.
The disparity between bonus system winners and losers is expected to continue going forward, even as the additional bonus pool goes away. That could send the wrong message to providers, Davis of McDermott+Consulting said.
Congress should consider whether the current system incentivizes providers — especially larger practices — to "game MIPS" rather than strive to enter alternative payment models, he said.
What's next: Physicians are lobbying Congress to make big changes to how Medicare pays them, and they hope MIPS will be part of the conversation.
"I'm going to go sit down and talk to our membership to see, OK, what worked and what didn't, and let's try to come up with some recommendations," Drevna said.
Go deeper