"Life-threatening" flooding hits New York City metro area, stalling travel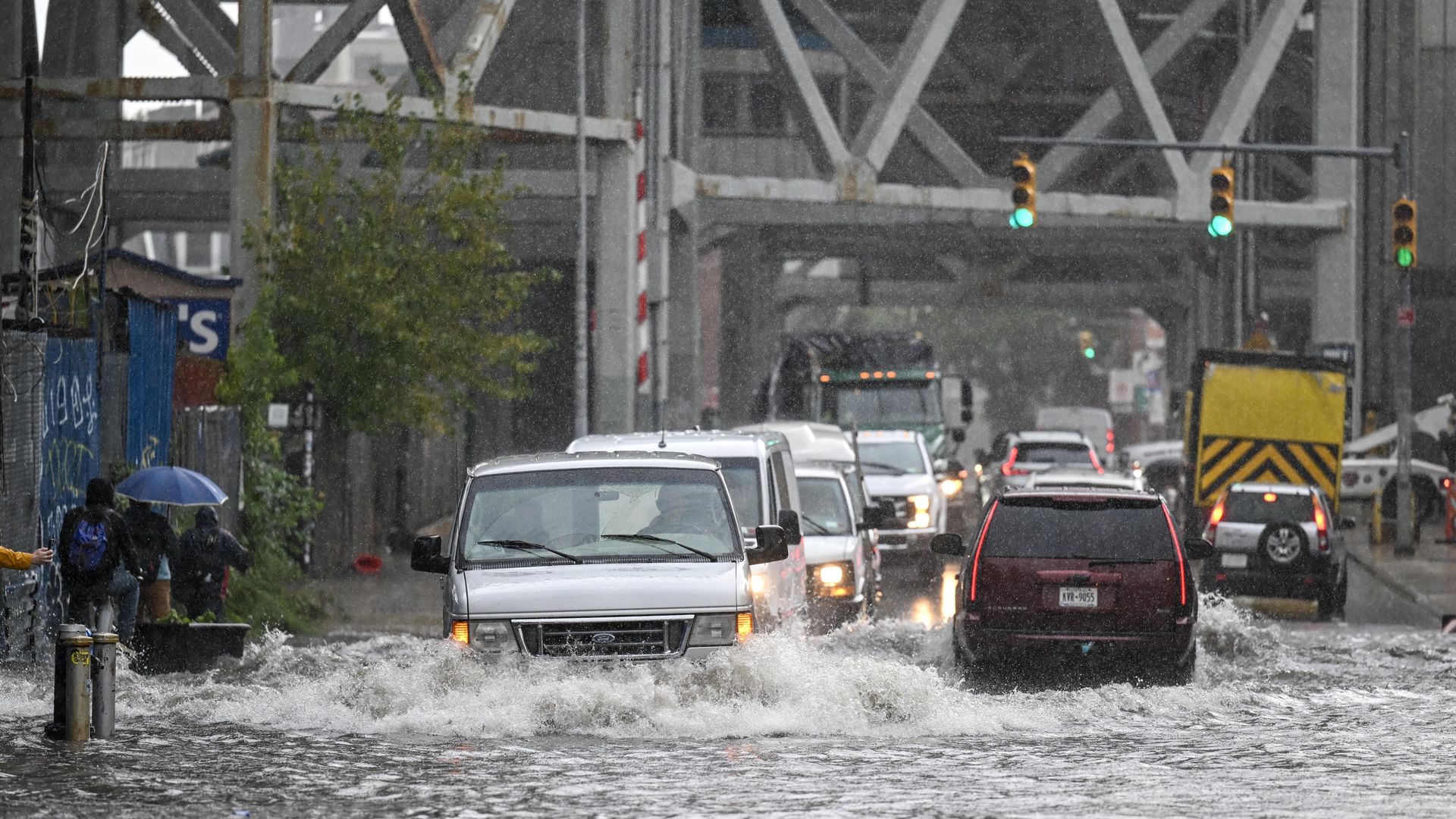 An extended period of torrential rainfall led to severe flooding across New York City, from New Jersey through all five boroughs and extending northeast into Connecticut.
Threat level: More than eight inches of rain have fallen in the region as of Friday evening, with pictures on social media showing cars flooded up to the tops of their windows, roadways converted to lakes, and water pouring into basement apartments.
The National Weather Service is warning residents that with more rain on the way, flood damage could be "considerable," noting the high water is "life-threatening" and emphasizing the need to avoid flooded roadways.
"Stay away or be swept away," read a NWS warning for much of the city issued Friday morning.
The latest: New Jersey Gov. Phil Murphy declared a state of emergency as of 3pm ET, with heavy rainfall expected to accelerate in many parts of the state over the next several hours.
Friday became now the wettest day on record at JFK Airport since 1948, with 8.65 inches of rain, per the NWS.
New York Gov. Kathy Hochul (D) issued a state of emergency earlier Friday in response to the flooding for New York City, Long Island and in the Hudson Valley. She called it a "life-threatening rainfall event.
New York City Mayor Eric Adams (D) urged New Yorkers to shelter in place.
"I want to say to all New Yorkers, this is time for heightened alertness and extreme caution," he said at a press conference. "If you are home, stay home. If you are at work or school, shelter in place for now. Some of our subways are flooded and it's extremely difficult to move around the city."
According to storm reports relayed to the NWS, the fuel tank farm at LaGuardia Airport was shut down due to flooding, and the airport access road is impassible as well. The airport's Terminal A was also severely flooded, per a photo on social media.
Of note: The flooding problems are being exacerbated by high rainfall rates, with 2 inches per hour observed at times.
Central Park picked up about 5 inches of rain, for its wettest day since the disastrous remnants of Hurricane Ida flooded the city, killing more than 40 people.
Parts of Brooklyn have seen more than 6 inches, as well.
The Bronx River at the New York Botanical Gardens in the Bronx also entered major flood stage.
Context: The heavy rains were the result of leftover moisture from Tropical Storm Idalia, a low-level air flow moving from southeast to northwest, as well as abundant support for rising air in the mid-and-upper levels of the atmosphere.
Computer models had clearly shown the potential for extremely heavy rains between 12 to 24 hours in advance, including the likelihood for the heaviest rains to focus on the Acela corridor between Philadelphia and New Haven, Connecticut.
Heavy precipitation events have become more frequent and severe in many parts of the world due to human-caused global warming, since as ocean and air temperatures increase, the air can hold higher amounts of water vapor.
Storms can then convert this water vapor into heavy precipitation.
Much of New York City's infrastructure was built for the climate of the past, which no longer exists due to human-caused climate change.
Editor's note: This story was updated with additional information.
Go deeper