Lawyers spar over Microsoft-Activision tweets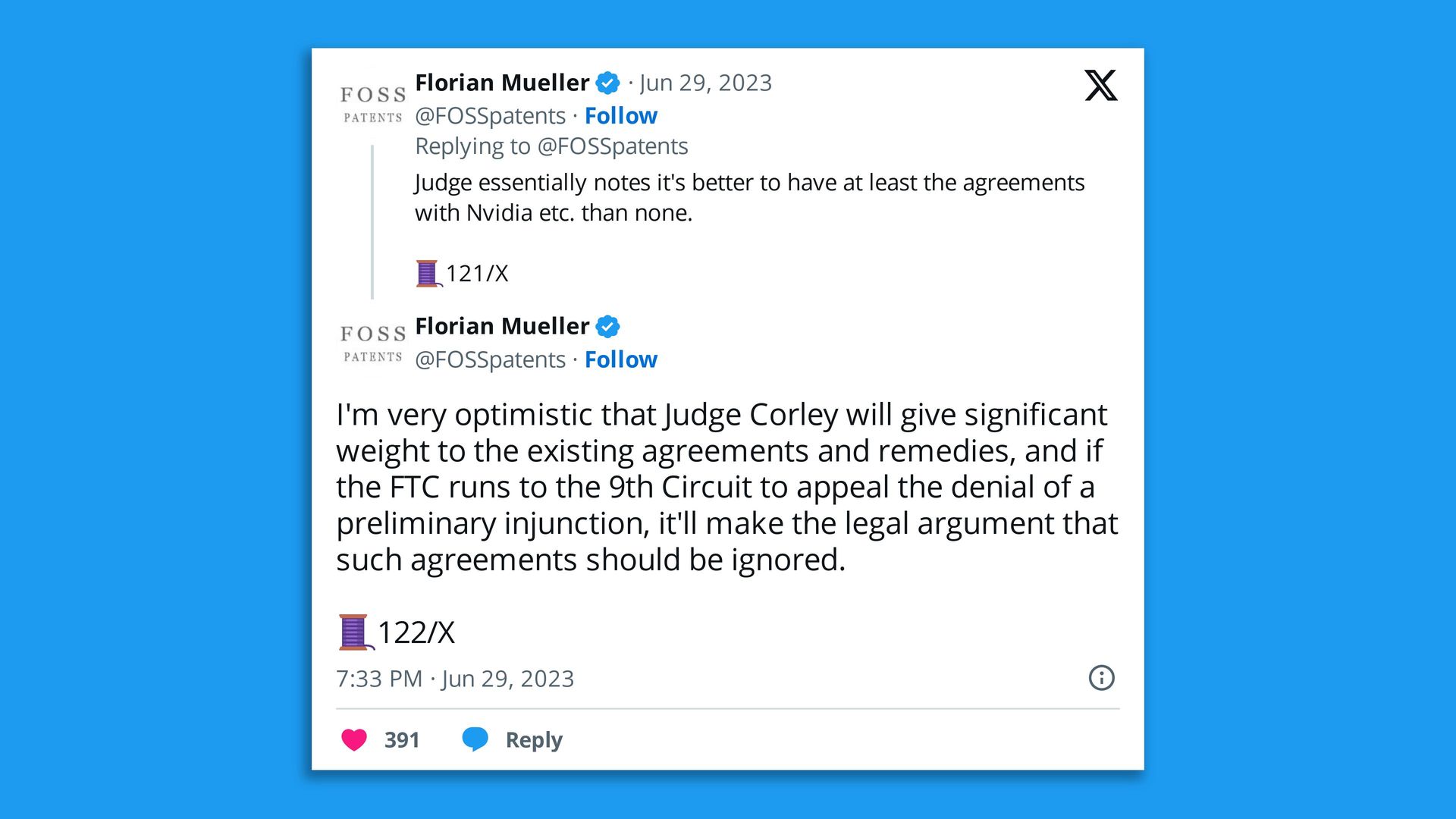 Tweets (or X messages) about the Microsoft-Activision deal from one of the topic's most vocal online commentators are themselves becoming part of a legal fight around the deal.
Driving the news: On Friday, a lawyer representing a group of gamers who are part of a suit in federal court to block the deal, pressed federal District Judge Jacqueline Scott Corley to compel Microsoft to produce any communication it has had with tech pundit and occasional consultant Florian Mueller.
But on Monday, Corley denied the request, saying "the information sought is not relevant to any claim or defense" in the lawsuit.
Between the lines: Mueller's energetic, daily tweets about court battles and regulatory drama around the deal — some days more than 100 threaded messages long — have become a go-to resource for online observers and partisans for and against the deal.
Mueller has made no secret that Microsoft should be able to buy Activision and has been particularly disdainful of the so-called gamers' suit, often citing the defeats its lawyers have had in other cases.
The gamers' lawyer noted Mueller has been a consultant for Microsoft and said it's a matter of interest if Microsoft is running a "paid propaganda and influence campaign over this merger."
What they're saying: "I never tweeted for hire," Mueller told Axios today.
"I've tweeted about that merger and some other topics at times when I had a consulting relationship with Microsoft as well as at times when I did not." He has disclosed past consultancy with Microsoft on his blog since last year.
In its own response Friday, Microsoft called the request "irrelevant," saying Mueller already disclosed he "had" done consulting for Microsoft and Blizzard and says "it is not ... paying Mr. Mueller to sway public opinion about this case."
Be smart: In 2012, a federal judge in California ordered Oracle and Google to reveal any bloggers or reporters it was paying for work. Oracle said it paid Mueller to consult on competition issues but was not hired to write about the trial, according to The Verge.
Over the weekend Mueller tweeted that "In a world littered with losers, some Sony-aligned deal opponents occasionally bring up that 2012 story about my work for Oracle."
In a four-message thread, he noted that he'd disclosed his consulting for Oracle before a judge had even asked.
This article was updated to reflect Judge Jacqueline Scott Corley's ruling on the matter.
Sign up for the Axios Gaming newsletter here.
Go deeper