General Motors and Stellantis announce layoffs amid ongoing UAW strike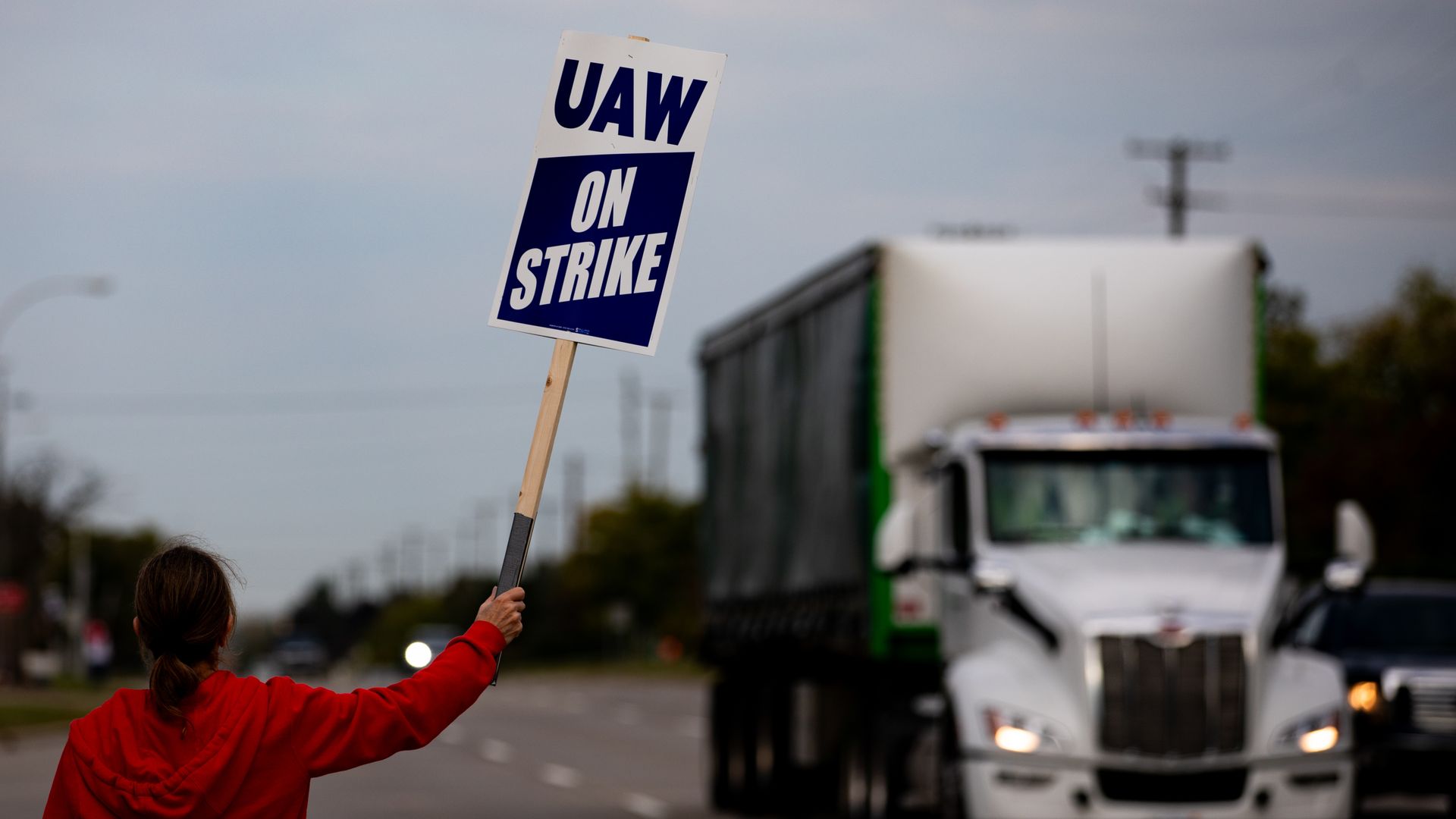 General Motors and Stellantis announced layoffs affecting over 2,000 combined workers Wednesday, as the historic United Auto Workers strike continues on.
The big picture: The UAW's president, Shawn Fain, has demanded that the three companies targeted in the strike make significant progress on a fair agreement by Friday at noon or he will urge more workers to join.
As of Wednesday, all three automakers the UAW is targeting have officially laid off employees as a result of the walkouts.
GM confirmed the layoffs of more than 2,000 workers at its Fairfax, Kansas, plant, which had been expected, to Axios on Wednesday.
GM and Ford said last week they would have to shutter other factories impacted by the work stoppage at the targeted plants.
Catch up quick: Thousands of UAW employees went on strike last week. It's marked the first time in the UAW's history that it is targeting all three automakers — General Motors, Stellantis and Ford — at once.
The strike began at factories in Michigan, Ohio and Missouri.
The UAW has several demands for the auto companies, including increased wages, better benefits and protections that account for automakers shifting toward electric vehicles.
Details: General Motors said most of its represented team members were leaving the plant "as there is no work available."
"This is due to a shortage of critical stampings supplied by Wentzville's stamping operations to Fairfax. The team members at Fairfax are not expected to return until the situation has been resolved," General Motors said.
"We have said repeatedly that nobody wins in a strike," the company said, adding that "effects go well beyond our employees on the plant floor and negatively impact our customers, suppliers and the communities where we do business, such as in greater Kansas City."
Stellantis, Chrysler's parent, said it is immediately temporarily laying off 68 employees at its plant in Ohio, citing "storage constraints," per a statement Wednesday.
The company anticipates additional layoffs of 300 employees at two of its facilities in Indiana.
Stellantis said the 68 employees laid off in Ohio come as a consequence of the recent strike at its Toledo Assembly Complex.
Ford last week said 600 employees would be temporarily laid off as a result of the work stoppage in the assembly and paint departments at its Michigan factory.
Go deeper: UAW's targeted strike strategy bleeds to other plants
Go deeper