The best way to celebrate a classic video game might be a documentary you can play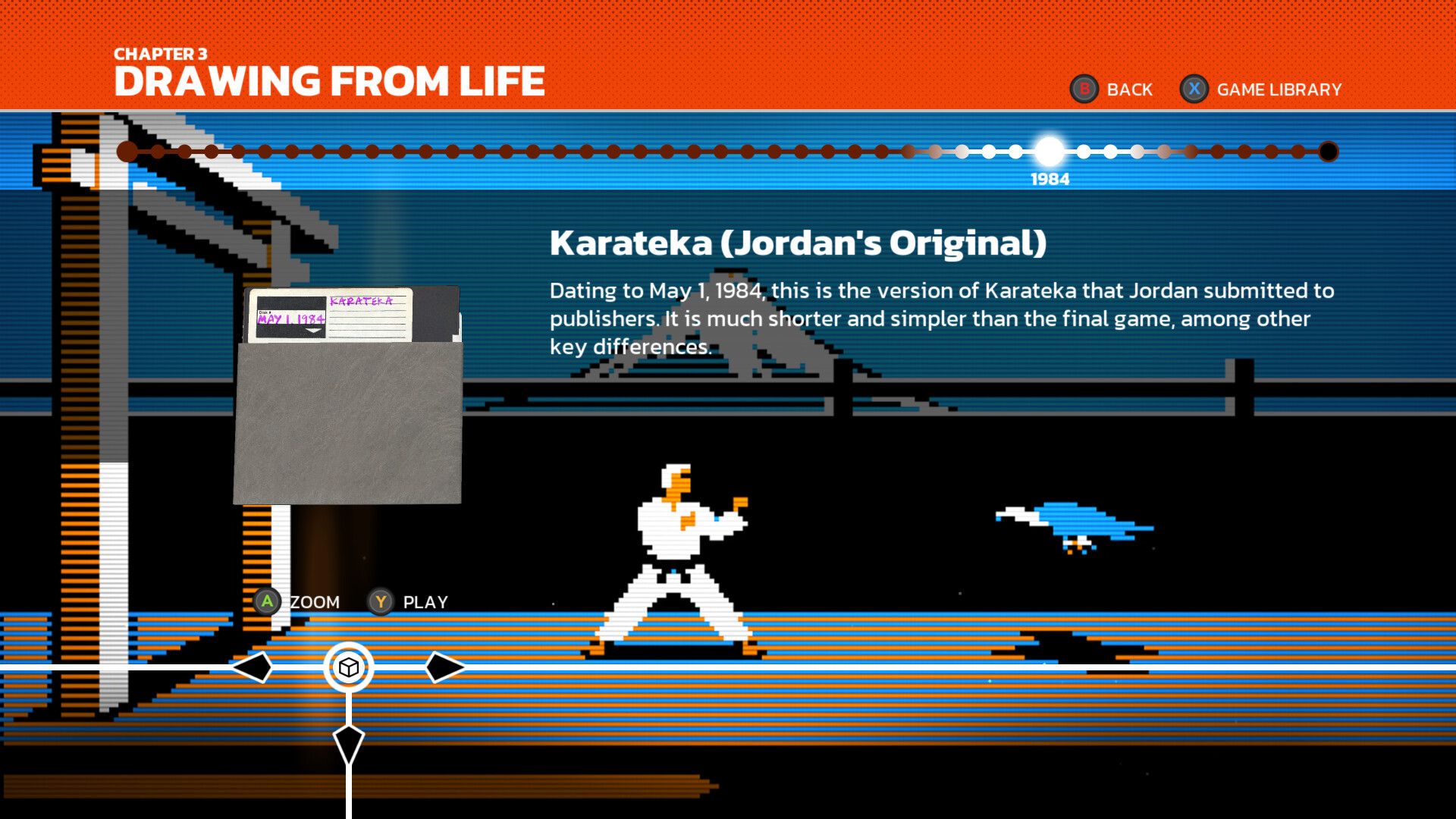 The creators of The Making of Karateka are betting that "interactive documentaries" are the ideal way to celebrate classic video games.
Why it matters: Video games can fade from my memory quickly, and the hardware that runs older games is generally not available, making it hard for modern players to easily experience the classics—let alone learn about them.
Details: The Making of Karateka is an unusual new release for consoles and PC from history-minded studio Digital Eclipse. Users navigate an interactive timeline with a game controller, along with a compilation of relevant, old games to play.
Between the lines: The original Karateka was designed primarily by Jordan Mechner, with help from his father.
The karate fighting adventure was a mid-1980s hit on the Commodore 64 and other obsolete systems thanks to its novel, rotoscoped animations and dramatic, story-driven presentation.
The new release details the game's creation via a timeline, offering a heap of clickable notes from the young Mechner, occasionally contentious letters between him and companies porting the game, video footage showcasing the animation work and playable copies of multiple versions of Mechner's early games.
The library includes several playable builds of Karateka so users can feel how the game evolved.
What they're saying: "We believe the best way to tell the stories — the fascinating, captivating stories! — of video game history is not through a book or film but through the medium of the video game itself," Chris Kohler, editorial director at Digital Eclipse, told Axios over email.
"Respecting classic games means bringing them back in their proper context, so that the player can fully appreciate these games with an understanding of how they were made, who made them, and importantly, why they were made."
Thought bubble: I played the original Karateka on my C64 in 1987 or so and enjoyed this chance to learn and play its history.
Full disclosure: Digital Eclipse's Kohler is a former colleague of mine, and the Making of project includes a 20-minute exploration of the game's music by my music-expert pal Kirk Hamilton.
But it's my childhood enchantment with the original game's animations, and the mental scars I have from battling its notorious enemy bird that most predisposed me to enjoy this project.
What's next: Digital Eclipse wants to make more of these. "Maybe it's not about one single game but one person, or one franchise, or even something that weaves several different games all together to tell one cohesive narrative," Kohler said.
Sign up for the Axios Gaming newsletter here.
Go deeper