House GOP group adds to conservatives' budget demands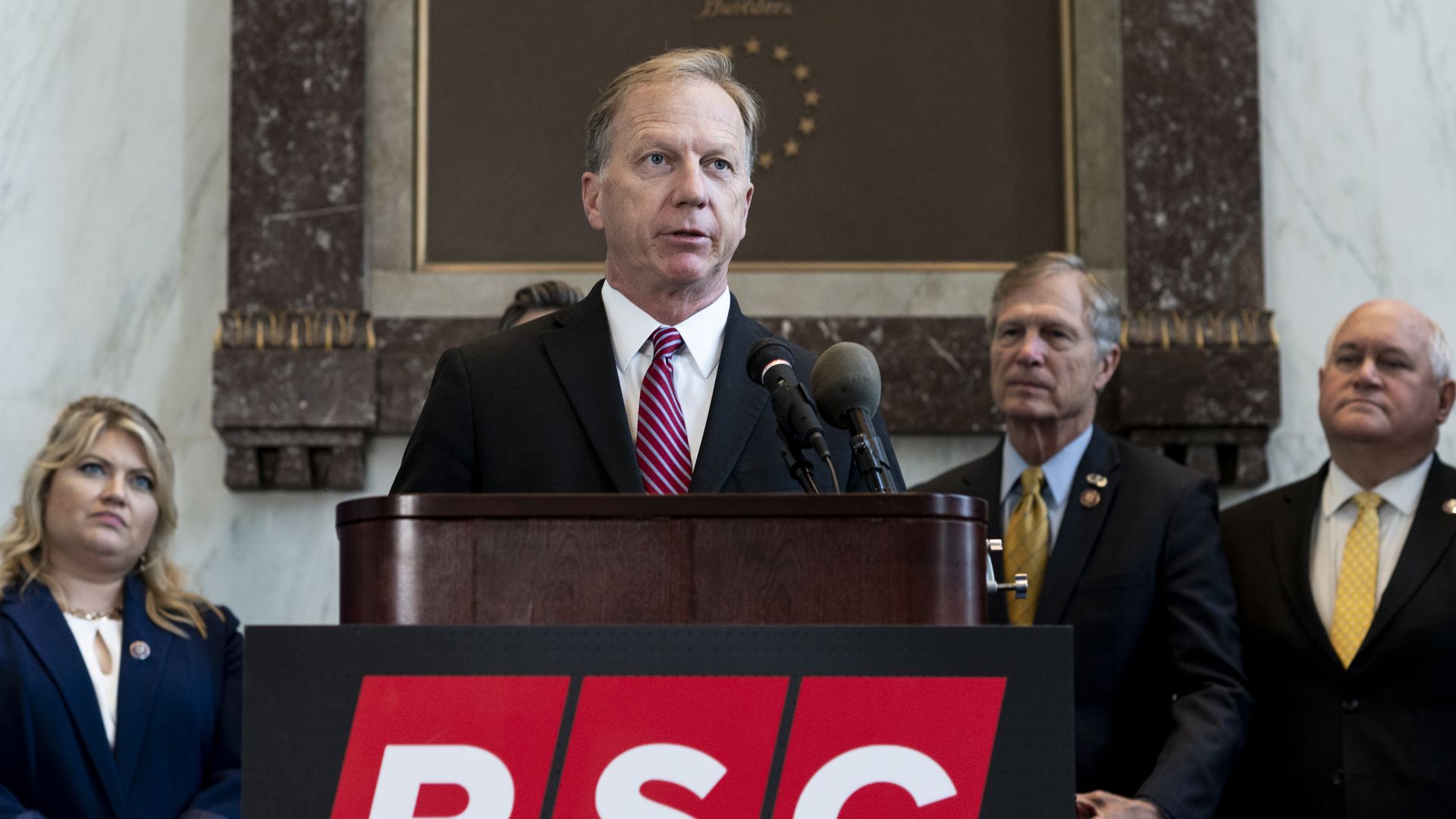 A group that includes nearly 80% of the Republicans in the House is ramping up its calls to include border security and spending cuts in a short-term spending bill that would be needed to avert a government shutdown on Sept. 30.
Why it matters: The Republican Study Committee — made up of 176 of the party's 222 House members — wants the provisions included in any continuing resolution (CR) that would be brought to the House floor.
The group, which based its demands on a survey of its members that was obtained by Axios, presented its terms to House Speaker Kevin McCarthy's team Thursday.
The group's plan joins a series of demands House conservatives have made to McCarthy — a laundry list of do-this-or-else items that have clogged the chamber's effort to pass spending bills and increased the odds of a government shutdown.
Zoom in: The RSC's large presence in the House makes it likely that its desires will warrant particular attention.
The group's survey of its members found that more than three-fourths of the group said CR spending levels should be at pre-Covid levels and paired with "one or more conservative priorities such as pro-energy reforms, border security provisions, and/or regulatory reforms."
The group said the temporary funding measure should expire before Congress breaks for its holiday recess late this year.
The survey results indicate that a sizable number of Republicans won't accept temporary funding without significant wins for conservatives.
Members of the right-wing Freedom Caucus, meanwhile, are also pushing back against legislation that would keep current funding levels in tact.
Several Republicans said a government shutdown is "inevitable" and McCarthy's leadership position would being on rockier ground if a stopgap budget measure with current spending levels is brought to the floor.
What they're saying: RSC members have asserted the House needs to act swiftly to on an agreement to avoid being "jammed by the Senate," which is working on an appropriations bill with higher spending levels than most of the GOP-led House wants.
"I think if we put something forward on a CR with some significant restraint and spending and securing our southern border, I think that we could get 218 Republican votes again," one senior RSC member told Axios, referring to the number of votes needed to pass a bill in the 435-member House.
"I really think that the conference has got to decide what's the main target, I think that target is the border, securing the border," Rep. Drew Ferguson (R-Ga.) said. "Let's get that done and then let's go pass these appropriations bills."
The bottom line: Multiple members on both sides of the aisle have voiced pessimism about Congress' odds of averting a shutdown, with members having just days to work out a plan.
"I think it's certainly inevitable if we just go with what the Senate's wanting, which is straight continuing with Nancy Pelosi's policies and really not doing anything to fundamentally change the direction of the southern border," the senior member said.
The RSC's move comes as House Republicans struggle to pass individual spending bills. GOP leaders opted to pull a procedural vote on an appropriations bill this week amid conservatives' frustrations and the absence of a few members for medical and family reasons.
Go deeper