Walgreens makes first health care move since CEO's exit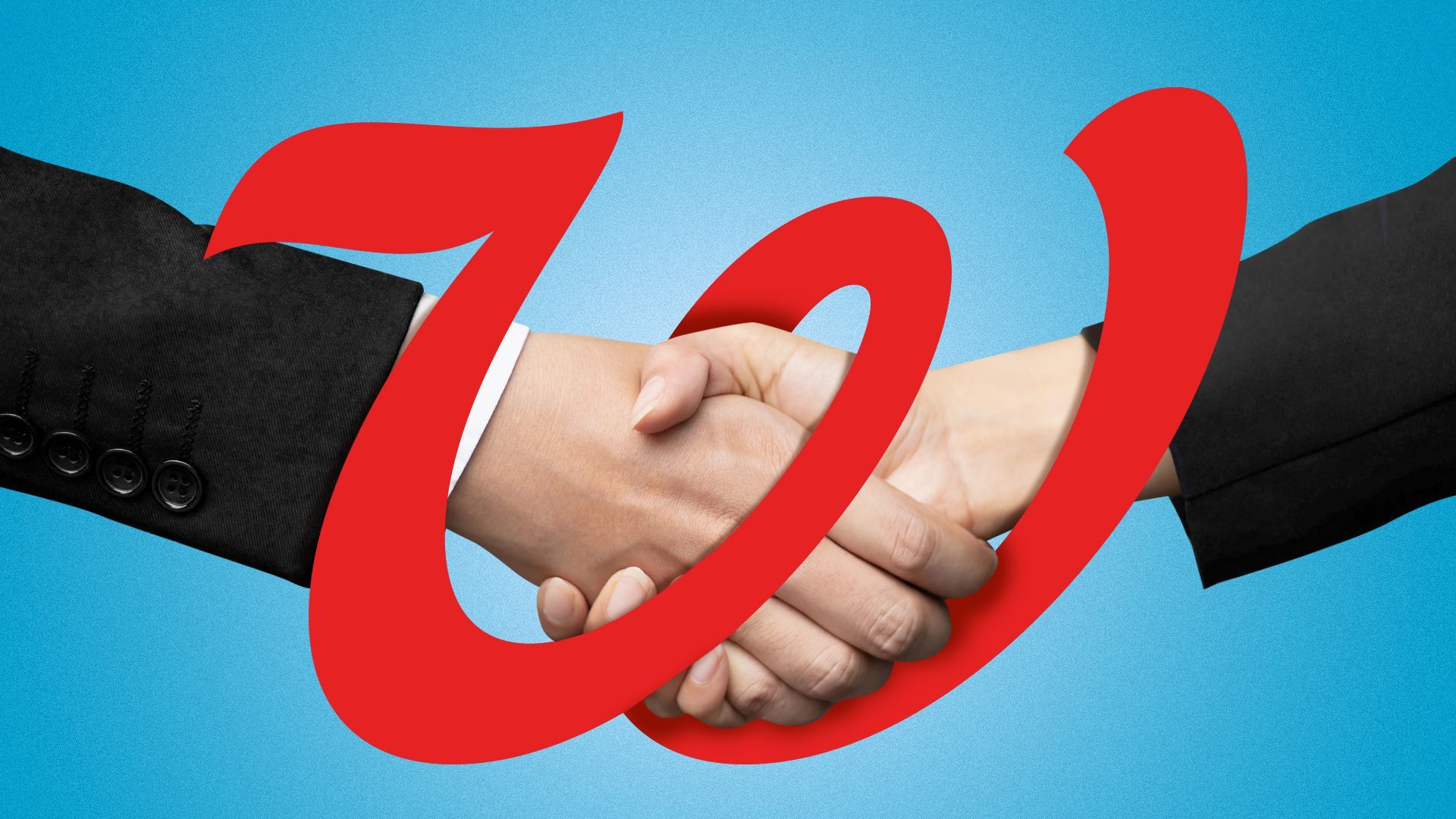 Walgreens is expanding its value-based care footprint in its first major health care move since the sudden departure of CEO Rosalind Brewer earlier this month.
Why it matters: The national pharmacy giant, which also recently saw its CFO leave, has signaled its desire to bolster a health care delivery business that has fallen short of investors' expectations as retailers angle for primacy in the sector.
Driving the news: Walgreens announced this morning it's teaming up with Pearl Health, which has a platform to help enable value-based care, to accelerate Walgreens' collaborations with community-based primary care physicians.
Walgreens officials called it an example of how the company is continuing to lean into its strategy of building up its value-based care portfolio and partnering with local health systems and providers.
Between the lines: If competitors like CVS Health are trying to corner a piece of the health care delivery market by bulking up with their own insurance arm and pharmacy benefit manager, then Walgreens is looking to show it can meaningfully grow its business by playing well with others.
"How we differentiate ourselves is, we want to be able to partner with every health plan, every health system every, doctor," John Driscoll, executive vice president and president of U.S. healthcare at Walgreens Boots Alliance, told Axios.
"Walgreen's edge is to be a partner with everyone," he said.
Catch up quick: In recent years, Walgreens spent $5.2 billion on a partnership with VillageMD to deliver primary care in its store locations. It acquired urgent care provider Summit Health for $9 billion and struck a deal last year to acquire the remaining 45% stake of home care coordination company CareCentrix for roughly $392 million.
The company also scooped up the remaining stake in specialty pharmacy Shields Health Solutions for $1.4 billion and has been building up a clinical trials business.
This latest deal is purely a partnership involving no capital spending, Driscoll said.
The idea is to marry Pearl's operating system and capabilities to Walgreens' care delivery assets. Walgreens will act as a management services organization for doctors and hospitals, he said.
He described the pitch to hospitals and doctors as: "You can work with us, and we'll take the risk and manage the members."
Yes, but: The company's previous health care moves haven't yet translated to big profits.
During its Q3 earnings call in June, executives said the health care business reached revenue of $2 billion, more than twice what it made the prior year. But it still reflected a $113 million loss, with executives pointing to a weaker respiratory season that affected Summit, as well as VillageMD expansions.
Walgreens' share price has dropped more than 50% in the two-plus years since Brewer took the reins, and it hit its lowest close in more than a decade on Monday, the Wall Street Journal reported.
"The management change is an acknowledgment that something wasn't working in the current environment," Elizabeth Anderson, an analyst for Evercore ISI, told Axios. But it also adds to investors' uncertainty about the company's direction on health care, she said.
"The thing now that the market is still waiting for is the current health care strategy to come to fruition with Village MD and Summit," Anderson said, estimating it could take at least a couple of years to see how those deals play out.
Morningstar wrote that it's been "slightly let down" by the slow pace at which Walgreens' health care business has grown.
"I think Walgreens needs to reiterate its priority of building up its U.S. health care business and show promising signs from both top- and bottom-line perspectives to regain confidence from investors," Keonhee Kim, equity analyst at Morningstar, told Axios.
What we're watching: Whether there's a leadership update or a sunnier outlook for 2024 by the time Walgreens reports its Q4 earnings, which is expected the second week of October.
The results of its pharmacy retail business, a large source of its gloomy forecast, will be especially scrutinized. The company's last report showed weakened consumer spending and a drop in COVID vaccinations, which also hit its health care business.
"I think a lot of people will keep a close eye on its results," Kim said.
Go deeper