Michigan State under fire for Mel Tucker suspension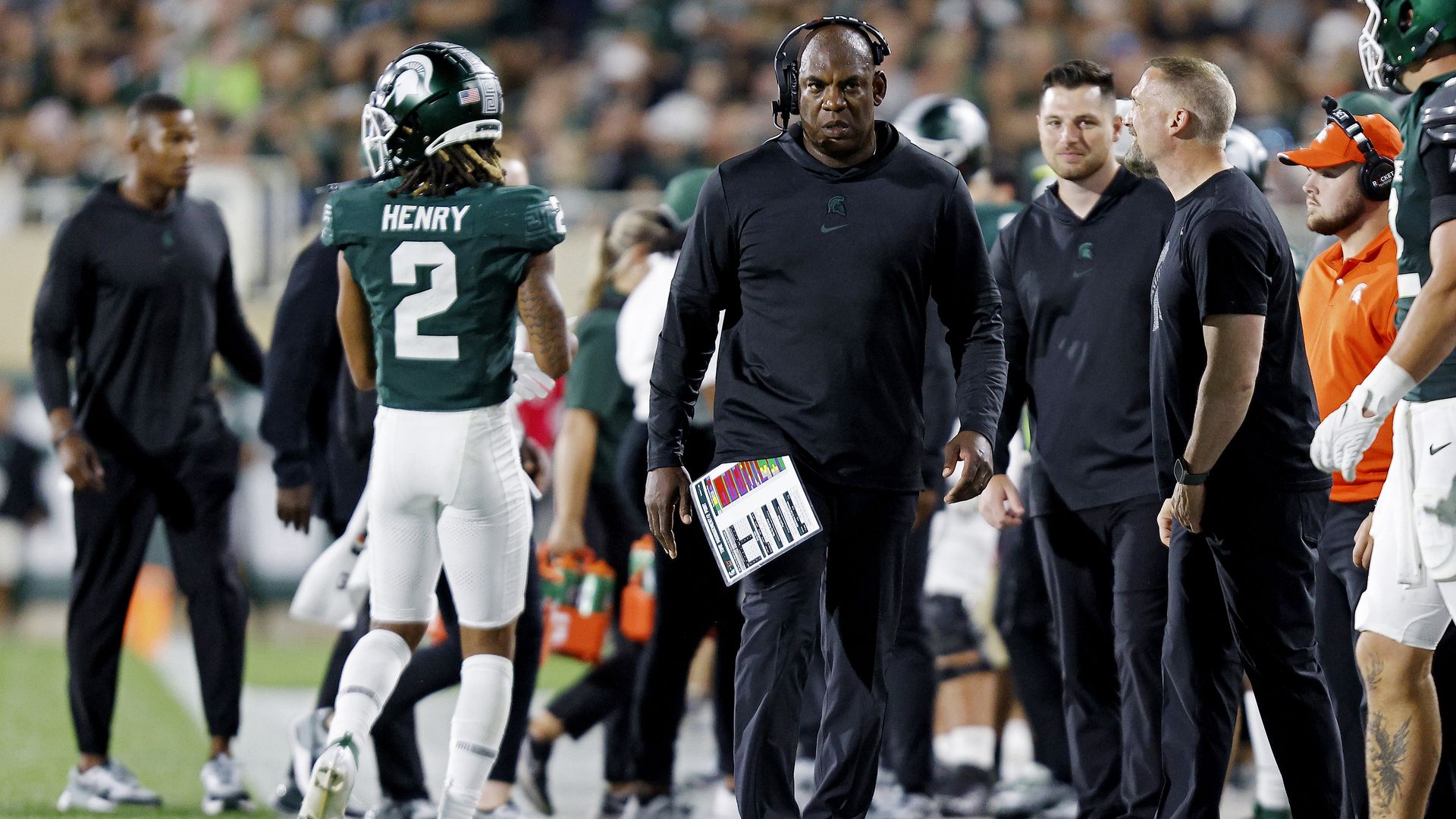 Michigan State leadership is under scrutiny for its handling of sexual harassment allegations made against football coach Mel Tucker.
Why it matters: Tucker's sudden suspension Sunday came with little explanation from university officials, leaving some to question whether anything has actually changed at MSU since the 2018 Larry Nassar scandal exposed systemic failures in dealing with sexual assault survivors.
What they're saying: "There has been one consistent trajectory at MSU. Obfuscate and wait. Repeatedly refuse transparency and accountability," Rachael Denhollander, the first woman to speak publicly against Nassar, posted on social media Sunday.
Catch up fast: Tucker's initial ascent at MSU was sudden and celebrated. He was rewarded in 2021 with a $95 million, 10-year contract.
Everything changed early Sunday, when USA Today published a bombshell report detailing accusations from public speaker and rape survivor Brenda Tracy that Tucker "made sexual comments about her and masturbated" during a phone call in April 2022.
Tracy, who was hired to work with the MSU football team starting in 2021, filed a complaint in December with MSU's Office for Civil Rights, which is responsible for preventing and investigating allegations of sexual misconduct and other forms of harassment on campus.
The outside attorney MSU hired completed an investigation into the allegations in July.
Tucker "acknowledged masturbating on the call" to the investigator, per USA Today, but denied any misconduct, characterizing it as consensual phone sex.
The latest: Tucker released a statement Monday that called the allegations "completely false" and asserted the university's investigation is biased.
State of play: Michigan State is facing a growing uproar about why it suspended Tucker only after the news leaked and did not act several months ago, when officials were made aware of the complaint.
Interim university president Teresa Woodruff and athletic director Alan Haller briefed a handful of trustees on the complaint in December, the Detroit News reports.
"This morning's news might have sounded like the MSU of old," Woodruff said at Sunday's press conference. "It was not. It is not because an independent, unbiased investigation is and continues to be conducted."
The other side: "MSU is only doing the right thing now because they've been called out and there's been publicity around it," Lori Bullock, an attorney who represented MSU swimmers and divers in a previous Title IX case, told the News.
What's next: A university hearing to decide whether Tucker broke MSU policy is slated for the week of Oct. 5, per the News.
The Spartans have a bye that weekend.
Go deeper