Groceries by drone? Here's what it's like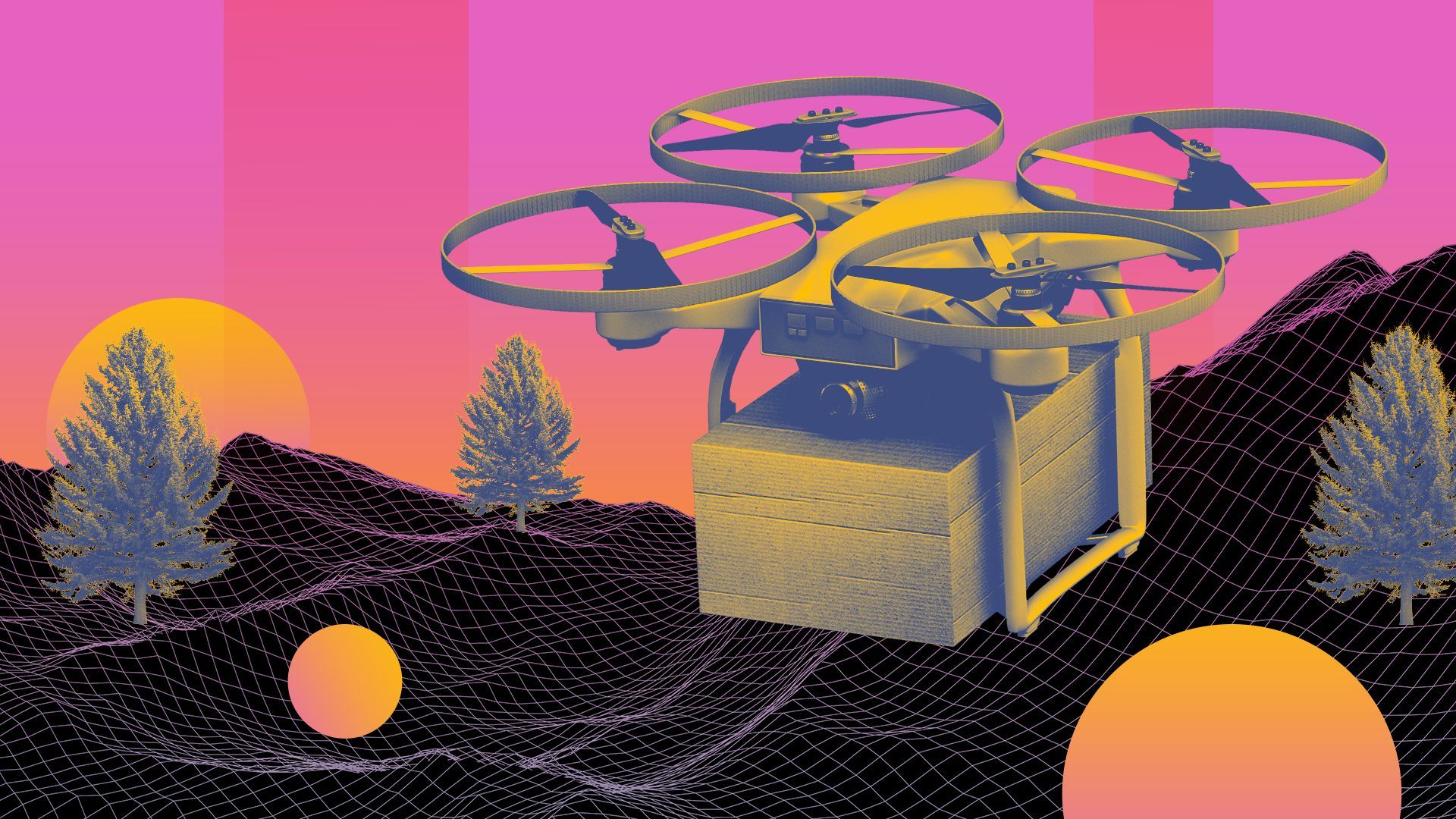 I've seen the future of delivery. It's a little too easy, and a little too fun.
I recently arranged a firsthand demo to order groceries from Walmart by drone, since I live outside of the four current Northwest Arkansas delivery zones (in Bentonville, Farmington, Pea Ridge and Rogers).
Why it matters: NWA is a vital test market as drone companies work to earn regulatory approval from the Federal Aviation Administration for larger flight areas and fewer restrictions — all while proving to the world's largest retailer that they can literally deliver the goods.
State of play: Walmart says it's made more than 10,000 drone deliveries in the past two years.
The retailer is testing the service at 36 stores (38 soon) in seven states with four drone companies, including DroneUp and others.
The most requested items: Oreos, energy drinks and bananas, per a Walmart spokesperson.
Zoom in: I met DroneUp and Walmart reps at the Ledger building in downtown Bentonville — temporary site of the Walmart Museum Heritage Lab, a juxtaposition not too ironic.
Using DroneUp's dedicated website on a phone, I entered the building's address and followed the prompts. The process was simple and quick.
Marketside heat & eat four-cheese ravioli, Lay's salt & vinegar chips and a Cherry Coke were $9.50. Add a pack of Klondike ice cream bars and the delivery charge ($4, unless you have a promo code), and you can have a small party, all by drone, for about $20.
The caveat: Substitutions.
After a confirmation text, I received a phone call: The store was out of the entree — would I like Kitchen Table cheese ravioli primavera for another dollar or two? Of course.
The verdict: Even with a substitution, the order was delivered in the promised 30 minutes.
Like most delivery services, it was simple and intuitive.
Yes, but: The ice cream was just right for eating, but I wonder if a hotter day would have turned it into mush.
Meanwhile, a mom's POV on Zipline, another drone operator Walmart is testing: "We use it at least weekly — especially after school and on the weekend," Sarah Saragusa, a local mother of four, told What's Next writer Joann Muller.
"It's really convenient. You get home from work, put on your comfy clothes, and you don't want to go to Walmart just to get 1-2 things."
Saragusa, who lives in Pea Ridge where Zipline is testing, occasionally shares her experience on TikTok.
The bottom line: Drone delivery is a novelty — there's something Christmas-morning-like about opening a box lowered from the sky.
I guffawed nearly a decade ago when Jeff Bezos announced Amazon's delivery-by-drone plans.
Now I admit, it was shortsighted.
Editor's note: This story has been updated to clarify that Sarah Saragusa uses Zipline, not DroneUp.
Go deeper