AI tells lawyers how judges are likely to rule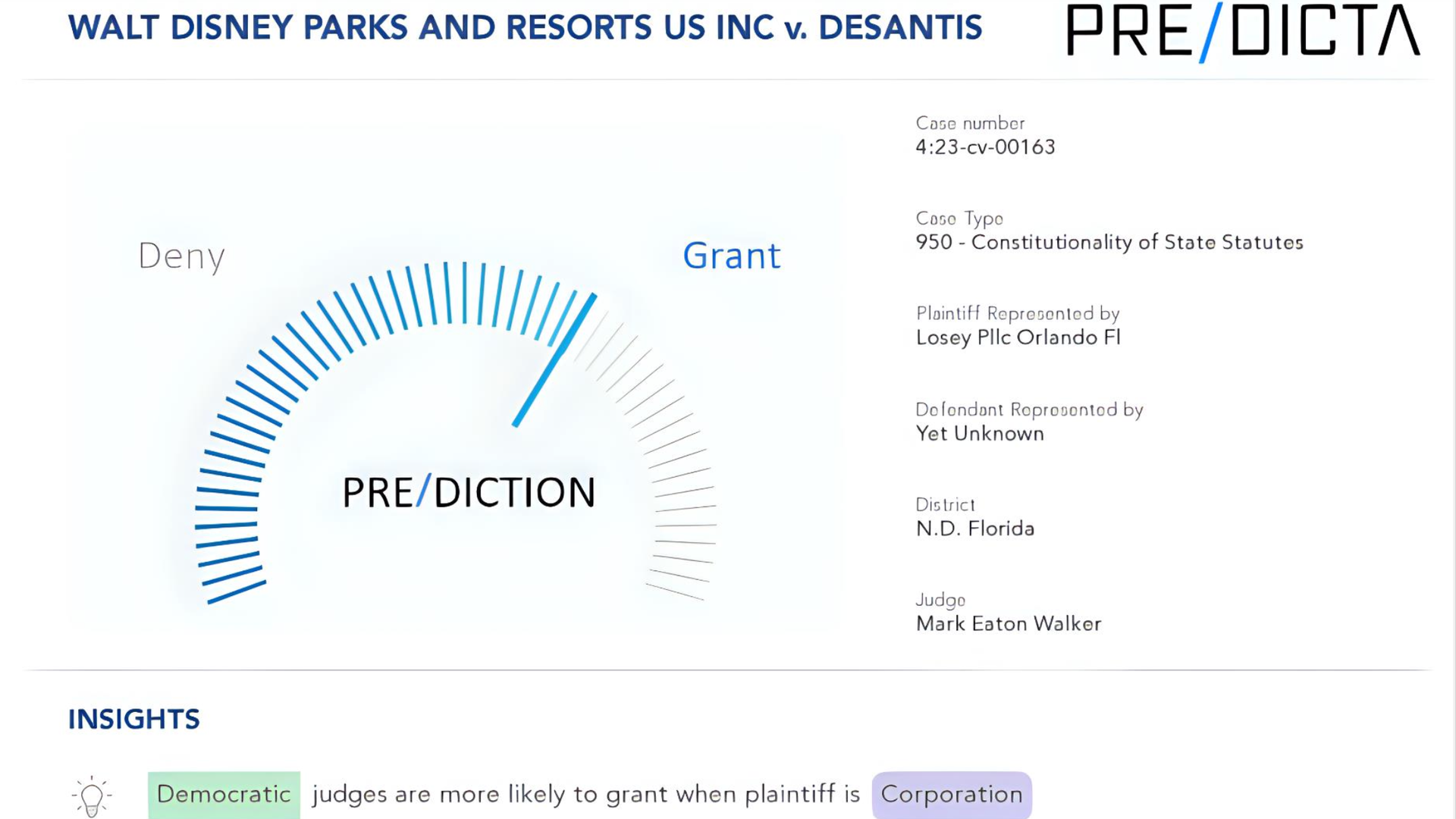 An AI-powered database that draws on the biographical details and decision history of judges to predict how they will rule is helping lawyers and plaintiffs decide how to invest their time and resources in civil cases.
Why it matters: AI tools are set to turn the art of judicial forum shopping — where plaintiffs seek out favorable courts and judges — into a precision science.
Litigation is expensive, and AI tools have the potential to reshape which cases are funded and make it to court.
Widespread use of AI predictions could reduce the number of cases taken to court — especially by plaintiff attorneys working on commission. That might reduce court backlogs while also shifting disputes to alternative resolution forums.
Of note: The database covers all state and federal civil litigation cases, but is not intended to predict the outcomes of criminal cases and jury trials.
What's happening: Pre/Dicta, which launched in 2022, looks for patterns in a judge's past decisions and potential areas of bias, using around 120 datapoints.
Datapoints include where the judge went to law school, what their net worth is, how they rule when the lawyers are from big law firms versus boutique practices and the judges' history in public law, private practice and state judgeships.
CEO Dan Rabinowitz, a former Department of Justice trial attorney, told Axios his AI model can now predict how a judge will rule with 86% accuracy — without even considering the facts of the case.
"We don't look at the law or the facts — we entirely ignore that," Rabinowitz said, because judges write opinions in fewer than 2% of cases, and in the case of newly appointed judges, there's often no case data to work with.
Rabinowitz said his system has reached 81% accuracy for predicting the decisions of new judges.
By the numbers: Commercial litigation funding is a growing industry — at least 44 funders committed more than $3.2 billion in 2022 to fund lawsuits in the U.S., per advisory firm Westfleet Advisors.
Zoom out: Judges have not been in the crosshairs of AI until now.
Most debate about AI's impact on the legal profession have focused on how the research work of lawyers and paralegals will be changed by AI, potentially upending the billable hours model of law firms — or how judges can be educated about various uses of AI.
Court filings are matters of public record, providing a critical mass of data for AI analysis.
The big picture: Overall, Democrat and Republican-appointed judges have nearly identical records in permitting suits against a corporation to proceed to discovery. Democrat appointees dismiss 59% of the time versus 58% for Republican appointees.
Female Trump-appointed judges are most surprising, Rabinowitz said. dismissing lawsuits against corporations 48% of the time, compared to nearly 60% dismissal rate for other judges.
What they're saying: Information tools like Pre/Dicta's are most useful to parties "trying to decide whether to litigate at all, as opposed to arbitrate or mediate," Bridget McCormick, a former chief justice of the Michigan Supreme Court and now president and CEO of the non-profit American Arbitration Association, told Axios.
McCormick said it is "extremely valuable" for parties to know how long judges take to reach decisions — one of the data points Pre/Dicta surfaces.
"Most court observers who know their judges and court well are likely to accurately predict outcomes well over 50%. The time to be concerned is not now but more likely when predictions reach 98% plus," Herbert Dixon, a retired judge for the D.C. Superior Court, told Axios.
Pre/Dicta says it has been operating at 86% accuracy for around a year now, and Rabinowitz concedes the product may be close to hitting an accuracy ceiling. "There's always going to be events that are outside of the norm," he said.
Go deeper