Venture capital vs. Y Combinator valuations (again)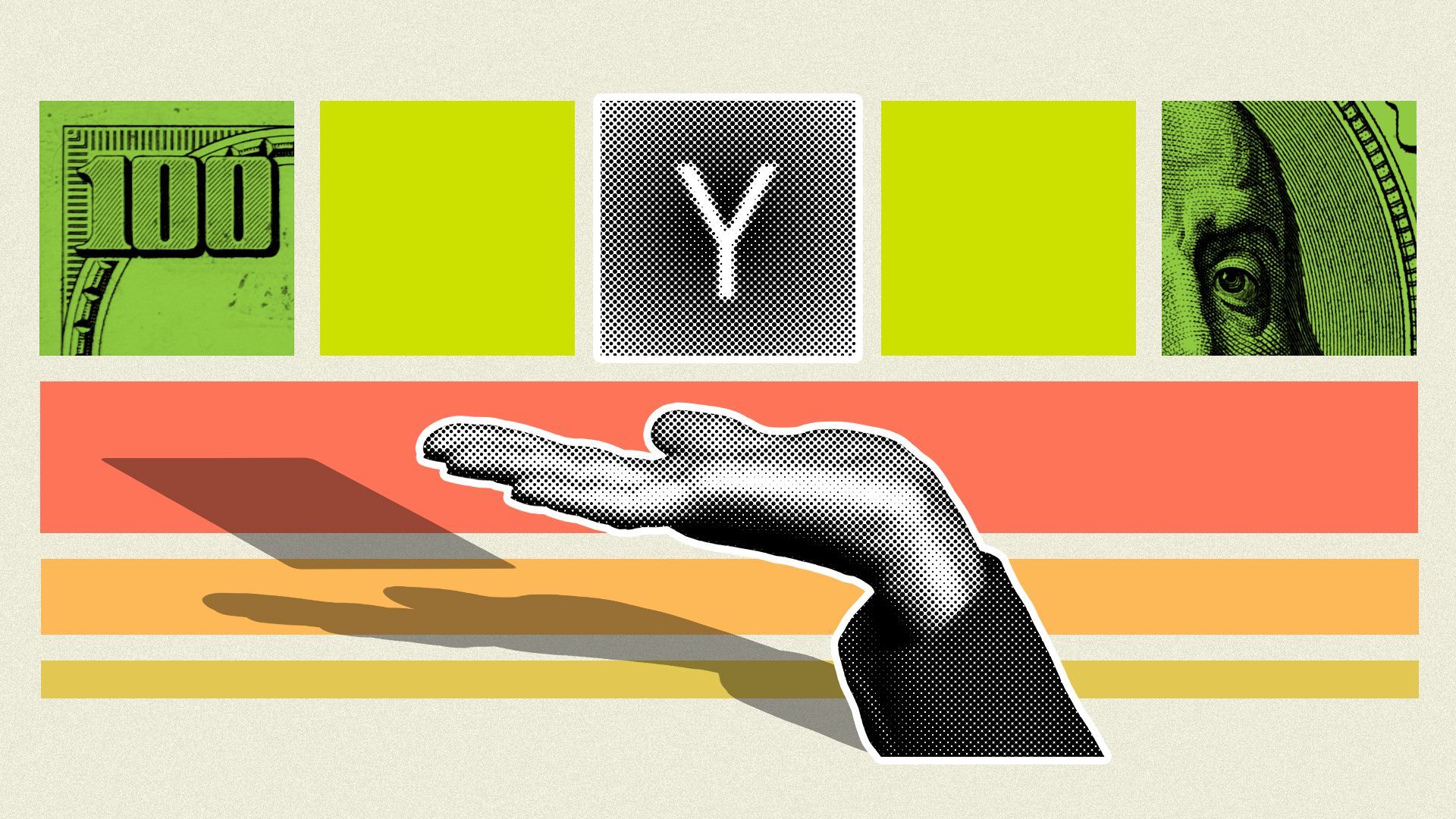 Venture capitalists complaining about Y Combinator startup valuations being too high is a time-honored tradition. Now they're blaming it on a change the accelerator introduced in early 2022.
Why it matters: Y Combinator remains one of the most successful and powerful startup organizations and backers in the world.
Flashback: In January 2022, YC announced that in addition to investing $125,000 for a 7% stake, it would also invest $375,000 in a separate simple agreement for future equity (SAFE) note at an uncapped valuation that includes a Most Favored Nation (MFN) clause.
That means YC will get the most favorable terms a startup gives any other investor in the round.
Between the lines: This creates a new dilemma for founders: Either seek to raise cash at a (relatively) high valuation, or give up more of their ownership in the company (also known as dilution).
And why that matters: Asking for a high valuation is fine for the "hot" startups that have their pick of investors, but it makes things harder for those that aren't the belle of the ball.
Zooming in: Investors have been grumbling about the MFN clause since its introduction, and some are no longer investing in (or even checking out) startups graduating from the program.
Their argument: Valuations have gone up because of YC's new terms, leaving little to no wiggle room for bespoke deals at lower prices.
Of the half-dozen VCs who spoke to Axios, only one general partner at a well-known multistage venture firm with billions under management said his firm is investing in the current batch and is considering additional startups. (Of course, this is only a fraction of a fraction of the universe of VCs, so it was by no means a scientific survey!)
The other side: For some startups, this can eliminate the stress of fundraising, YC argues.
They're already guaranteed $500,000 from YC, which may be enough for some companies at the moment. That money can also go pretty far in a lot of places outside of the U.S.
Or if they need only a bit more, they can find one, maybe two investors, settle on terms, and be done.
There's also the argument that "valuation sensitivity" is capricious. Investors should be more focused on backing great startups than on what price they paid.
The winners: Y Combinator. "Hot" startups. Multistage venture firms with billions under management.
The losers: Anyone that can't (or won't) invest at the lofty valuations some startups are seeking.
By the numbers: Unfortunately, it's hard to get good numbers on valuations. YC declined to share internal data, while third-party providers I contacted said they couldn't help, didn't respond or had incomplete information.
Data about what proportion of startups have raised a Series A round would also provide more clues about the new YC terms' impact on funding dynamics.
My thought bubble: YC is best known as a startup accelerator, but it's fundamentally an investor — of course it makes some self-serving investment policies.
And the reality is usually somewhere in the middle. Investing in YC graduates can still yield some winners, and it's much more of an insiders game than the organization likes to admit.
The bottom line: About 91% of the latest group of YC startups were looking to fundraise as of this week's Demo Day presentations, per president Garry Tan.
Go deeper