Biden admin wants employers to make opioid overdose reversal drug available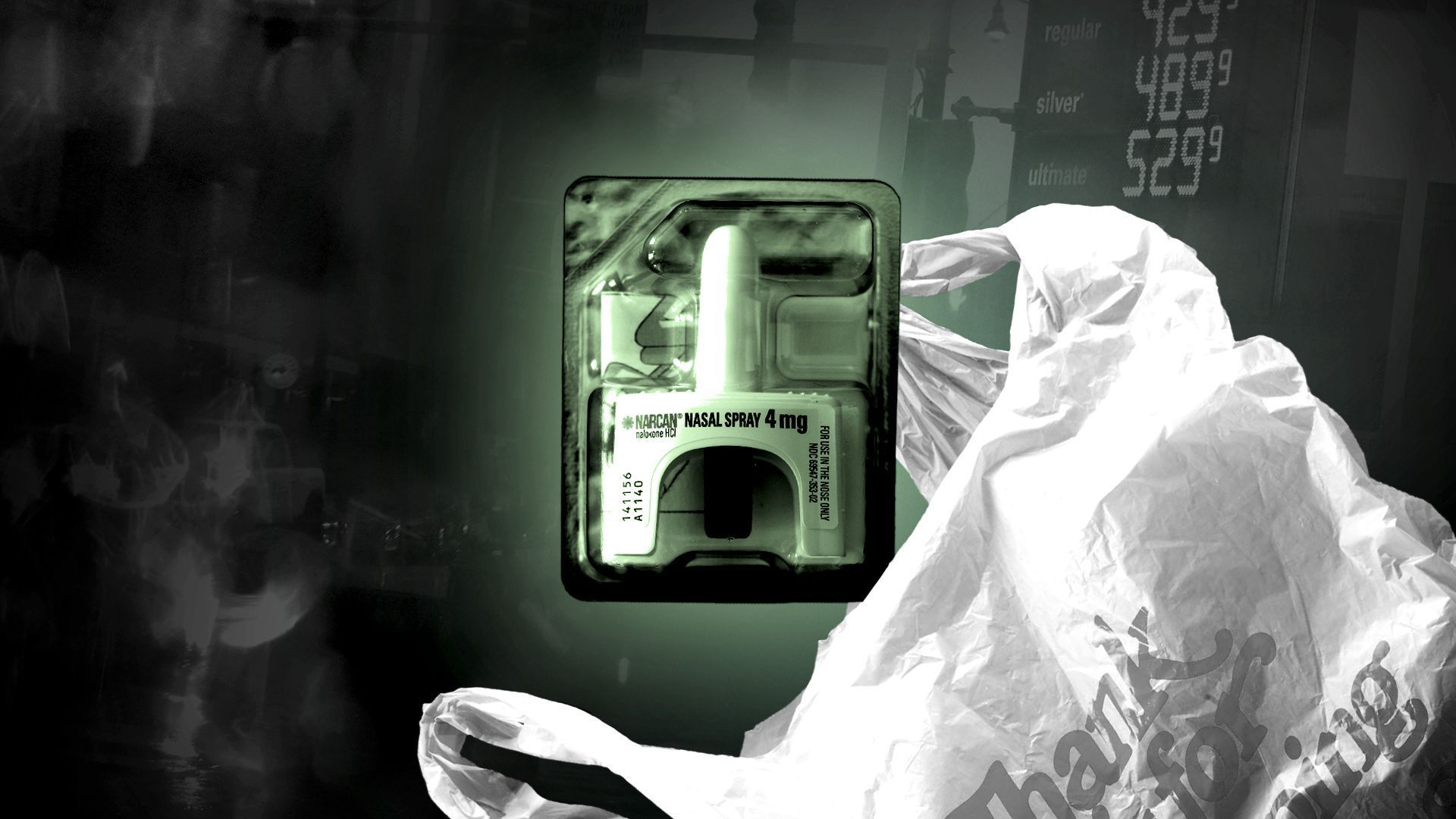 The Biden administration is urging employers to keep the opioid overdose reversal drug naloxone on hand, comparing it to workplaces preparing emergency plans in case of a fire.
Why it matters: Narcan, a nasal spray version of naloxone, became available over-the-counter at major retailers for the first time this week amid record levels of overdoses from increasingly lethal forms of opioids like fentanyl.
A second over-the-counter opioid overdose reversal drug, also a nasal spray, was approved in July and is expected to become available early next year.
Yes, but: The rescue drugs, which are highly effective if administered quickly after an overdose, will only be useful if they are readily available and bystanders feel comfortable using them, health officials said at a Friday event to demonstrate how to use the nasal spray.
What they're saying: Health and Human Services Secretary Xavier Becerra said the department's Washington headquarters is now stocked with doses of naloxone nasal spray, along with written instructions and a verbal recording to guide users on how to administer the drug.
Office buildings, restaurants and even schools should do the same, health officials said.
"So just as you can pull that lever to alert people to a fire you should be able to pull down that nasal spray to make sure you can save a life," Becerra said.
Between the lines: A two-dose package of Narcan will retail for $44.99.
State and local government programs and harm reduction groups who distribute the treatment at no cost will be able to buy the packages for $41.
Our thought bubble: Considering the price of over-the-counter naloxone, it may be more reasonable to expect that employers, rather than individuals, would be willing to pick up the cost.
How it works: It's important for bystanders to recognize the signs of an opioid overdose, said Lt. Cmdr. Joshua Hunt, a member of the U.S. Public Health Service Commissioned Corps.
Pinpoint pupils are a hallmark sign, but other symptoms include loud snoring or gurgling noises, a slow or erratic pulse, being unresponsive or unconscious, and the skin turning pale gray and lips or fingertips turning bluish. A person may have drug paraphernalia in the immediate vicinity, Hunt said.
If you encounter someone having an overdose, first try to rouse the individual by making noise or shaking the person's shoulder and asking loudly if they are OK. Call 911 for help.
If naloxone nasal spray is available, remove it from packaging and hold it with your thumb on the plunger.
While the person is lying down, tilt their head back. Place the tip of the nasal spray in either nostril of the person experiencing an overdose until your fingers are touching the person's nose. Then firmly press the plunger to release the entire dose.
Begin administering rescue breathing by again tilting the person's head back to open the airway. Check the person's mouth to see if anything is blocking their airway and, if it is, remove it. Pinch the nose shut, make a complete seal over the person's mouth with your mouth and begin blowing regular breaths every five seconds
If the person is still not responsive after two to three minutes, give additional naloxone doses, switching nostrils, until help arrives.
If the person begins to recover, turn them on to their side in the recovery position to prevent them from aspiration should they vomit.
Go deeper