Coco Gauff: 5 things to know about the tennis star's summer of triumph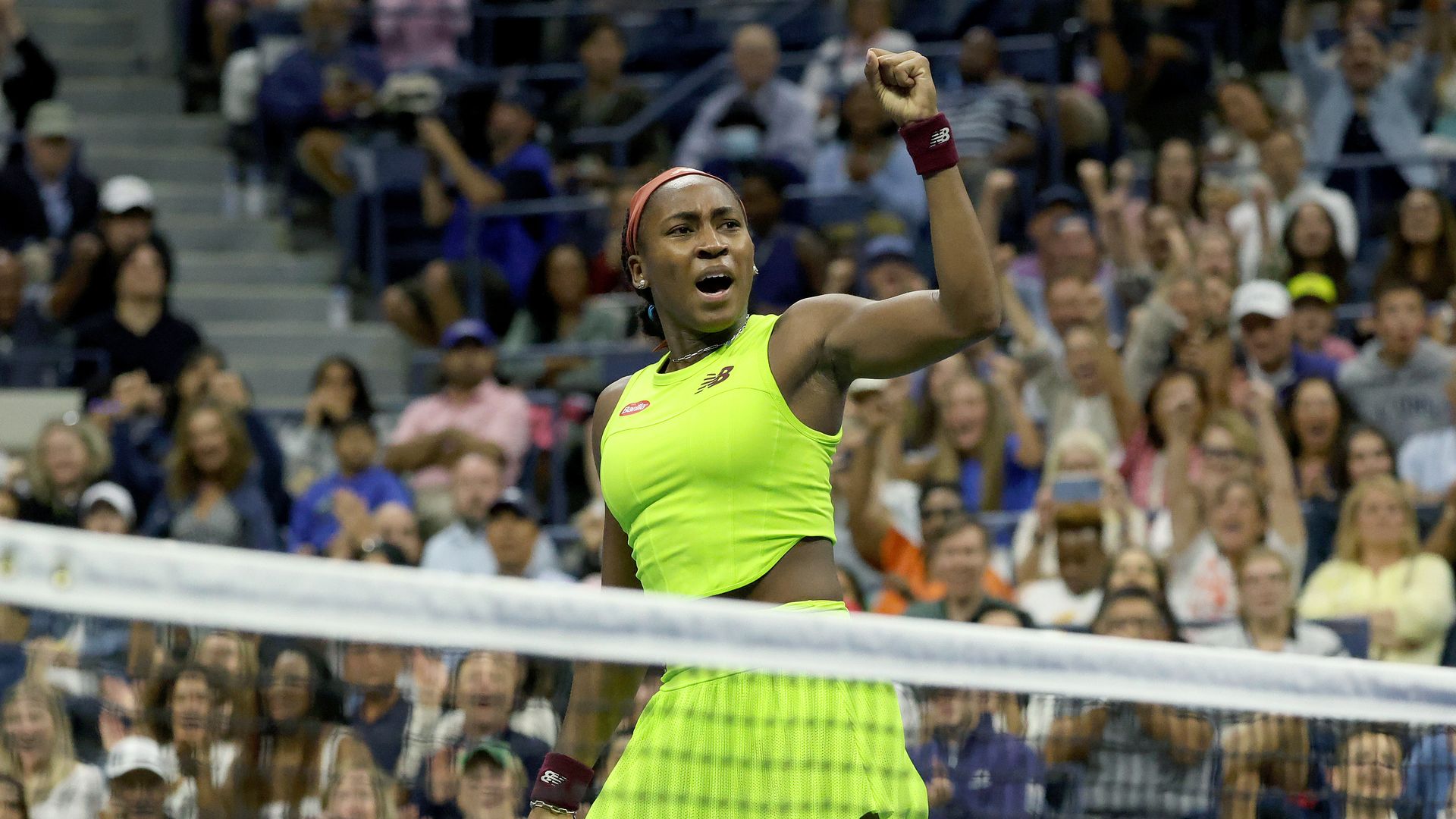 At 19, tennis sensation Cori "Coco" Gauff, is already a U.S. Open veteran — and fans including the Obamas, Beyoncé's mom Tina Knowles and Justin Bieber are rooting for her.
Why it matters: Gauff became the first American teen since Serena Williams more than two decades ago to reach the tournament's quarterfinals in two consecutive years.
She reached quarterfinals on Sunday following a contentious match against Danish player Caroline Wozniacki, who won her first Grand Slam title in 2018 at the Australian Open.
Gauff had a winning streak
Gauff has won 15 of her past 16 matches, including the two biggest titles of her career, at the D.C. Open and in Cincinnati, both in August, ESPN reports.
Wozniacki said of Gauff following her loss on Sunday: "She's always been a great athlete. She's always had the backhand, the serve, the fighting spirit."
"I feel like right now, it's all kind of coming together for her."
She got a new coach: Brad Gilbert
Brad Gilbert began coaching Gauff in late July before the Citi Open in D.C., per the U.S. Open. She's played successfully in the months since.
During Sunday's match, Gauff asked Gilbert, who was talking throughout, to stop talking multiple times.
"I was getting frustrated. It wasn't really directed at him. It was just that I needed to reset," Gauff said. "In that moment, I just didn't want to hear anything. I just wanted to think about what I was doing."
Gilbert played professionally from 1982-95 and won 20 titles. He's also coached British Andy Murray, who was ranked world No. 1 for 41 weeks, and American legend Andre Agassi for eight years between 1994 and 2002.
Gauff's next opponent is a Latvian champ
Gauff will play Jelena Ostapenko, 2017 French Open champion from Latvia, in the quarterfinals on Tuesday.
She beat her idol, Venus Williams
Gauff, the youngest player at Wimbledon in 2019, beat the competition's oldest player, Venus Williams.
"I think the sky's the limit, it really is," Venus Williams said of Gauff at the time.
It was Gauff's first Grand Slam singles match.
The two then played as doubles partners in the 2021 French Open.
Gauff expands business endeavors
Before the Open began in August, Gauff unveiled a new color for her signature shoes, the New Balance Coco CG1 in the "City Brights" colorway.
Go deeper