DOT hits American Airlines with largest-ever fine over tarmac delays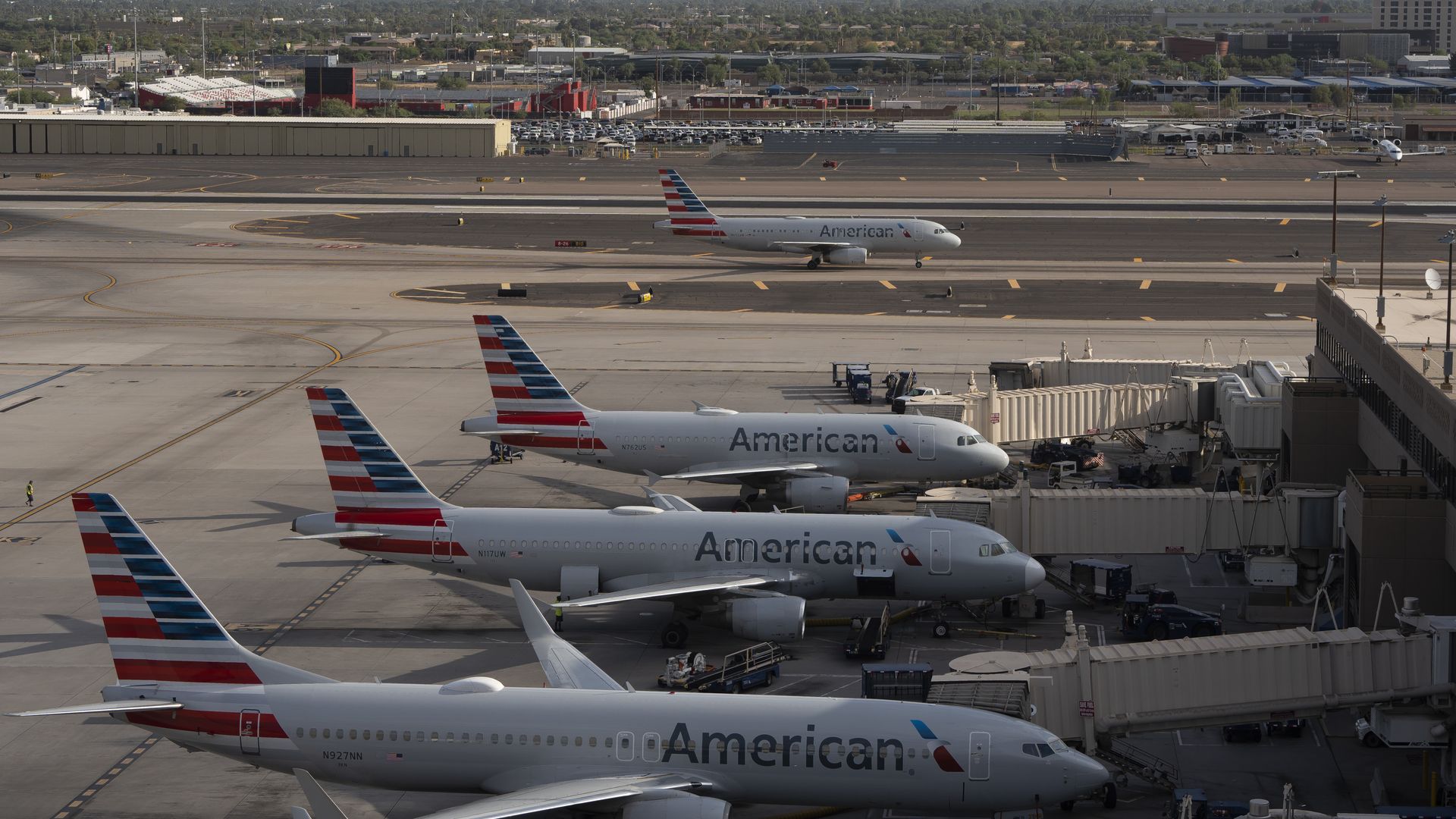 The Department of Transportation fined American Airlines $4.1 million for keeping passengers on multiple domestic flights on the tarmac for hours without giving them a chance to deplane.
Why it matters: It's the department's largest fine for violations of its rule prohibiting tarmac delays of three hours or more on domestic flights, per a DOT statement Monday.
The DOT previously fined United Airlines a then-record $1.9 million for violating federal statutes and the department's rule prohibiting long tarmac delays for over 25 flights from December 2015 to February 2021, which the airline said was mostly due to severe weather.
Driving the news: The DOT determined through an investigation that American Airlines had violated the rule on 43 domestic flights from 2018 to 2021 and that none of its safety and security exceptions to the rule applied to those flights.
The tarmac delays affected a total of 5,821 passengers, and most of them occurred at Dallas Fort Worth International Airport, which is one of the airlines' hubs.
Passengers were not given the required food or water during the American Airlines delays, according to the DOT.
What we're watching: Roughly half of the fine "will be credited to the airline for compensation provided to passengers on the affected flights," the DOT said.
What they're saying: Transportation Secretary Pete Buttigieg said in a statement the fine was part of the department's effort to "enforce the rights" of airline passengers.
"Whether the issue is extreme tarmac delays or problems getting refunds, DOT will continue to protect consumers and hold airlines accountable," he added.
The DOT did not immediately respond to Axios' requests for comment.
Meanwhile, a spokesperson for American Airlines said in an emailed statement Monday the delays "were the result of exceptional weather events" and the flights represented a "very small number of the 7.7 million flights during this time period."
The spokesperson did not immediately respond to Axios' question on why they think the airline was singled out for the record fine over delays tied to extreme weather events.
"We have since apologized to the impacted customers and regret any inconvenience caused," the spokesperson said.
Of note: The spokesperson said the airline has attempted to reduce the conditions that cause long tarmac delays by new routing and scheduling tools.
Flashback: It's not the first time American Airlines has been fined for tarmac delays.
In 2019, the DOT fined it $1 million for violations. Delta Air Lines was penalized $750,000 for violations then, too.
Go deeper: Congress may let jet owners like Elon Musk block flight info
Go deeper