Ramaswamy says he would've handled Jan. 6 differently than Pence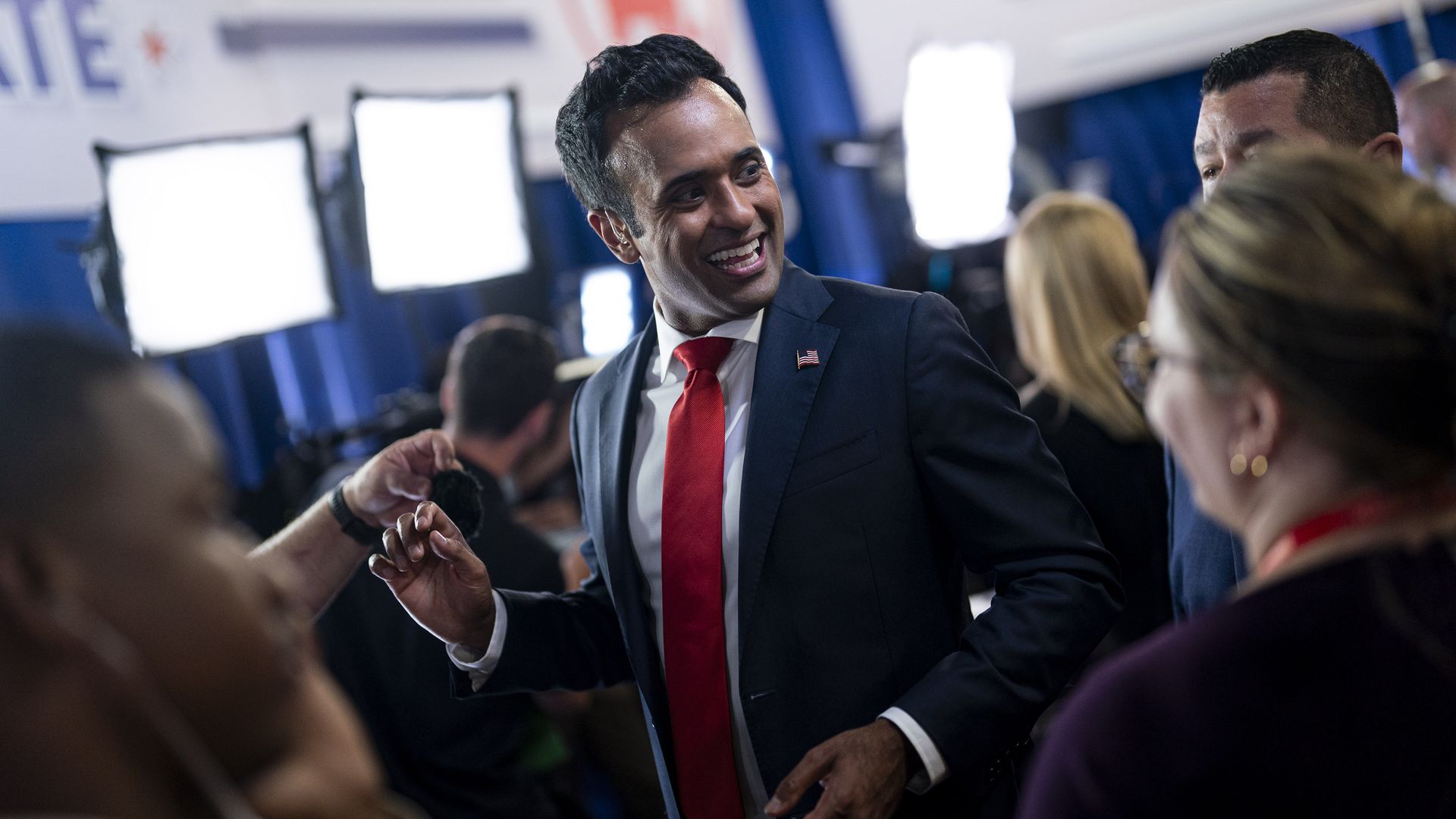 GOP presidential candidate Vivek Ramaswamy said Sunday he would have certified the 2020 election results, though in a different capacity than then-Vice President Mike Pence.
Driving the news: Ramaswamy was the only candidate during last week's GOP primary debate who was not asked if he felt Pence did the right thing in certifying the 2020 election results.
Each of the other seven GOP candidates on the debate stage either praised or agreed with Pence's actions on January 6, 2021.
What they're saying: "I would have done it very differently," Ramaswamy said during an interview on NBC News' "Meet the Press" Sunday.
"I think that there was a historic opportunity that he missed to reunite this country in that window," Ramaswamy said.
"What I would have said is, 'This is a moment for a true national consensus,' where there's two elements of what's required for a functioning democracy in America," he said. "One is secure elections, and the second is a peaceful transfer of power."
Ramaswamy added that he would have asked for single-day voting, paper ballots and government-issued IDs to verify a voter's identity.
Once those reforms were in place, Ramaswamy said, he would have "certified the election results, served it up to the president" and "declared the reelection campaign pursuant to a free and fair election."
Worth noting: Chuck Todd, NBC News' Political Director and "Meet the Press" moderator, challenged Ramaswamy on previous comments written in his September 2022 book "Nation of Victims" where he seemingly "mocked the entire January 6th aspect."
"You absolutely criticize Donald Trump for being a sore loser. You write about it in a way of making your point that you think we've become a nation of victims. And right now, on TV, you're doing the exact opposite," Todd said.
Ramaswamy disputed the claim, telling Todd he would have made different choices compared to Trump in 2020, but "there is a difference between a bad judgment and a crime."
"Did Donald Trump make all the right judgments? No. I said so then. I say so now. Was that illegal, and should we criminalize it? Absolutely not. But I want to lead this nation forward. That is my goal. Not to look in the rear view mirror," he said.
Of note: Pence's campaign press secretary, David James, called Ramaswamy's statement "shocking and concerning in its lack of understanding of how our system of government works," in a statement given to NBC News.
"In one breathe [sic] he joins Nancy Pelosi and radical progressives in wanting to nationalize our election system, and in another he claims that the Vice President has unilateral authority to decide when to certify elections."
Go deeper