UAW authorizes strike if talks fail to reach deal at Detroit Three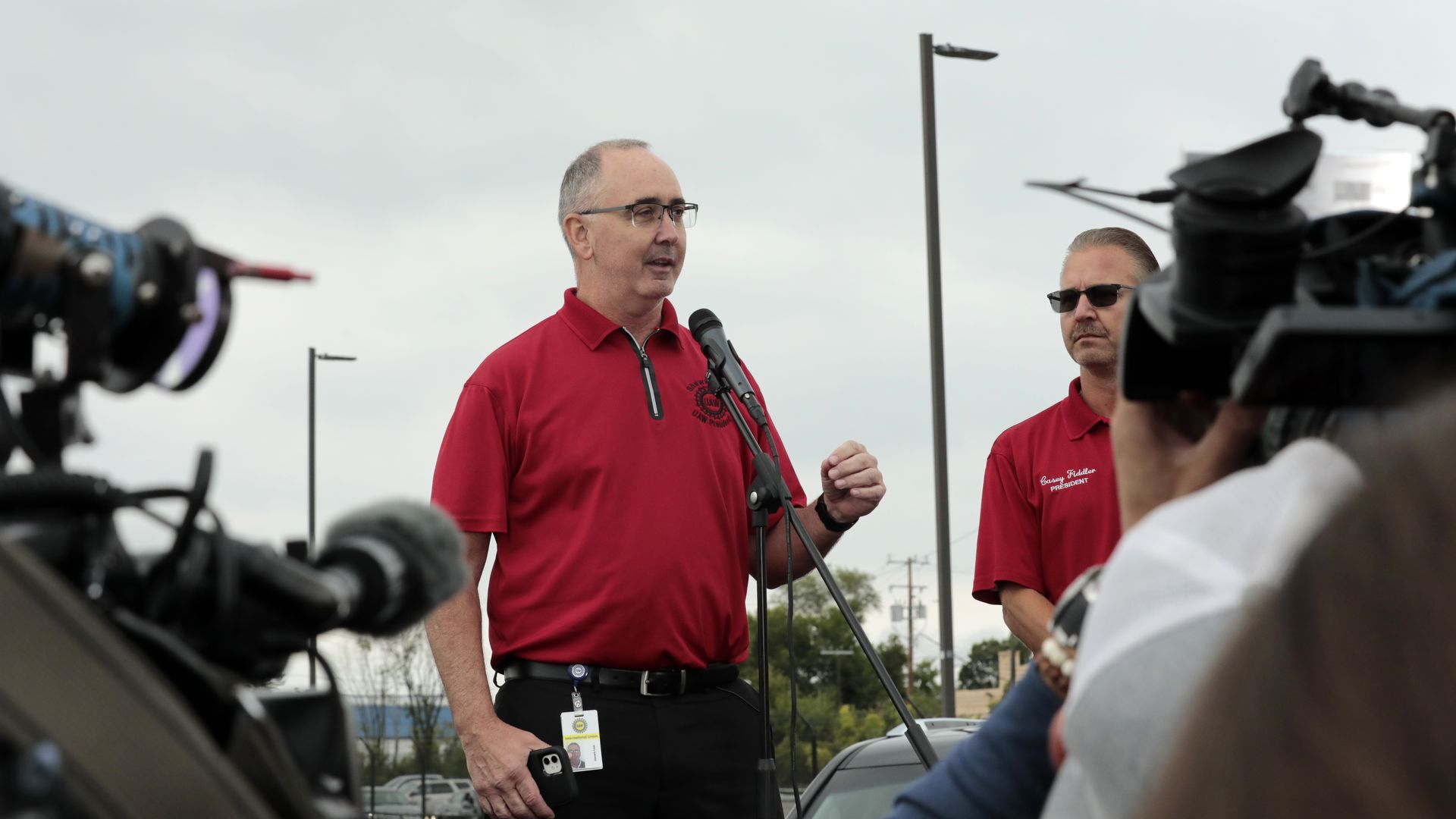 The United Auto Workers said Friday that its members have authorized a strike if the union can't reach new contracts with the Detroit Three automakers: General Motors, Ford and Stellantis.
Why it matters: With about 150,000 members at the three companies, the UAW has carved out an aggressive bargaining position, raising the serious prospect of a production-hobbling work stoppage.
Driving the news: The UAW's fiery new president, Shawn Fain, announced the strike authorization vote Friday morning, saying 97% of members approved the move.
Contracts expire at 11:59pm Sept. 14.
"Our union's membership is clearly fed up with living paycheck-to-paycheck while the corporate elite and billionaire class continue to make out like bandits," Fain said in a statement. "The Big Three have been breaking the bank while we have been breaking our backs."
Threat level: Although a strike authorization vote is a relatively routine matter at this stage in talks, a strike is "highly likely," Barclays analyst Dan Levy said in a research note.
What's next: Typically the union selects a target automaker where it first focuses its negotiations and launches a strike against that company if it can't reach a deal.
Analysts say Stellantis is the most likely target after Fain recently threw the company's proposal in the trash on a Facebook Live.
But Fain has also hinted that the union could strike all three automakers at once, which would be unprecedented.
The impact: GM and Ford face a risk of a more than 10% reduction to their earnings in the event of a prolonged strike, according to Evercore ISI analyst Chris McNally.
Stellantis faces a lower risk because its business is more heavily concentrated in Europe, where the UAW is not present.
Suppliers are also at risk. American Axle gets an estimated 55% to 65% of its revenue from operations dependent on UAW workers, while Magna International gets 35% to 40% and Lear gets 30% to 35%, according to Barclays.
The bottom line: "We believe the overhang is likely to persist so long as rhetoric is further intensifying," Levy wrote.
Go deeper