New docs reveal how Sam Bankman-Fried might defend himself at trial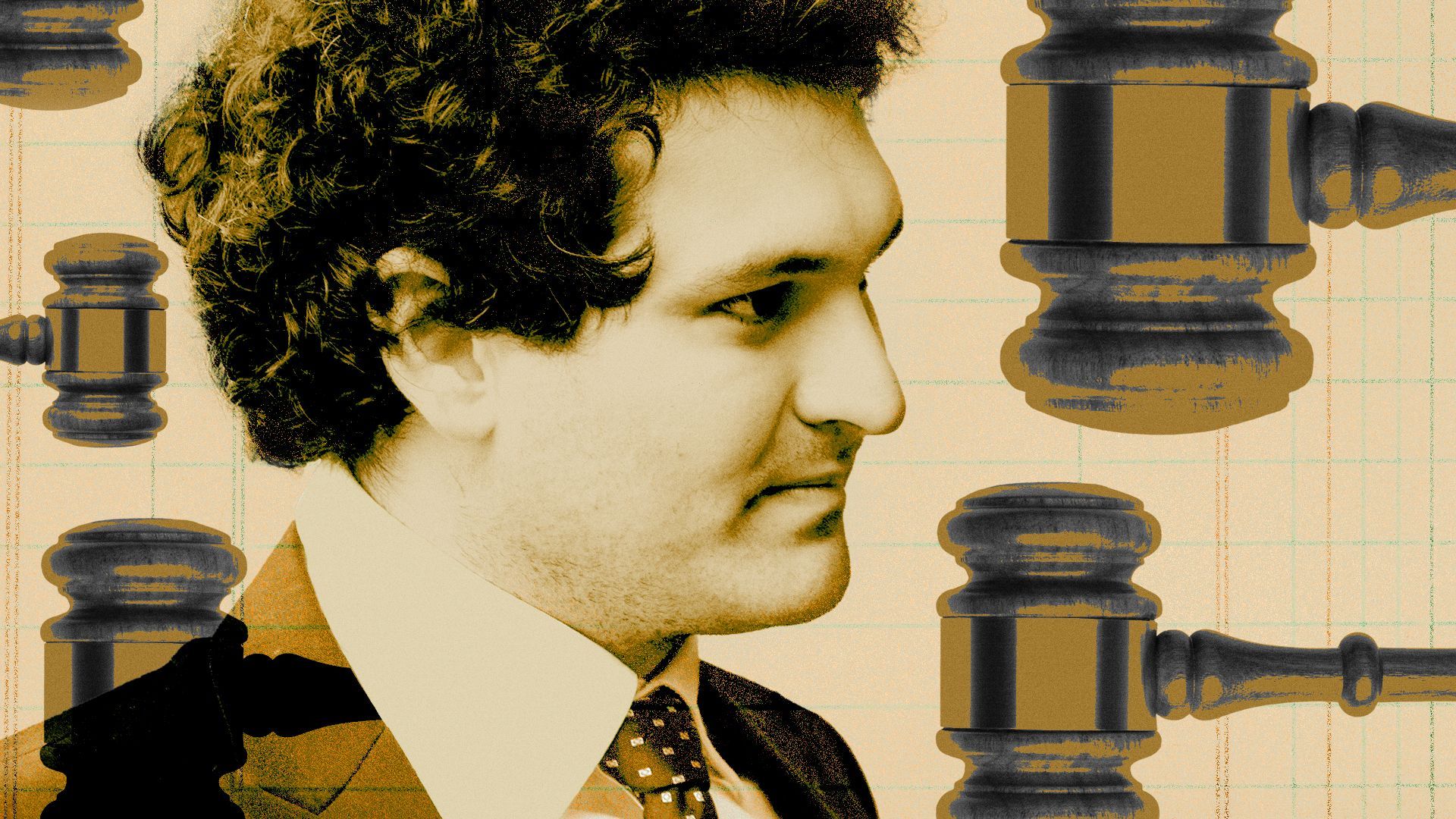 Filings from the government prosecutors in Sam Bankman-Fried's criminal case this week revealed that the former CEO could be relying on an "advice of counsel" defense as at least one strategy in the upcoming trial.
Why it matters: Several billion dollars are missing from the fallen cryptocurrency exchange FTX, and former users (and employees) have lost life-changing amounts of money. They want justice.
Zoom out: An "advice of counsel" defense allows the defendant to admit that he or she did the things they have been charged with doing, but that they had been led to believe — by legal counsel — that they were acting within the law, and that they followed that advice in good faith, Amanda Tuminelli, a former defense attorney who has worked on crypto cases, explains to Axios.
Zoom in: It could be that Bankman-Fried's defense is only preserving the advice of counsel as an option at this point.
In an August 18 letter, U.S. Attorney Damian Williams asked the judge to order the defense to "immediately provide" a detailed advice of counsel disclosure and an accompanying evidence supporting the defense — or to disallow it if they don't.
State of play: The prosecution and the defense are sparring in letters to the judge over how much the defense needs to disclose more than a month out from the trial.
The dispute over discovery is not new. As far back as June there's a dispute over a defense subpoena of FTX's attorneys.
Between the lines: The prosecution wants details on SBF's strategy and evidence on the advice of counsel defense for at least some of his charges.
Tuminelli, the former defense attorney, said CEOs have to be allowed to rely on other people, including their firm's attorneys, when running the affairs of big complicated companies.
If the advice of counsel defense is used in this case, and were it to prevail, it would mean that SBF would be acquitted on any charge in which the jury believes he acted on advice in good faith.
What they're saying: "If the jury buys that, that will help negate the intent element," Tuminelli explained. "Because it means the government has failed to meet their burden."
That argument worked recently in a case over the labelling of imported drugs.
SBF's team declined to comment, via his spokesperson.
The lawyers that SBF's defense mentions in the letter to the court were FTX's, not his. FTX's communications firm has not replied to a request for comment on the case's latest.
The intrigue: In the case against the convicted Sarah Lawrence cult leader, Lawrence Ray, the judge rejected the use of the advice of counsel defense.
The attempt was denied for a litany of reasons, but one is worth noting: evidence that was "tenuous if that" showing Ray followed counsel's advice.
Yes, but: A big question mark hangs over how much evidence SBF can produce, because the defense's own letter indicates he was relying on the advice of FTX's attorneys, not his own.
He's not in control of FTX any longer.
The government is likely anxious to see the defense's evidence, because it could mean that they have documentation of the legal advice in question and of SBF acting in good faith to follow it.
In the weeds: The letter from SBF's attorneys details several matters on which the former leader might say he relied on advice of counsel, such as the use of disappearing messages to communicate, the terms of service for FTX itself and loans made to the company's founders and staff.
The letter names the law firm Fenwick & West and three in-house attorneys as counsel whose opinions SBF relied on. These attorneys would need authorization from FTX to waive attorney-client privilege in order to testify at the trial.
"It is not an easy decision to waive privilege," Tuminelli noted.
A source with knowledge of the issues of the trial tells Axios that, as it stands, FTX has not instructed Fenwick to waive privilege. There is no evidence in the public record that it has been waived either.
What we're watching: Tuminelli explained that SBF's defense would be expected to provide evidence related to the defense — if they plan to rely on it — but typically they wouldn't be expected to do so this far out from trial.
There is also a lot of procedural nuance over when and if the defense can even be allowed. So look forward to more argument there.
Go deeper