March on Washington 60th anniversary to highlight unfinished goals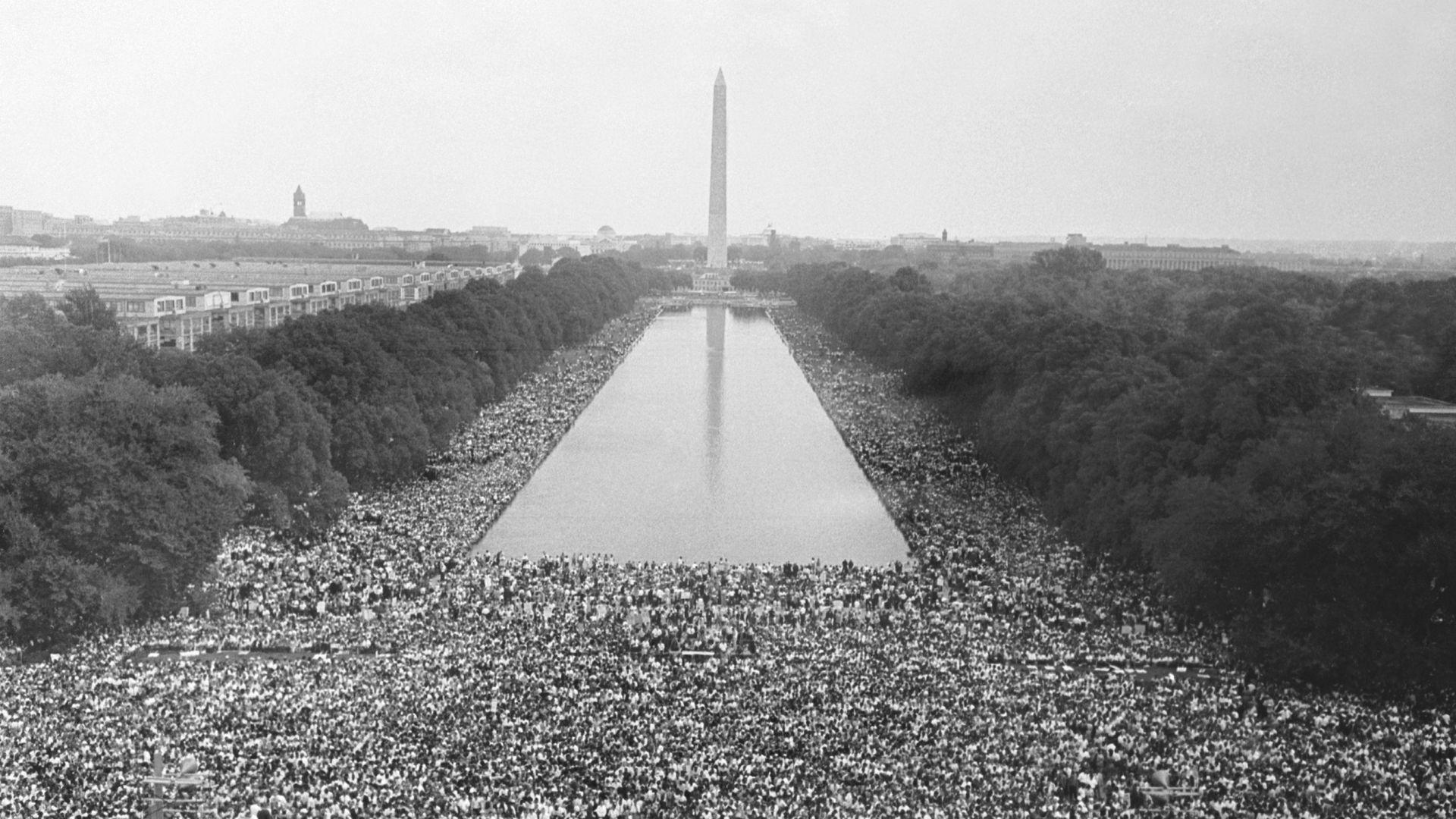 Civil rights leaders are set to hold the 60th anniversary of the March on Washington on Saturday at the Lincoln Memorial in Washington D.C., amid ongoing fears the nation is going back on racial equity and voting rights, even as the country becomes more diverse.
The big picture: The 1963 gathering in D.C., where Martin Luther King, Jr. gave his "I Have a Dream" speech, sought to bring attention to jobs, voting rights, and police brutality. The issues are eerily the same in 2023.
By the numbers: Poverty rates for Black Americans have fallen in the decades since the first March on Washington, but have remained high in comparison to other races.
Mortality rates are disproportionately high among Black women, and other racial disparities in health care are widespread.
Today there are 60 Black lawmakers in Congress, compared to five in 1963, but white Americans still make up most of Congress and constitute a majority of governors.
Details: This time, the march will include civil rights organizations of different racial groups, reflecting the changing nation.
"We have to figure out, how do we create the climate for all of us to engage forward," Martin Luther King III told Axios in an interview alongside his wife, Arndrea King.
Today, Hispanics, not Black Americans like in 1963, are the largest minority group in the U.S., according to the U.S. Census. Meanwhile, Pacific Islanders and Asians have seen among the biggest increases in the last two decades.
"Now there is a growth in the multiracial population that is people who identify as both white and Black or Latino and Black," said William Frey, a demographer at the Brookings Institution.
What they're saying: "We had to rely in some ways on the African American community to help speak for our communities or really carry that labor or when it came to civil rights and creating rights for oppressed minorities," John C. Yang, president and executive director at Asian Americans Advancing Justice, tells Axios.
Bryan Stevenson, the founder and executive director of the Equal Justice Initiative, said since 1963 there has been some backsliding on racial justice.
"Today you see the reemergence of white nationalists and a lot of rhetoric that's trying to make being concerned about racial equality a deficit," Stevenson said.
By bringing together advocates from diverse backgrounds, "we will stand together against hate," said Shira Goodman, senior director of advocacy for the Anti-Defamation League.
Flashback: Nearly a quarter million people attended the first March on Washington.
The late John Lewis, then chairman of the Student Non-violent Coordinating Committee, spoke about demanding a provision to have voting rights protected and to protest in peace.
Both NAACP executive secretary Roy Wilkins, who spoke about having equal access to jobs and segregated schools, and A. Phillip Randolph, a civil rights and labor leader, attended the march.
Go deeper