A reporter's view from the scene outside the Fulton County Jail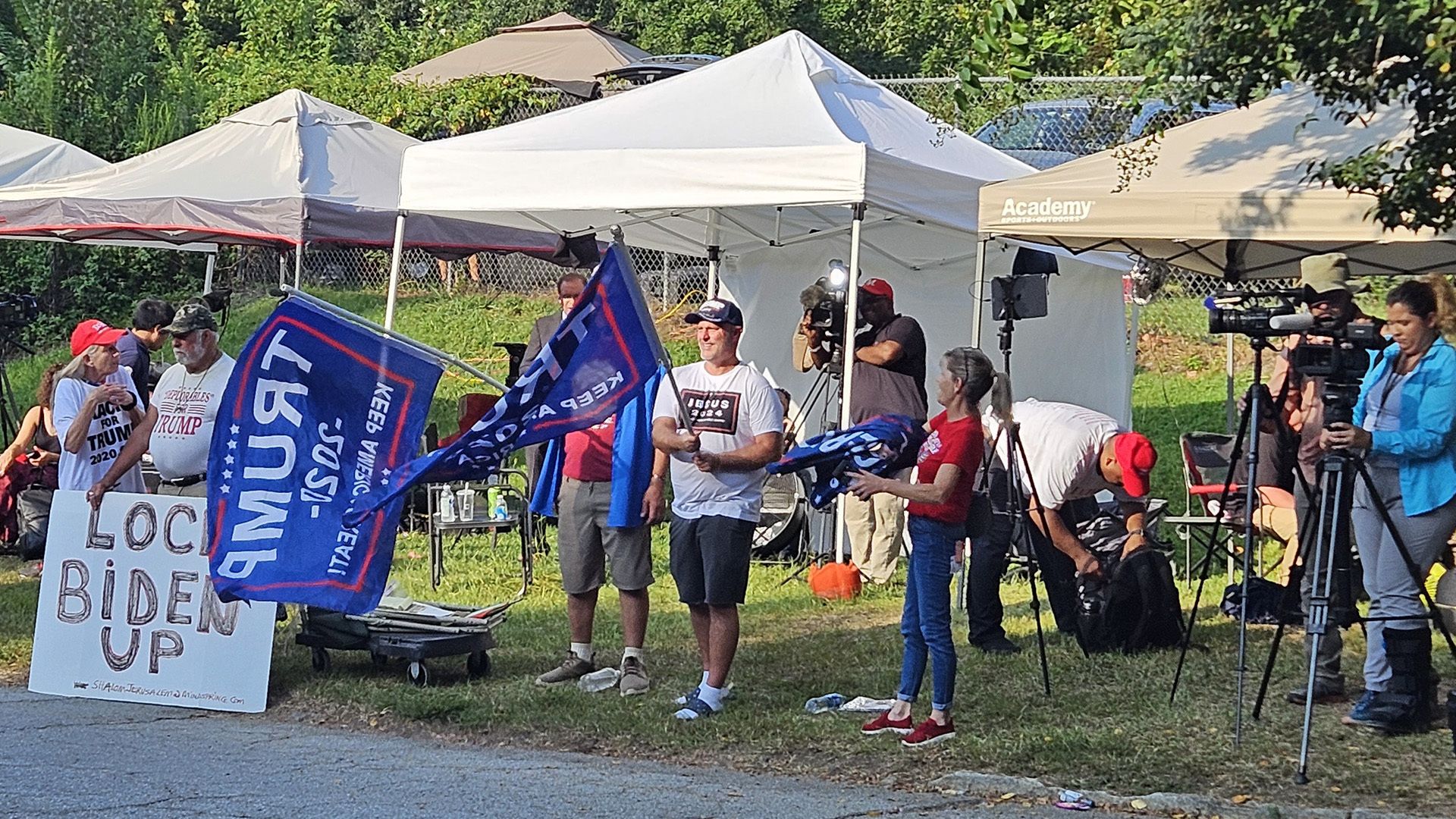 Axios Atlanta's Kristal Dixon here. This week allowed me to cover one of the most important — and oddest — stories of my career.
I braved Atlanta's heat and humidity and immersed myself among hundreds of others on Thursday to wait for the former president to be booked on charges he tried to overturn Georgia's 2020 election results.
Why it matters: We may never see anyone with the same star power booked into what locals refer to as Rice Street.
What happened: Fulton County sheriff's deputies blocked off streets, including one leading to the jail's front entrance.
A nearby animal shelter preemptively shut down for the day, and residents of the surrounding neighborhood braced themselves for potential chaos.
A truck dropped off additional barricades in the mid-morning to keep people out of the roadway. Shortly after, Atlanta firefighters arrived to help secure the area.
What we saw: Trump's supporters, who came from around metro Atlanta —and states such as Florida and Connecticut — sported red MAGA hats and pro-Trump shirts while juggling large flags and signs with water bottles and cell phones.
Other supporters hosted livestreams and interviewed like-minded protesters about what we were all witnessing.
One guy occasionally blew a fancy vuvuzela while two other men sang along with a country tune blasting from a Bluetooth speaker.
A group of people who wore shirts that read "Blacks for Trump" played a hip-hop song that expressed support for the former president and promoted conspiracy theories about vaccines and Bill Gates.
The reporters posted up with lawn chairs and canopies on the right-of-way across from the Jail's main entrance.
We occasionally milled around, taking pictures of protesters and asking what brought them out to support Trump.
As the sun rose higher, reporters and protesters crowded under canopies and trees in a pathetic effort to avoid the heat.
A brief detente occurred when several people took advantage of an ice cream truck passing along Marietta Street. I was too far away to partake.
We journalists worked diligently from our phones and computers, sending feeds to our editors while trying not to get frustrated with the slow and sometimes non-existent network service.
I'm sure I blurted out a few choice words my parents would not have wanted me to say publicly.
Yes, but: There were a few anti-Trump demonstrators. One man, Domenic Santana of Miami, doled out Kool-Aid packets to supporters while dressed in a striped, stereotypical jail get-up. He also had small bags of peanuts for the "circus."
Another woman posed for pictures holding two anti-Trump signs.
One man, carrying what he called the "The Roving Anti-Trumpism Band-Wagon," was selling buttons, one of which read: "He's indicted, and it feels so good."
Two people wearing rat costumes held signs that said "Republicans Against Trump."
What we're watching: Whether these supporters and opponents will show up at any future trial dates in a similar fashion.
Go deeper