AI's next target: often-stressful salary negotiations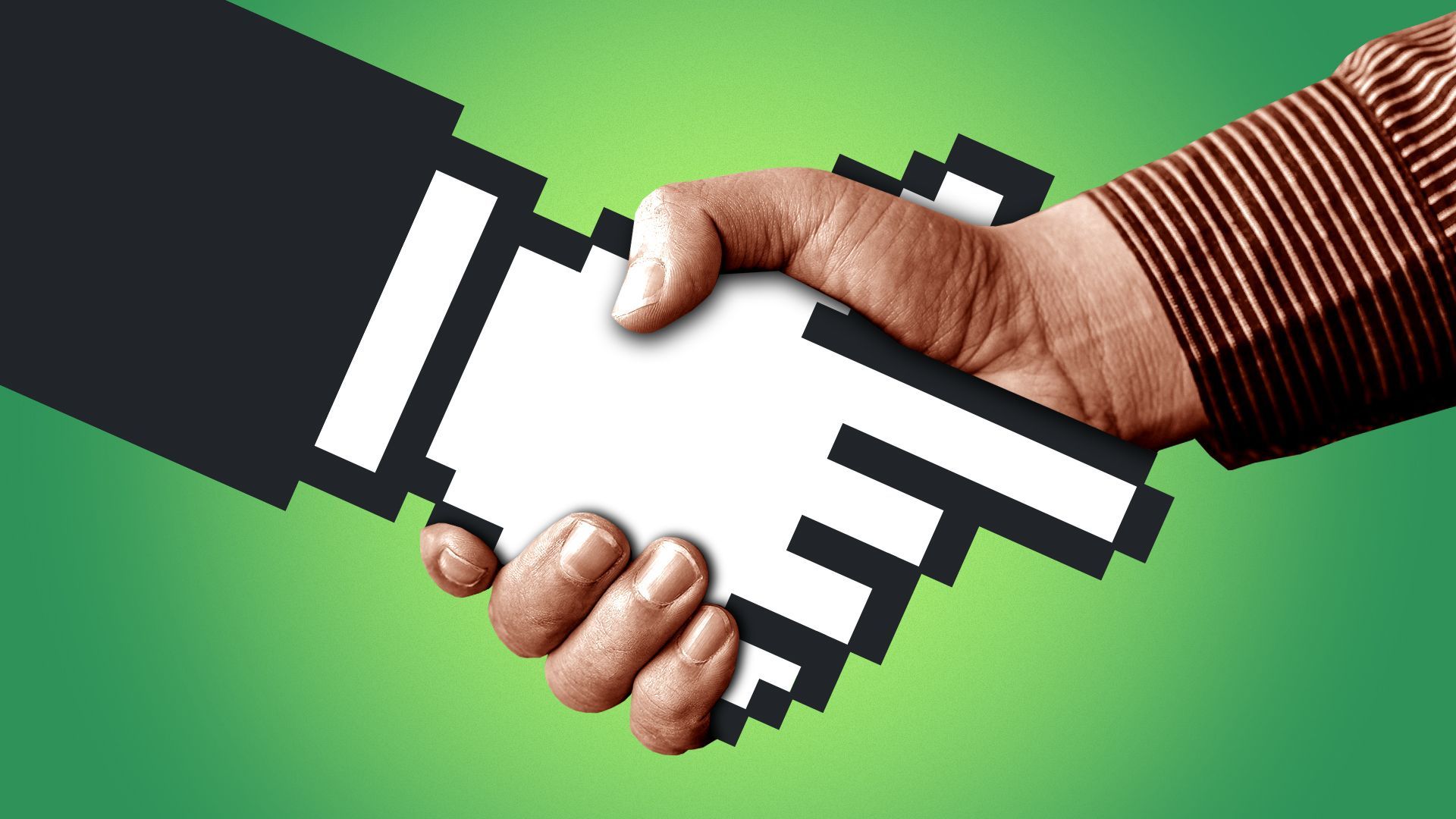 Salary negotiations — among the most high-stakes, emotionally fraught and psychologically complex processes many employees will ever experience — could soon get the artificial-intelligence treatment.
What's happening: Pactum AI, the world's largest provider of automated procurement negotiation, has been using AI chatbots to negotiate the packages of its employees since 2021.
Ironclad, a startup backed by Sequoia and Accel, is gearing up to launch an AI agent that specializes in employment contract analysis.
Individuals can use publicly available chatbots to role play negotiations and brainstorm compensation packages.
Why it matters: Salary negotiations are often unsatisfying and nerve-wracking for workers, time consuming for employers, and deliver subjective and unequal outcomes — so anything that might improve the process is worth considering.
The big picture: COVID-era workplace disruptions changed many employees' expectations around work-life balance and led some workers to focus as much on benefits as on gross salary.
In the rosiest scenario presented by AI proponents, the technology could broaden the scope of workplace negotiation to reflect different priorities workers may have at different stages of life and with varying family responsibilities.
Few people enjoy negotiating — and it can be difficult to repeatedly demand more money or benefits from a person you may have to deal with for years to come.
The context: Pactum's salary chatbot was inspired by its platform for autonomous negotiations, which is used by companies such as Walmart for vendor negotiations.
Martin Rand, Pactum's CEO, told Axios that feedback from his 80 employees is positive — and has taught the company the importance of negotiating benefits as well as salary, giving employees multiple equivalent offers to choose between.
The chatbot also helped with achieving gender-balanced compensation, Rand said. Men and women negotiated equally hard with the bot, whereas men tended to negotiate harder than women in person, he said.
Yes, but: AI could also disadvantage workers in compensation negotiations, or leave them unsatisfied in new ways.
Workers who aren't given full context or who provide poor prompts to the chatbot will likely be at an information disadvantage.
Automating low-value product contracts is one thing, but palming off highly-skilled or unique talent to a chatbot risks alienating the most desirable new hires.
Payroll data is sensitive. A poorly trained chatbot could compromise individual privacy and commercial secrets.
Reality check: Rand said right now Pactum sees difficulties in operating a salary chatbot at scale, and the company plans to stay focused on automating procurement negotiations.
What they're saying: "A human will have to constantly calibrate this chatbot," Adam Niewinski, co-founder of VC firm OTB Ventures and a former bank executive, told Axios.
"The salary chatbot reduces biases of managers and can get a better deal for both sides," Rand said.
Rand predicted a future of "constantly adjusting benefits," made possible by bots with unlimited time to negotiate when worker priorities change — or perhaps when companies either need to tighten their belts, or have resources to offer bonus compensation.
The other side: Other players in labor negotiations, from unions to tech startups, see opportunity in having AI assist in traditional contract talks.
American Teachers Federation president Randi Weingarten told Axios that "AI has the potential to help" so long as it's a supplement rather than substitute for human input, and each side has access to a given tool's benefits.
"There are elements of collective bargaining, such as costing out contracts, where smart technology has and could play a role. But the key to successful negotiations is relationships, not automation," Weingarten said.
"Negotiation is an inherently human interaction that requires human intelligence. Tools that use AI to assist negotiation will win, and those using AI to entirely automate the process will lose," Ironclad CEO Jason Boehmig told Axios.
Go deeper