Ecuadorians reject oil extraction in parts of Amazon in historic vote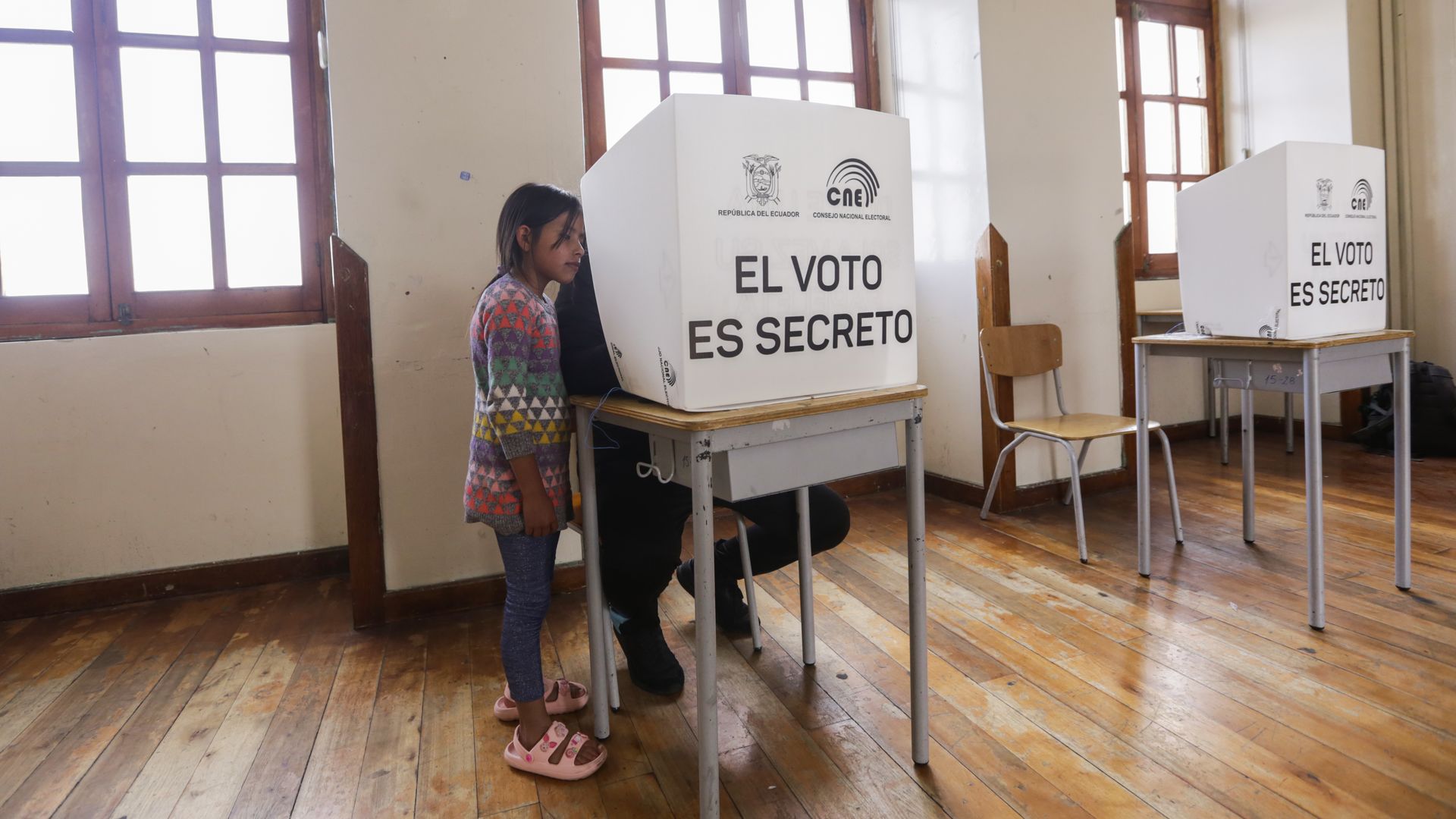 Ecuadorians voted on Sunday to ban oil drilling in a part of the Amazon rainforest that's considered one of the most biodiverse regions in the world and is home to some of the last Indigenous peoples living in isolation.
Why it matters: The results of the historic referendum will require Ecuador's national oil company, Petroecuador, to close all of its active oil wells and remove all infrastructure from a portion of Yasuní National Park within a year.
Catch up quick: Yasuní, located along the eastern portion of Ecuador's border with Peru, was designated a UN Educational, Scientific and Cultural Organization (UNESCO) biosphere reserve site in 1989.
Hundreds of thousands of distinct species inhabit the 2.5 million-acre area, including at least three that have not been found anywhere else around the world.
It's also home to around 200 and 300 people from two uncontacted Indigenous tribes — the Tagaeri and the Taromenane.
But the national park holds one of Ecuador's largest crude oil reservoirs, accounting for more than 18% of its proven reserves.
By the numbers: Roughly six in 10 Ecuadorians voted to halt Petroecuador from operating its 225 active wells or opening other planned wells, according to Amazon Watch, an Oakland-based advocacy group for the rainforest and those who live in it.
It said the vote would keep about 1 billion barrels of oil in the ground.
Before the vote, about 54,800 barrels of oil were extracted from the Ishpingo Tambococha-Tiputini oil field every day.
What they're saying: YASunidos, an Ecuadorian environmental collective that has been working to end oil drilling in the park for around a decade, said the vote marked the first time a country decided "to defend life and leave oil underground."
"It is a historic victory for Ecuador and for the planet!" it said on social media.
Petroecuador in a statement said it "will follow through in full the decision taken in respect of popular will."
The big picture: The Yasuní vote is a major blow to outgoing President Guillermo Lasso, who advocated for oil drilling, according to AP.
Almost seven in 10 Ecuadorians also voted to ban mining in the Choco Andino forest outside of the country's capital of Quito, according to Reuters.
Ecuadorians also cast their ballots for a new leader to replace Lasso on Sunday. The race is likely headed to an October runoff election between leftist Luisa González and Daniel Noboa, a political outsider, the New York Times reports.
The election was called after Lasso in May dissolved the National Assembly, members of which had been in the process of impeaching him over accusations that he disregarded embezzlement concerns at a state-owned oil transportation company.
Go deeper