Robotaxis can now charge for 24/7 rides in San Francisco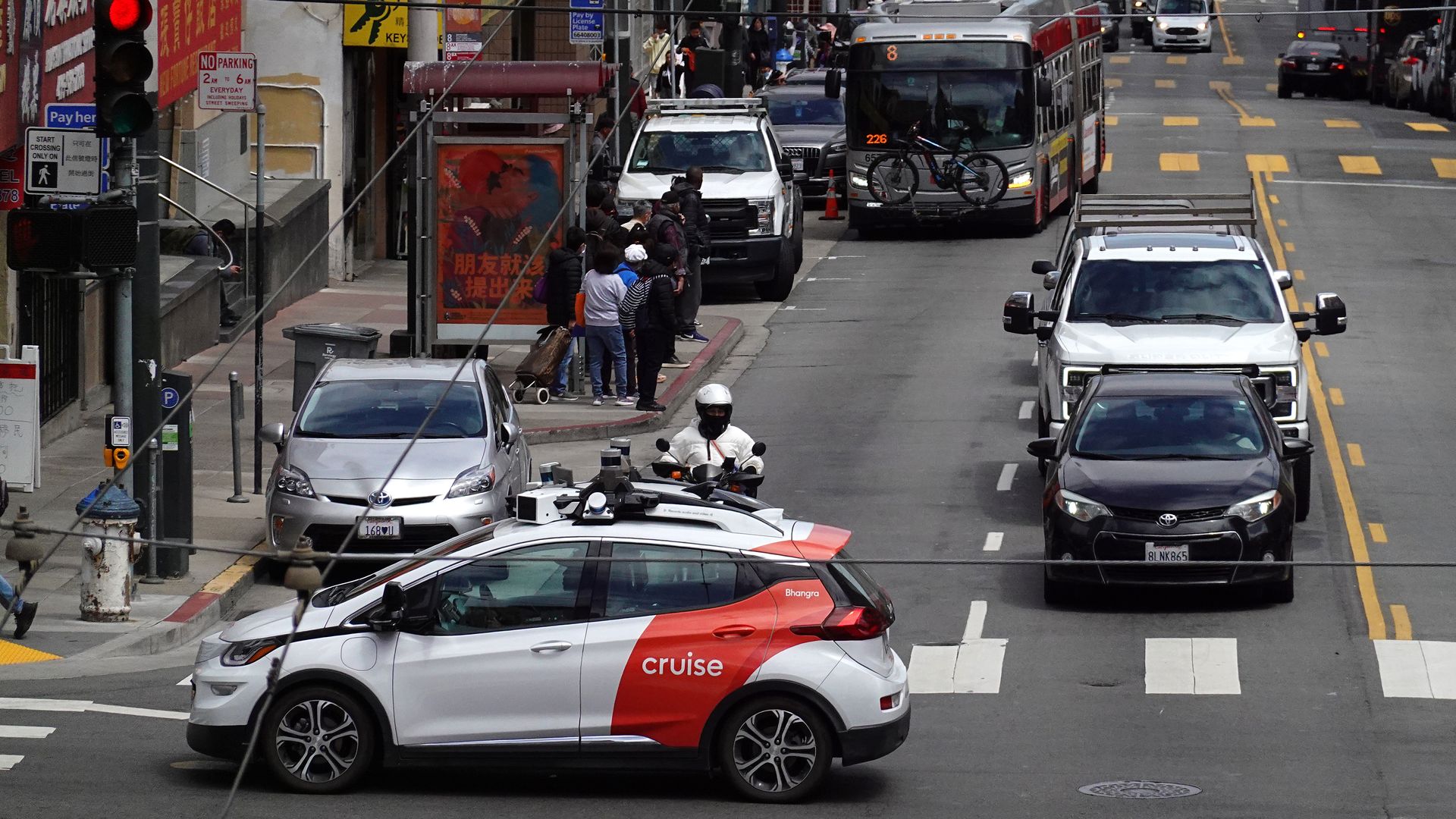 Waymo and Cruise are now allowed to launch paid 24/7, fully autonomous driverless car services in San Francisco, state regulators decided Thursday.
Why it matters: This is the final approval in both companies' quests to launch their full-fledged services throughout San Francisco.
What's happening: After several hours of public testimony, the California Public Utilities Commission on Thursday granted permits to allow both Cruise and Waymo to charge for rides around the clock in San Francisco.
Previous permits from the CPUC allowed Cruise to charge for rides between 10pm to 6am without a safety driver present, and at any time with a driver present; Waymo was only allowed to charge for rides with a safety driver.
What they're saying: "While we do not yet have the data to judge AVs against the standard human drivers are setting, I do believe in the potential of this technology to increase safety on the roadway," CPUC Commissioner John Reynolds said in a prepared statement.
Meanwhile, Cruise executive Prashanthi Raman in a written statement called the decision a "historic industry milestone, adding that the company will continue to work closely with our regulators, first responders, and other key stakeholders as we expand our service to more people."
Waymo co-CEO Tekedra Mawakana called the permit "the true beginning" of its commercial operations in the city.
The other side: San Francisco officials, however, have complained about driverless vehicles in the city for months, saying the robotaxis disrupt traffic and interfere with bus routes and emergency scenes, Axios' Joann Muller reports.
At a CPUC hearing Monday, fire chief Jeanine Nicholson said the response times for Cruise and Waymo to retrieve stalled vehicles is too long, saying "it is the responsibility of the autonomous vehicle companies to not have them impact us in the first place," the San Francisco Chronicle reports.
By the numbers: The San Francisco Municipal Transportation Agency (SFMTA) reported nearly 600 known incidents involving driverless vehicles in San Francisco since June 2022.
These incidents include a variety of driving behaviors, like stopping unexpectedly, collisions and more.
Meanwhile, fire officials said they've counted 55 incidents involving self-driving cars interfering with emergency responders this year, the Chronicle reports.
At Monday's hearing, Cruise said it counted 177 incidents where it had to retrieve a stalled robotaxi between January and July 18. Waymo said it counted 58 between January and June 30.
Between the lines: Last month, a group of disability advocates urged state regulators to approve Waymo's permit that would enable the self-driving car company to receive payments for its around-the-clock service in San Francisco.
They argued autonomous vehicles are safer and provide more accessibility and independence than traditional ride-hailing services, and hope the permit will encourage expanded services.
What to watch: How many cars Waymo and Cruise will deploy now that they have permission to charge for rides around the clock.
Waymo currently operates 250 while Cruise operates 300 at night and 100 during the day in San Francisco, the companies said at the CPUC hearing on Monday.
Neither company specified how many they would deploy with the new permits, but they said the ramp-up would be incremental.
Waymo said it will begin charging for fully driverless rides in San Francisco in the coming weeks.
Go deeper