Federal drug discount program faces renewed scrutiny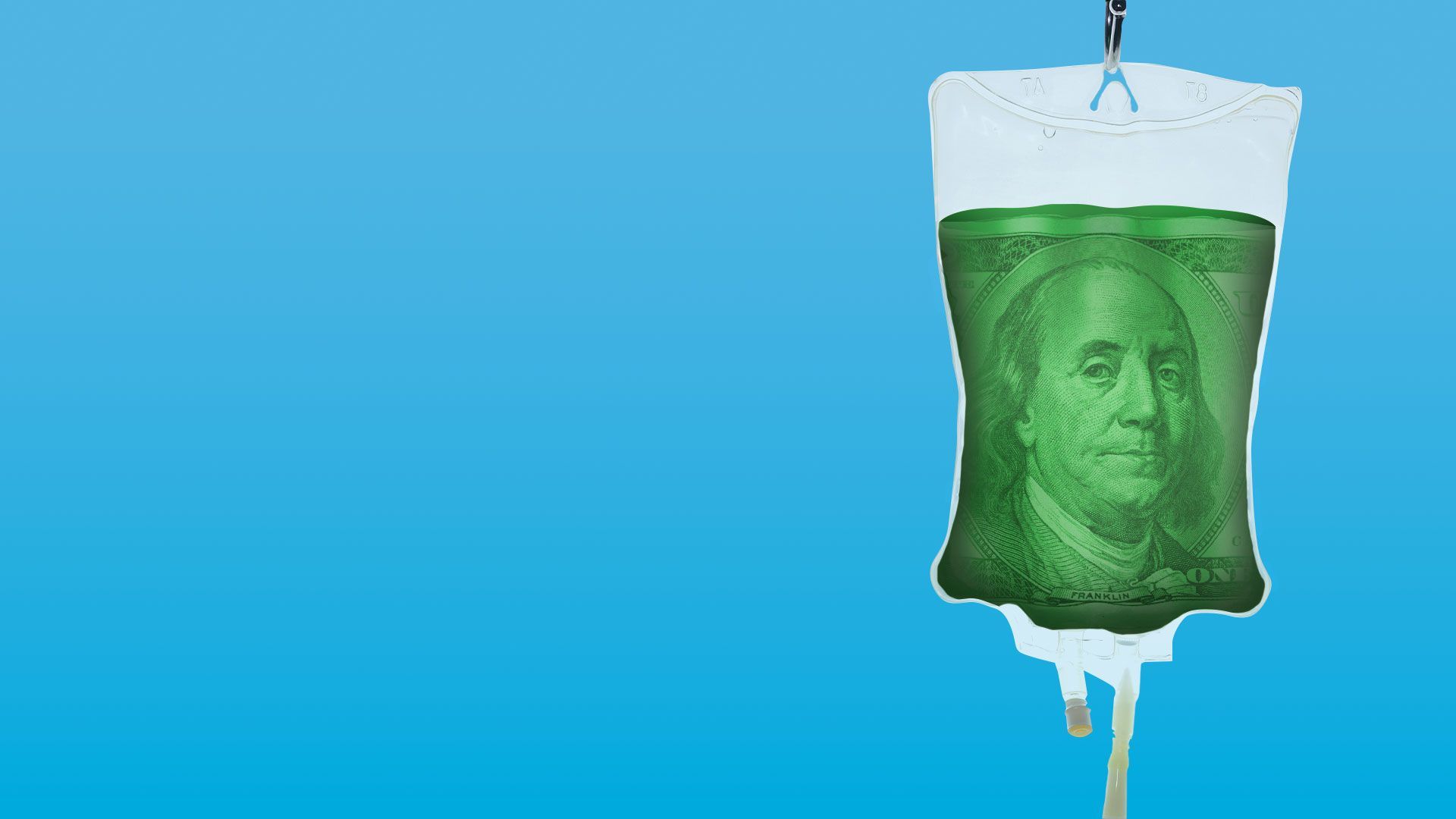 A federal drug discount program for safety-net providers that's been a perennial source of fierce disputes among health care industry powerhouses is back in the spotlight, with billions of dollars at stake.
The big picture: Separate but coinciding issues are generating renewed focus on the decades-old 340B program, which requires that drugmakers give large discounts on outpatient drugs to health care providers serving low-income patients.
A Biden administration proposal to issue hefty back payments due to 340B providers, drugmakers' efforts to limit discounts, and rebooted congressional interest in broader reforms are again igniting debate about the program's scope.
Context: The Supreme Court last year unanimously sided with hospitals who challenged a nearly 30% reduction to their 340B payments by the Centers for Medicare and Medicaid Services that began under the Trump administration.
In response to the court decision, CMS last month announced a $9 billion plan to repay 340B providers that's generated some controversy. While 340B hospitals are happy they're getting paid back, industry groups are upset that the payments are funded by clawing back money to other hospitals.
Meanwhile, the Biden administration is battling drugmakers in court over restrictions they've placed on where hospitals can use their 340B discounts.
A bipartisan group of senators this summer also released a request for information on how to improve stability and oversight within the program.
Hospitals could face further cutbacks if Congress or the courts place new limits on 340B.
Flashback: The 340B program began in 1992 to help providers serving patient populations who struggled to afford their prescription drugs. It allows hospitals and other safety-net providers like community health clinics to save an average of 25% to 50% on drug purchases, according to the federal government.
When hospitals partner with off-site pharmacies to dispense drugs, the pharmacies also benefit financially from 340B savings.
The program has grown significantly since its inception, increasing from 8,100 participating safety-net providers in 2000 to 50,000 in 2020.
Between the lines: The expansive program growth has drawn lawmakers' scrutiny and complaints from pharmaceutical companies, who accuse providers of using the program to pad their profits rather than help vulnerable patients. Providers dispute those accusations and say the program helps them stretch limited federal resources.
More than 20 drug companies have placed restrictions on when providers can use 340B discounts at off-site pharmacies. Drug companies say the limits help prevent them from having to give duplicate discounts, which occurs when both the provider and state Medicaid agency receive a discount on the same drug.
The Biden administration asked several drugmakers to lift their 340B restrictions and threatened fines if they don't comply.
Several drugmakers have sued the administration, arguing federal officials didn't have the right to stop them from limiting discounts. One appellate judge ruled in favor of drugmakers earlier this year, and two other cases are pending in federal appellate courts. Experts say the cases could go all the way to the Supreme Court.
As the legal fight plays out, 340B providers are urging Congress to approve new measures to prevent drugmakers from restricting access to discounts.
The other side: Drugmakers, meanwhile, want lawmakers to tighten hospital eligibility standards and place stronger limits on how 340B pharmacies can profit from the program.
Of note: Rural hospitals, some of which were spared from the 340B cuts made years ago, are especially concerned about the hit they would take from CMS' proposed funding clawbacks.
Rural facilities today rely heavily on 340B to offset other financial losses, Brock Slabach, chief operations officer at the National Rural Health Association, told Axios.
"You can't get out of this problem without harming those who were helped," Slabach said.
What we're watching: Expect to keep hearing about 340B in the coming months.
CMS still needs to finalize the 340B repayment plan after the public comment ends Sept. 5.
The D.C. Circuit Court of Appeals and the 7th Circuit Court of Appeals will issue rulings on whether the Biden administration can reverse drugmakers' 340B restrictions.
Congress could take up a serious reform effort following the Senate's information request, though that would take time.
Go deeper