What to know about Portland's "bare as you dare" Naked Bike Ride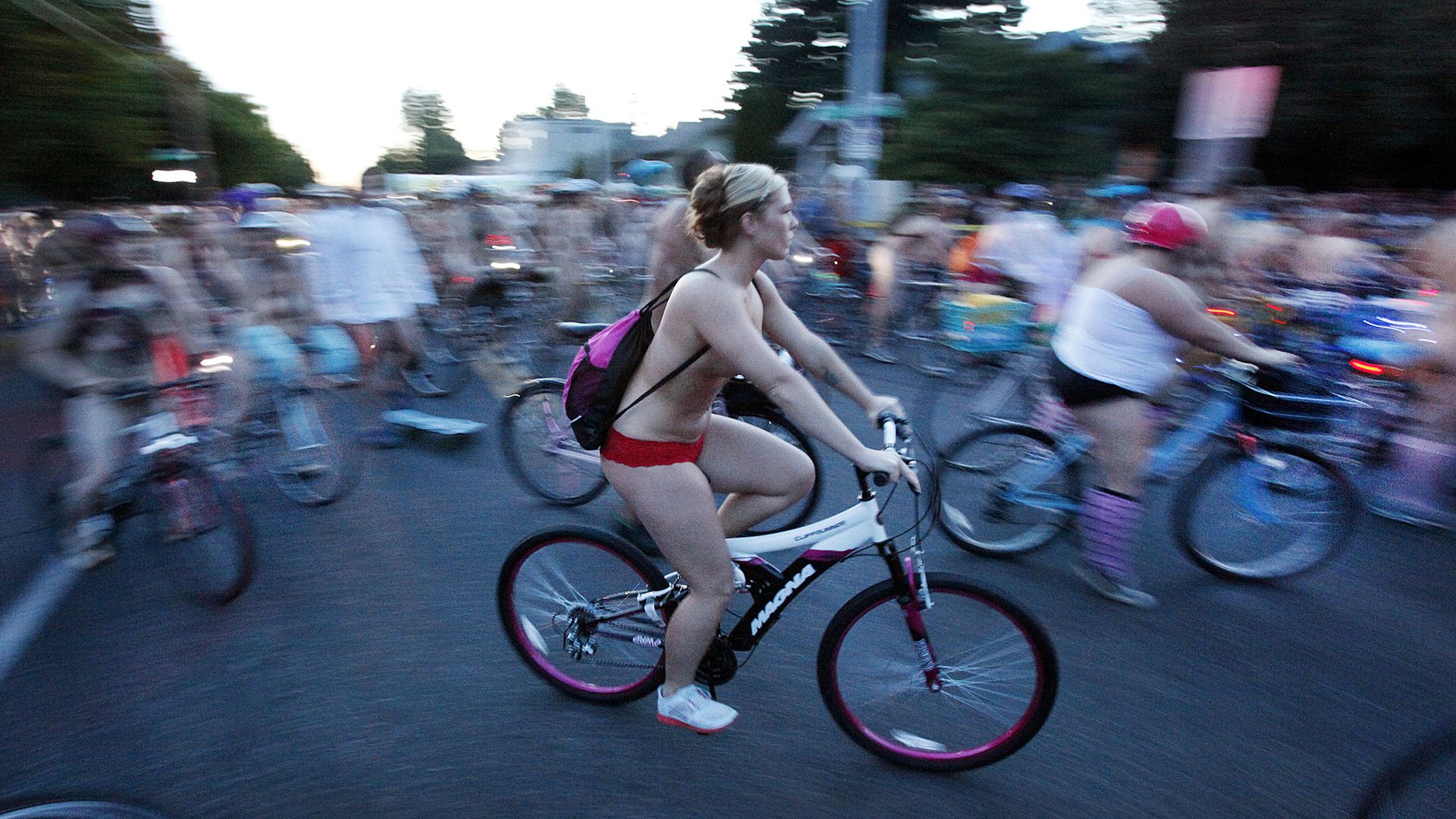 What started nearly two decades ago as a protest of society's dependence on oil has grown into one of Portland's largest cultural events, with nude cyclists taking over city streets en masse.
Why it matters: While the World Naked Bike Ride is quintessentially Portland, we're not the only city that hosts it. Since 2004, cities across the globe have participated as a way to promote cycling as a mode of transportation, as well as body positivity.
Driving the news: The annual World Naked Bike Ride kicks off at Irving Park Saturday at 8:30pm, to coincide with the peak of the Perseid meteor shower. The dress code is "as bare as you dare."
The route, as in past years, remains top-secret in an effort to prevent pedestrians lining up along streets to watch the bare-skinned crowds cruise by.
The end of the route (which usually takes a couple of hours) is typically near public transit and often breaks out into an outdoor dance party.
After-party details will be released the day of the ride on the Portland World Naked Bike Ride's Instagram account.
The intrigue: Public nudity is illegal in Portland, although court rulings have allowed it in instances of protest.
If you happen to stray from the group's route in Saturday's event, don't fret: The public indecency ordinance does not apply to the Naked Bike Ride, the Portland Police Bureau confirmed to Axios.
However, you don't have to be nude, or ride a bike, to join in on the fun. Many riders wear costumes, adorn their skin with body paint and decorate their bikes. All forms of human-powered transportation are welcome.
Pro tips: If you decide to ride nude, consider bringing socks, a beanie or a zip-up hoodie for warmth.
In case you get hungry or thirsty during the miles-long ride (last year's was 11 miles), a handy fanny pack or cross-body bag is great for holding snacks and beverages.
You could also stop at a restaurant along the path, but be prepared to encounter curious onlookers.
And finally, collisions are bound to happen. The World Naked Bike Ride routinely attracts thousands of cyclists — and we all know how narrow Portland streets can be.
Be free to let it all hang out, but always wear a helmet.
Go deeper