AI boom could fuel San Francisco's comeback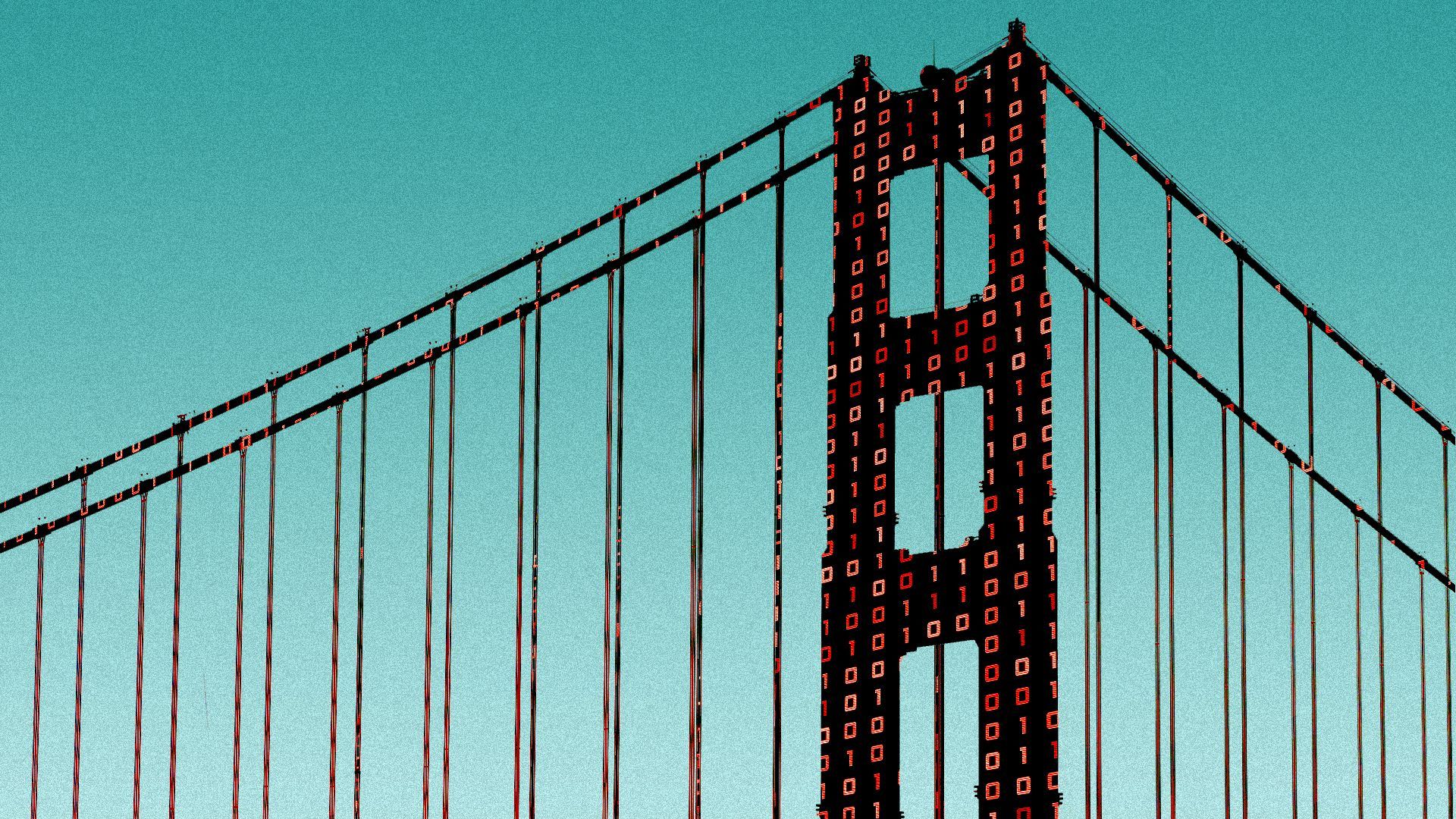 Searches for office space in San Francisco are picking up again — offering hope that a recovery may be starting for the depressed downtown of tech's global capital.
Driving the news: Office searches — a quarter of them by AI companies — are reaching levels not seen since COVID vaccines became available in 2021, per JLL, a commercial real estate company.
The big picture: For Bay Area optimists, it's the start of another boom cycle. But pessimists are not yet ready to abandon their picture of SF as a grim, "post-apocalyptic" city (Elon Musk's term).
What's happening: San Francisco is now a teeming center of AI development, home to 20 of the 50 members of Forbes AI 50 list showcasing promising AI companies — more than the rest of the Bay Area, and more than the 49 states outside California.
Ten AI companies are today seeking between 700,000 to 800,000 square feet of office space in San Francisco, per JLL, which says AI companies have already tripled their footprint in the city since 2016.
JLL said its confidence is based on anonymized foot traffic and cell phone use data from Placer.ai, demographic and office neighbor information.
Many AI startups believe their work is "really best done in person," JLL managing director Katy Redmond told Axios.
Redmond is bullish on the concentration of tech talent and VC funding in San Francisco, but also the trend of fewer but larger funding deals for AI startups: "it's allowing them to springboard faster," Redmond says, including by taking out bigger office leases.
Commercial real estate companies are betting that in-person attendance requirements from South Bay-located companies such as Google and Meta will also trigger San Francisco-based companies to follow suit.
By the numbers: JLL calculates total national office demand by AI companies will reach 1.6 million square meters nationally by the end of 2023.
Yes, but: That's still only a fraction San Francisco's empty offices.
Around 25 million square feet of office space is vacant in the city, per CBRE — around 28 percent of the total, including 9 million square feet that existing tenants are looking to sublease. JLL reports vacancies ran at 35% of inventory in July in the South of Market, Mid-Market and Mission Bay/China Basin neighborhoods.
Between the lines: Many smaller AI startups are located a ways from the city's downtown heart, including in Hayes Valley (recently dubbed "Cerebral Valley") and the Mission District — where OpenAI is based.
Right now AI firms lack the scale to fill blocks of empty downtown skyscraper floors. OpenAI, among the hottest AI firms, has only around 500 employees. One of the biggest, Databricks, has around 5,500 employees.
What they're saying: "We've gone through this one a dozen times in the United States where something really incredible happens that transforms the way we work. There's always a little bit of change and little bit of resistance, but long term positive impact," Redmond said.
Flashback: San Francisco's downtown was also written off after the dotcom bust 20 years ago, and things got so grim after 9/11 that downtown storefronts hung "San Francisco is open for business" signs in their windows.
A few years later, another wave of tech investment kicked off with the iPhone and social media, and SF was bustling again.
What's next: Redmond said, "San Francisco is writing the playbook for being a new type of knowledge center," but there's three other cities she expects to pop soon as well: Boston, Seattle and Washington, D.C.
Editor's note: This story has been corrected to note that OpenAI employs around 500 staff, not 1000.
Go deeper