U.S. public opinion is evenly split on AI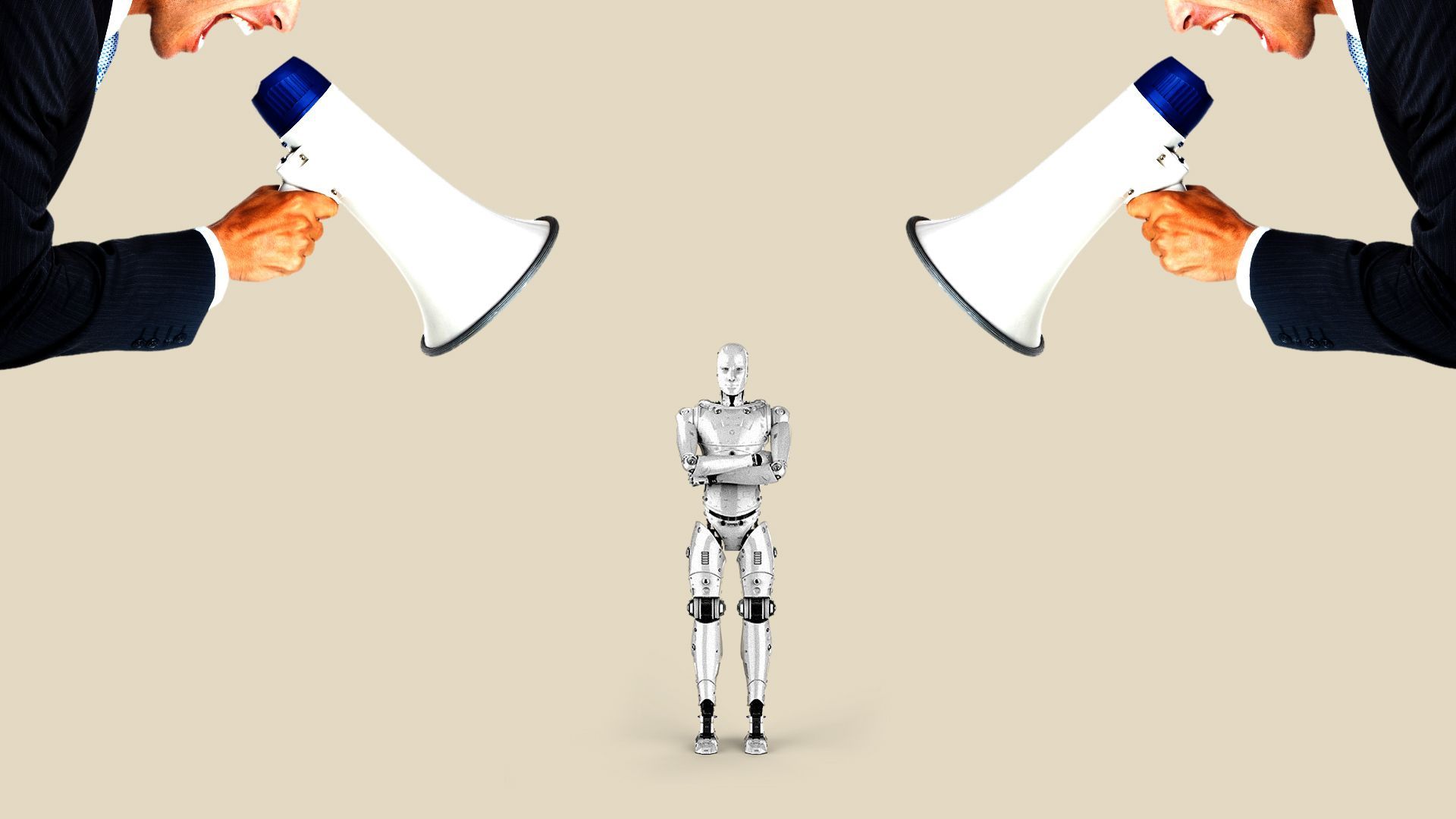 Add artificial intelligence to the long list of topics that evenly divide the American people today.
Yes, but: The relatively even split on overall favorability masks significant differences in attitudes toward and use of AI along income, age and racial and ethnic lines, per an Axios review of more than a dozen recent polls of American adults.
Why it matters: While a majority of Americans have yet to try using generative AI tools, that isn't stopping them forming skeptical opinions about the new technology.
Americans are already among the populations least trusting of tech in Edelman's annual trust barometer report (though tech overall fares much better than most other industries). 
Tech companies should now expect persistent trust headwinds as they work to develop AI markets.
What's happening: Large majorities of Americans agree they want both transparency and guard rails around AI use — but when it comes to awareness and use of new generative AI tools, those who are under 40 and college-educated dominate.
Among the biggest disparities in a June national poll of 1,647 adults conducted by data analytics firm BlueLabs: half of those under 40 have used an AI chatbot, while among those over 60m barely 1 in 10 have.
Those with a college degree are more than twice as likely to have used AI-powered chat for work, than those without a college degree (39% to 17%).
The same poll found 72 percent of Asian Americans or Pacific Islanders had heard of AI-powered chatbots, but just 41 percent of Black Americans had.
Of note: Democrats are more optimistic than Republicans about AI. The BlueLabs poll found 1 in 3 Republicans believe AI is having a negative impact on daily life, compared to 1 in 5 Democrats.
An Ipsos poll from April reported 50% of Republicans have a negative view of AI, compared to 38% of Democrats.
Use of AI in the workplace is both sensitive and divisive. A Pew Research Center survey of more than 11,000 adults published in April found that:
Young adults are the most opposed to AI-powered surveillance at work: 64% of 18-29 year olds opposed to having their computer usage tracked compared with 38% of those 65 and older.
90% of upper income Americans (defined as incomes above $131,500) would "probably or definitely feel inappropriately surveilled" if AI were used to collect and analyze information on workers, compared with 70% of those in lower-income families.
"Asian adults stand out for their opposition to several types of AI monitoring," Pew reported, including AI used to track worker movements, desk time and computer habits.
Other findings:
A consumer sentiment survey of 3,030 adults conducted by A/B for Maveron VC, ending June 19, found that 36% of consumers with household income above $250,000 said they are likely to trust product recommendations from AI, but only 16% with income less than $50,000 would.
A new Morning Consult survey found that 77% of Baby Boomers — compared to 63% of millennials — are concerned about the increase in the use of AI in health care.
Go deeper