How Dallas became the proving ground for autonomous trucks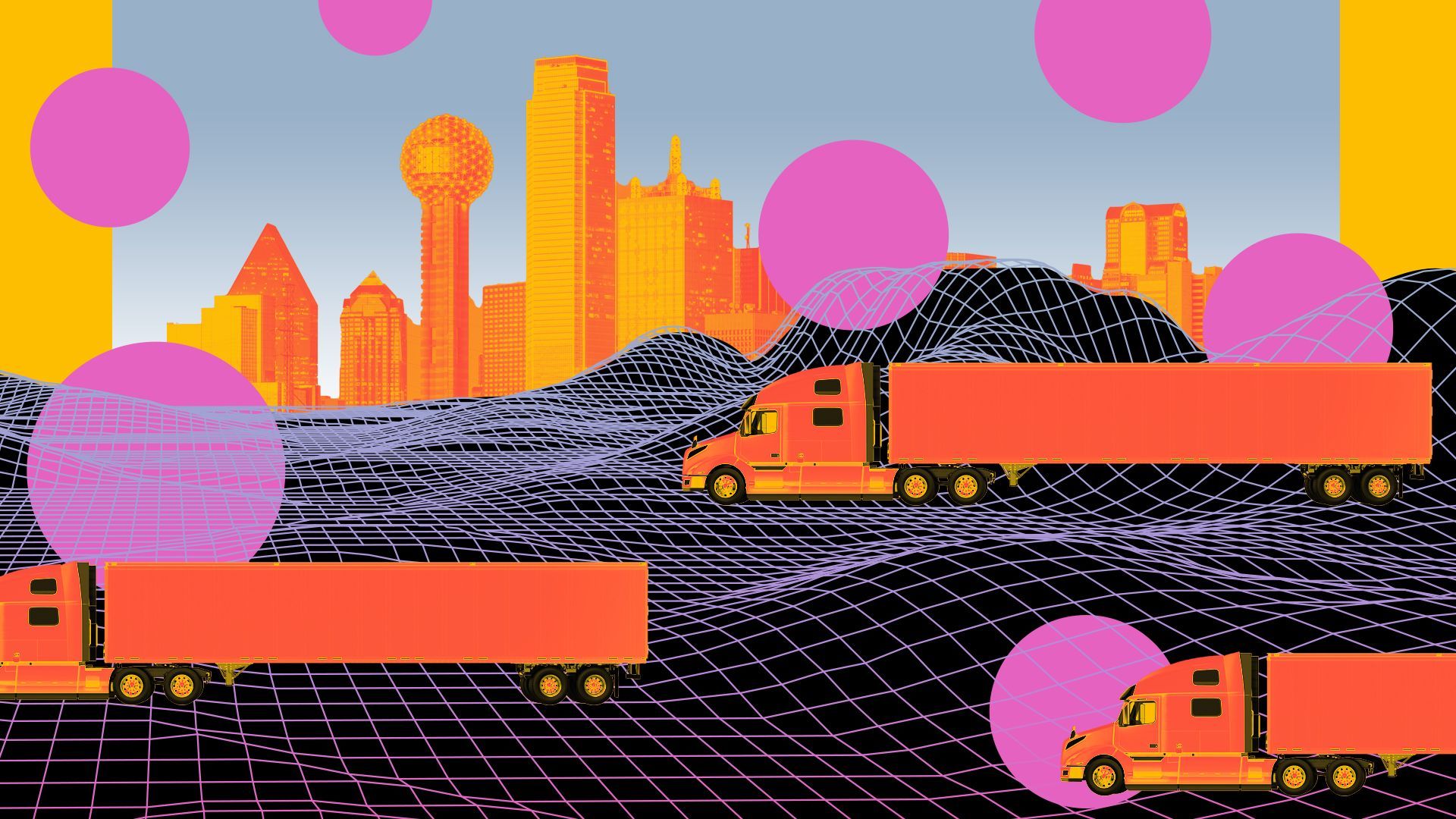 On any given day, Dallas motorists traveling along I-20 or I-45 are likely to be sharing the road with a self-driving truck that has the equivalent of a learner's permit.
Why it matters: Dallas is the hub of autonomous truck testing and development, thanks to its vital freight corridors, business-friendly policies and generally favorable weather.
"Put all that together, and it's hard to envision a place that would be better to launch autonomous trucks," says Ossa Fisher, president of Pittsburgh-based Aurora Innovation.
Texas is more proactive than other states that allow autonomous vehicle testing and deployment, industry officials tell Axios.
What's happening: Most autonomous truck developers are testing their rigs with real customers in the Dallas-Fort Worth area, using backup safety drivers until the technology is ready to go solo.
Aurora, for example, which just raised $853 million ahead of its planned driverless launch by late 2024, is hauling more than 50 loads a week to Houston and El Paso for pilot customers like FedEx, Schneider, Werner Enterprises, Uber Freight and Hirschbach.
Kodiak Robotics' semi-trucks are also doing commercial runs for clients across Texas, including hauling Ikea furniture seven days a week between a distribution center in Baytown and the Ikea store in Frisco.
Gatik, which specializes in "middle mile" logistics, is running smaller autonomous box trucks across the region, delivering goods for companies like Kroger, Sam's Club and Pitney Bowes.
A fourth company, Torc Robotics (an independent subsidiary of Daimler Truck) does most of its testing in New Mexico, but has a growing presence in Texas.
What's next: Most autonomous truck companies plan to go fully driverless in Texas within a couple of years.
Of note: In California, a proposed Teamsters-backed law would require autonomous trucks to always have a backup safety driver.
Between the lines: It's up to the truck developers to decide when their technology is safe enough to deploy.
Most are testing their systems through a combination of real-world experience and computer simulations of extremely rare scenarios.
Aurora last week said it had even simulated real truck accidents to see how its technology, dubbed the "Aurora Driver," would have performed in the same scenarios.
The company studied 32 fatal collisions involving a tractor-trailer between Dallas and Houston from 2018 to 2022.
Of those cases, 29 were relevant to Aurora's commercial operations. The company's simulations demonstrated that the Aurora Driver would have avoided all 29 fatal collisions.
Yes, but: Autonomous trucks can still get into accidents, as happened to a Waymo tractor-trailer that was forced off the road in May 2022.
How it works: Autonomous trucks would operate mostly "hub-to-hub" in tandem with local drivers.
Using a variety of sensors (including long-distance lidar, cameras and radar), the automated trucks would drive on the highway, often sticking to the right lane, for hundreds of miles.
When they approached their destination, they'd be trained to exit the highway and navigate a mile or so on surface streets to arrive at the hub.
There, the trailer would be switched to a conventional truck operated by a local driver, who would deliver it to its final destination.
State of play: Axios' Naheed Rajwani-Dharsi had a rare opportunity to ride along with Kodiak Robotics on a recent test run in southern Dallas County.
The 20-minute ride included two members of Kodiak's development team: a third-generation truck driver, whose hands hovered over the steering wheel in case he needed to take over, and an engineer, who monitored the truck's software on a computer screen.
The trailer attached to the cab was empty — but several other Kodiak trucks were out on the streets around the same time making deliveries.
The truck didn't go over 65 mph and stayed in the right lane on I-20 and I-45, slowing frequently for aggressive drivers or stalled vehicles in the shoulder lane.
The truck's sensors conducted roughly 1,000 checks on the surrounding environment every 100 milliseconds to identify and adjust to the behavior of other drivers, Kodiak reps explained.
💬 Naheed's thought bubble: I have major trust issues around 18-wheelers on the road, so I was skeptical about this test ride at first.
But after seeing the technology and the testing behind Kodiak trucks, I've decided I'd much rather share the road with an autonomous truck than a human driver.
The bottom line: Autonomous trucks could help logistics companies cope with a shortage of long-haul drivers while also lowering costs, reducing fuel consumption and boosting safety.
Editor's note: This story has been updated to clarify that, of the 32 real fatal crashes Aurora analyzed, 29 were relevant to its operations, and simulations showed the Aurora Driver would have avoided the collision in each such case.
Go deeper