How frozen Russian assets could pay to rebuild Ukraine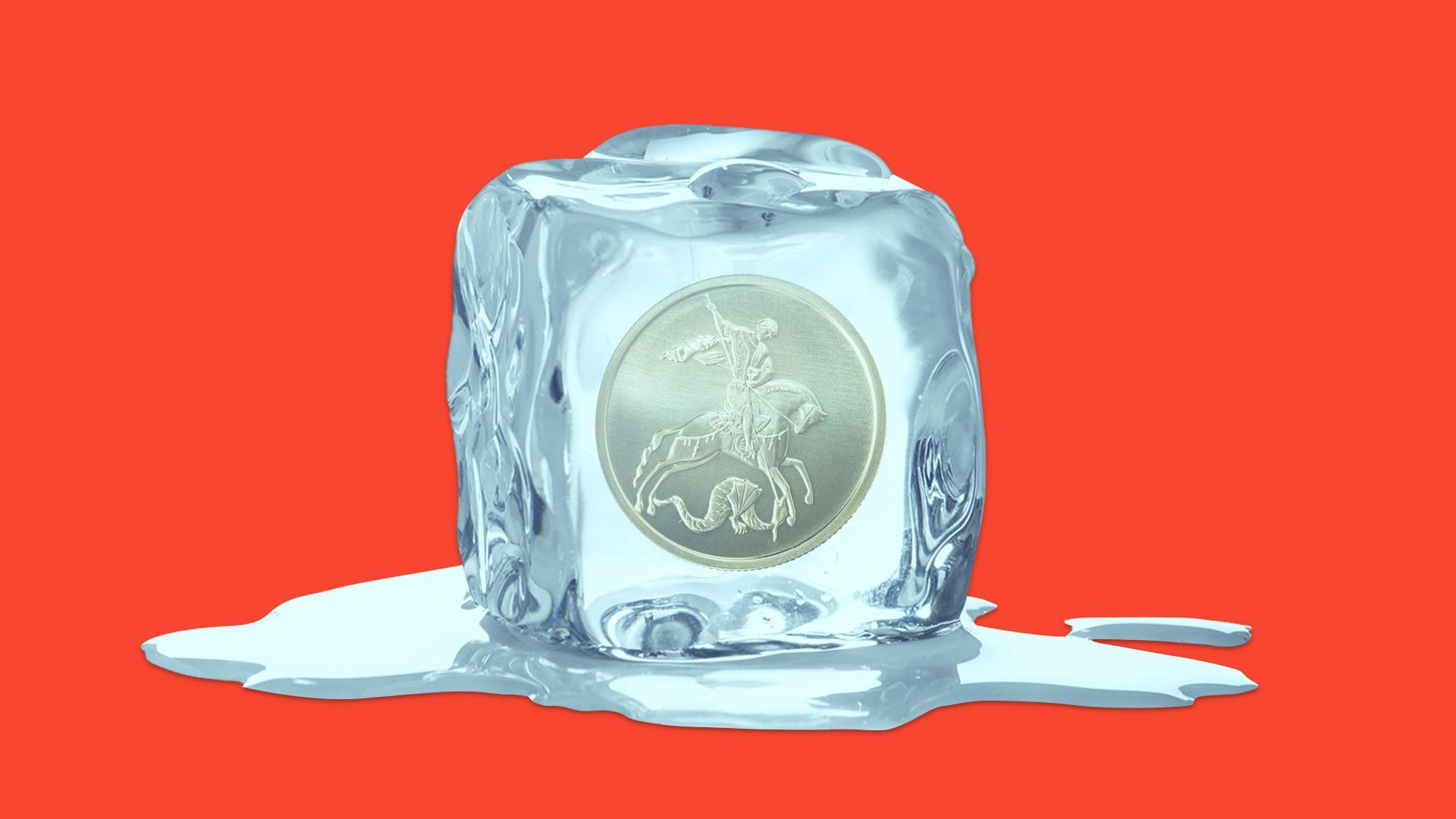 The U.S. and Europe have a $300 billion problem: What to do with the Russian central bank assets that Western governments froze back in February 2022.
Why it matters: Western leaders are under enormous pressure to redeploy these funds for the benefit of Ukraine — but concerns that such a move is legally dubious under both domestic and international law have prevented any action so far.
At stake is Ukraine's ability to rebuild its shattered cities and resurrect an economy that Russia's army has destroyed.
Meanwhile, the decisions Western leaders make will shape their credibility on the global stage as defenders of the rule of law and democracy — issues at the core of their support for Ukraine in the first place.
The moral case is clear: "Russia should pay to rebuild the country that it's been looting and wrecking on a colossal scale," Daleep Singh, chief global economist at PGIM Fixed Income, tells Axios. Singh served in the Biden administration until last year and is viewed as the architect of the West's sanctions on Russia.
So is the practical case: Deterrence for other state actors considering invading sovereign territory, for one. And the price tag for rebuilding Ukraine is steep — $411 billion and growing — Western taxpayers are highly unlikely to foot the bill.
But the geopolitical case remains fraught — under international law, sovereign immunity protects state assets from seizure.
Confiscating the assets unilaterally — a move unprecedented in scale — risks further inflaming the Global South's distrust, and bolstering the view that the West is weaponizing the financial system.
Where it stands: Even as legal scholars and think tanks thaw to the once-unthinkable idea that creative solutions should be sought to put the funds into Ukrainian hands, Western governments seem effectively stuck, says Charles Lichfield, deputy director at the Atlantic Council GeoEconomics Center.
In what looked like a sign of progress back in June, European Commission president Ursula von der Leyen proclaimed that a fund for rebuilding Ukraine would "eventually" be financed "with proceeds from the immobilized Russian assets." She pledged that commission's leaders would release a proposal before their summer break.
But, but, but: The session ended with no such official proposal — a sign of just how difficult it is for 27 countries to agree to a controversial plan on the legal fringe.
In the U.S., members of Congress have pitched bills (like this one) that would grant the executive branch the power to confiscate Russian state assets held in the U.S. and transfer them to Ukraine.
This flavor of legislation would address the domestic legal roadblocks, but not the international ones.
Of note: The U.S. holds just a fraction of the frozen reserves — the lion's share sits in Europe, and Japan has some, too.
"Though the U.S. is a minor player when it comes to numbers, it's a major player when it comes to political heft," says Thomas Kleine-Brockhoff, of the German Marshall Fund.
If the U.S. Congress were to act, it could embolden some European countries who want similar legislation, he says. But "others will never want it. And to pass in the EU, unanimity is required."
It's crucial that the U.S. and Europe work in concert — as they have with sanctions on Russia so far, he adds.
U.S. Treasury Secretary Janet Yellen told Congress in June that "it's critical that any next steps we take be done via careful consultation with allies and partners in a coordinated approach."
She added: "We are engaging in those discussions ... and we're examining a number of options."
Getting creative
Singh proposes a modern version of Brady bonds in which Ukraine borrows money using Russia's reserves as collateral.
In theory, Ukraine might never actually need to touch the reserves — but such a plan would spur the much-needed private investment in its recovery, he says.
Zoom out: If the West wants a legal path to actually confiscating the roughly $300 billion and transferring it to Ukraine, it will need to find a way to bypass legal constraints on seizing foreign state property.
One way to do that is to link the seizure with an aggressor's obligation to pay reparations.
As Lee Buchheit and Paul Stephan note in a recent post on Lawfare, the International Law Commission unambiguously imposes "an obligation to make full reparation" for injuries caused by "internationally wrongful act[s]."
The drawback: It's not a quick fix — pursuing reparations takes a really long time. But there are precedents, wrote Kleine-Brockhoff and his colleagues in a recent paper, in a chapter entitled "Making Russia pay the legal way."
Those precedents include an international claims commission stemming from Iraq's 1990 invasion of Kuwait; and one used after the U.S. froze Iranian funds in the wake of Iran's seizure of the U.S. Embassy in Tehran in the late 1970s, they note.
Simply put, a plan would look something like this: Confiscate Russia's state assets, segregate them in an account established by an international claims body — and tell Russia that the funds will be applied toward the reparations unless Russia pays those reparations voluntarily, Buchheit says.
The bottom line: "We haven't really answered the 'how are we going to do it?' question. But the vibes many are emitting have moved from 'that sounds impossible' to 'we've got to find a way to do this,'" Lichfield says.
Go deeper