Communicator Spotlight: American Express' Jennifer Skyler and Elizabeth Rutledge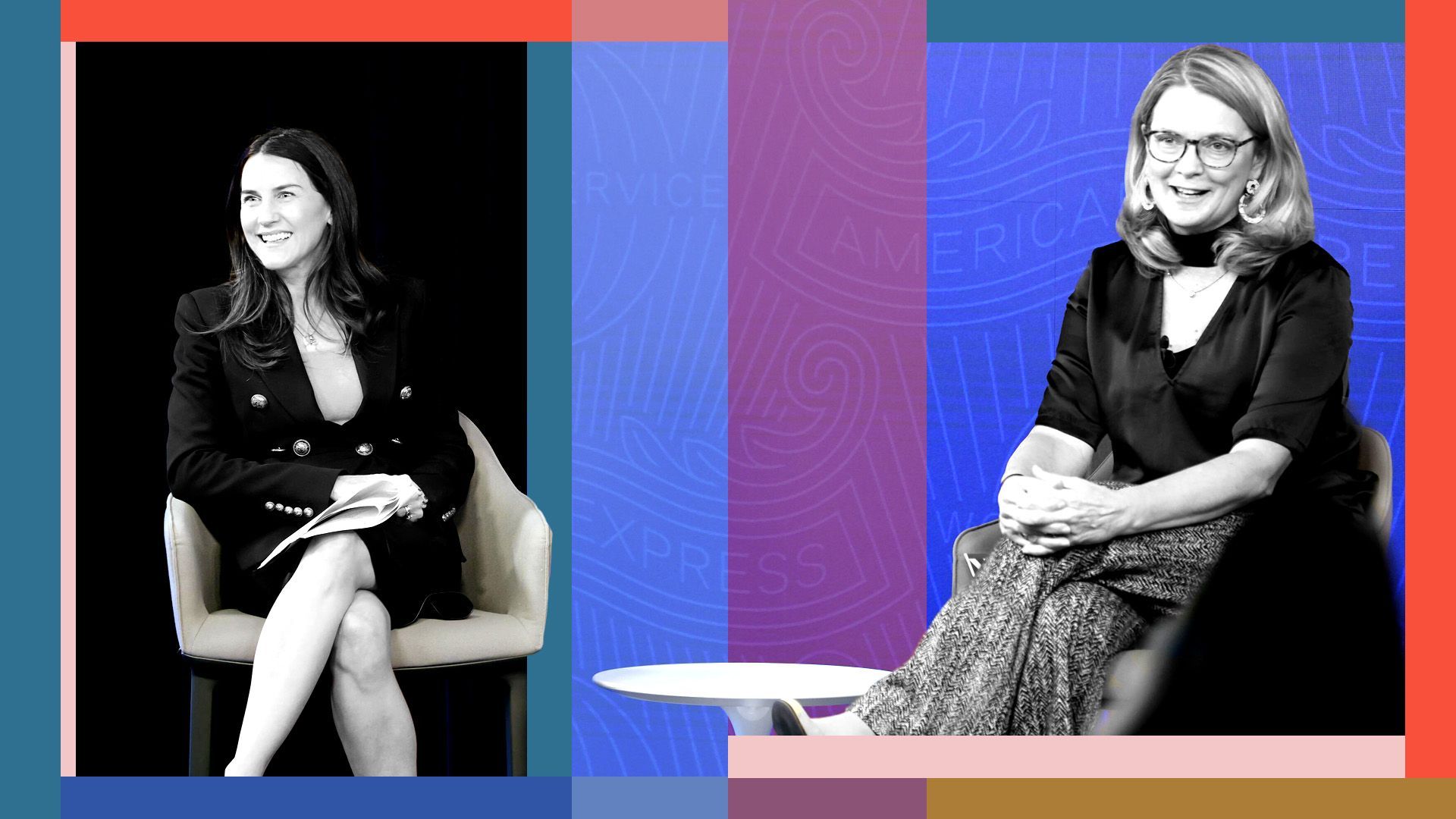 Warren Buffet gave American Express CEO Stephen Squeri some advice in the lead-up to the COVID-19 pandemic: "Protect two things— protect your customers and protect your brand."
Why it matters: Jennifer Skyler and Elizabeth Rutledge are tasked with doing just that.
As the chief corporate affairs officer and chief marketing officer respectively, it's the brand that binds them together.
📍How they got here: Rutledge has spent most of her career at American Express, serving in various product, marketing and insights roles before becoming CMO. Skyler began as a news producer at CNN, MSNBC and CBS before jumping into the tech sector, leading consumer communications at Facebook and most recently serving as chief communications officer at WeWork.
🏗 How it's structured: Skyler oversees a corporate affairs team of roughly 190 people who manage public affairs and media relations, social media, internal communications, reputational risk management and corporate social responsibility.
Rutledge's marketing team of 300 oversee global media, sponsorships, experiences, strategic brand planning and customer insights.
🗣 What they're saying: "We're constantly connecting the dots across our company — and in order to do that, we have to have a really close link between communications and marketing," Rutledge told Axios.
Corporate Affairs acts as the narrative thread, says Skyler. "We think about weaving a holistic story across all channels, for all of our constituents — our colleagues, customers and communities — and we work in lockstep with marketing to enhance and protect the American Express brand."
👯 Recent collaborations: Together, their teams make sure consumers and employees are involved in initiatives like Small Business Saturday, foundation endeavors like Leadership Academy, and partnerships like the sponsorship of the Premiere League's Brighton & Hove Albion football club.
Rutledge's team oversees the partnership with Brighton by creating experiences and access for card members to enjoy, while Skyler's team augments those partnerships through media coverage and owned content.
"We have a TikTok correspondent traveling with the team, creating content for our social channels, and we're reaching a whole new fan base in the United States by ginning up this interest," says Skyler.
"And what [Skyler's] team also did is partner closely with my team to create a football club fan experience for our 77,000 employees and get them involved as well," added Rutledge.
🔎 Most overlooked aspect of the job: The importance of reaching new audiences through strategic partnerships, says Rutledge — like American Express' work with the NBA, Coachella and Wimbledon.
Skyler emphasizes that corporate affairs is uniquely positioned to see across an entire organization and keep everyone aligned.
📈 Trend spot: How artificial intelligence will disrupt content creation and the addition of new social media channels.
🍽 Content plate: Rutledge recently finished the 700-page book, "The Covenant of Water" by Abraham Verghese, while you can catch Skyler digesting the news through various newsletters and binging the latest season of "Ted Lasso."
☮️ De-stress routine: Rutledge requires gummy bears and long walks to unwind, and Skyler regroups by cheering on her 9-year-old daughter's soccer team.
The bottom line: "At the center of our partnership is the brand," says Rutledge. "We both feel like we're protectors, defenders and innovators of American Express' very special, 173-year-old brand."
Go deeper