Anheuser-Busch's global diversity offsets Bud Light sales drop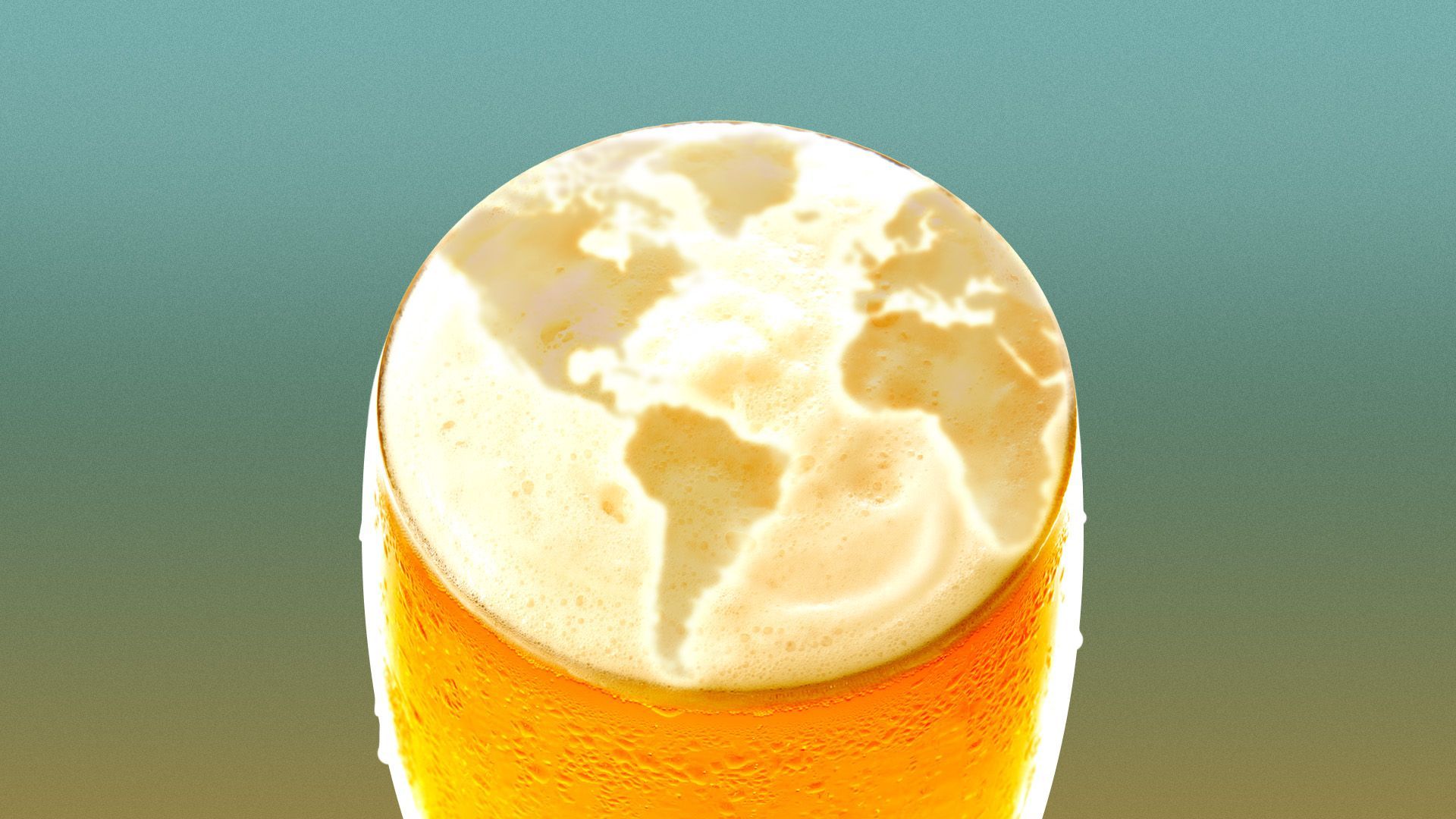 Plunging U.S. sales dinged Anheuser-Busch's earnings, but the alcohol giant said the fallout from its Bud Light controversy is diminishing and the company's global footprint is containing the damages.
Why it matters: A right-wing backlash to a Bud Light promotion with transgender social-media influencer Dylan Mulvaney sent Anheuser-Busch into a tailspin in recent months.
Driving the news: Anheuser-Busch on Thursday reported second-quarter earnings that beat analyst expectations, as global revenue increased 7.2% despite a 10.5% decline in the U.S.
The company acknowledged that its share of the U.S. beer market fell in the quarter but said it's been "stable" since the last week of April. The Mulvaney controversy erupted earlier that month.
Its stock — ticker: BUD — closed up 1.4% Thursday, but is still down more than 14% from where it stood before the backlash.
The big picture: The global diversity of AB InBev's beverage lineup — which includes drinks like Stella Artois and Corona — is helping the company stomach the downturn in the U.S.
In China, beer volume rose by 11% in the second quarter, while revenue in Brazil rose by 9.4% and sales in Europe rose by "high-single digits."
The earnings report "should reassure investors that financial concerns over the recent consumer backlash over the Bud Light brand are overblown considering the company's global portfolio of over 500 beer brands," CFRA Research analyst Garrett Nelson said in a research note.
The intrigue: Since the backlash began, CEO Michel Doukeris has said the company will look to avoid the spotlight going forward — and he reiterated that strategy on Thursday.
It's clear, he said, that customers "want to enjoy their beer without a debate" and "they want Bud Light to focus on beer."
"We are taking the feedback and working hard toward our consumers' business every day across the world," he said on the company's earnings call.
Citing internal research, Anheuser-Busch said about 80% of consumers have a favorable or neutral stance on Bud Light.
Sanford Bernstein analyst Trevor Stirling said on the earnings call that it looks like "the collateral damage" from the uproar is "starting to reduce."
Yes, but: The challenge for global brands is to balance their desire to avoid controversy with the need to please a diverse set of constituents with a wide range of opinions.
It's not always realistic to stay out of the conversation.
The bottom line: Anheuser-Busch is weathering the storm.
Go deeper