Public health crises collide in new chemical regulation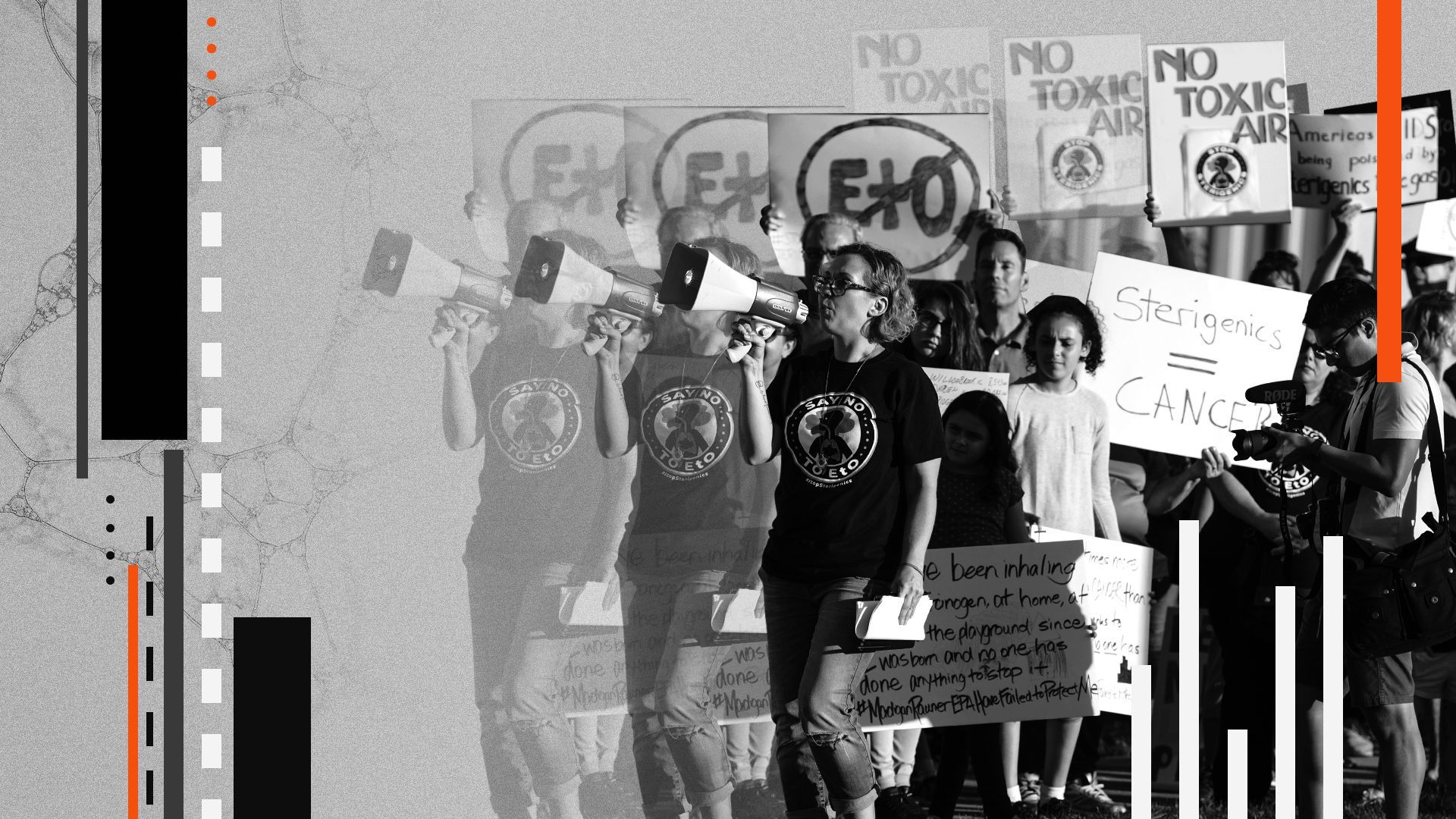 Medical device makers and health care providers want to move away from using a likely carcinogenic gas to sterilize devices — but they say it's not that simple.
Why it matters: Because eliminating ethylene oxide is expected to take so long, federal regulators must weigh the risks and benefits of using the chemical, also known as EtO, at its current scale — and stakeholder groups are at odds over the right path forward.
Where it stands: FDA in April announced a radiation sterilization pilot program to incentivize companies to find better ways to sterilize medical devices.
FDA has launched other initiatives to reduce EtO reliance, including one program that has allowed some facilities to cut emissions as much as 35%, the agency said.
But no alternatives can sterilize devices at the scale of EtO at this point, according to the agency.
The process of finding new sterilization methods shouldn't be rushed, said AdvaMed CEO Scott Whitaker.
"We're better off taking our time and getting the science right rather than rushing to something," Whitaker told Axios.
Industry groups feel there's a clear path forward. "EPA's estimated health risks are based on maximum emission levels for hypothetical and unlikely exposure scenarios; permanent and fatal outcomes to actual people can happen in minutes without adequate medical supplies," the Medical Device Manufacturers Association wrote in a comment letter to EPA.
The other side: Consumer and environmental advocates say industry should've expected EPA's regulations, and the rules provide more than enough time to come into compliance with new standards.
In fact, EPA should shorten its proposed 18-month compliance timeline in final EtO regulations, a group of Democratic lawmakers wrote to the agency last month.
Illinois passed a law in 2019 requiring sterilization facilities to greatly reduce their EtO emissions. Facilities that fail emissions tests must close and get state approval before reopening.
The state "has demonstrated that there are steps companies can take to make sure to continue operating and make sure that the air their employees and their neighbors are breathing is safe," Rep. Brad Schneider told Axios.
Illinois temporarily shut down a sterilization facility in 2019 over EtO emissions concerns, resulting in the shortage of a particular breathing tube for children. But that's after FDA had warned that 594 types of medical equipment could be in short supply because of the shutdown. The facility permanently closed later that year.
The bottom line: EtO regulation highlights the importance — and difficulty — of solving one public health issue without creating another one.
The trade-offs presented by EtO are "not unusual in the complex nature of delivering health care," said Nancy Foster, vice president for quality and patient safety policy at the American Hospital Association.
"You have to take what you've got now, think about how to make it safer as is, and think about what alternative might be developed that would be even safer beyond that," she added.
Go deeper