American banks dominate AI transformation race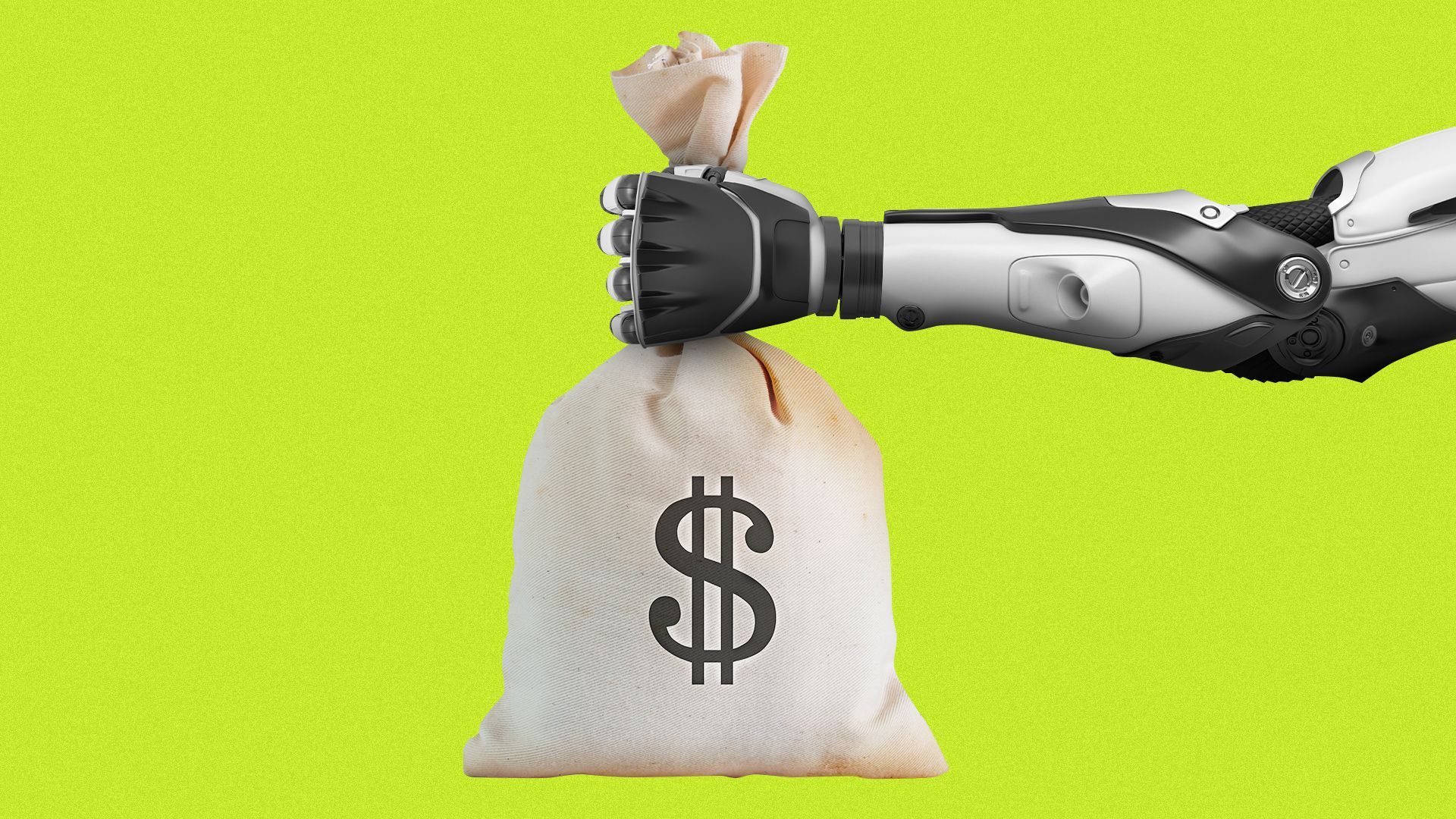 North American banks are winning a global race to transform banking into an AI-first industry, according to a new report from banking data provider Evident.
J.P. Morgan Chase leads in AI research, Capital One in AI patents, and Wells Fargo in AI investments. Other top performers include Royal Bank of Canada, TD Bank, Goldman Sachs, and First Citizens (successor to Silicon Valley Bank).
North American banks published 80% of all bank AI research and made 60% of all bank AI-related investments in 2022, while filing 99% of all the AI-related bank patents in 2021.
Why it matters: Banks and smaller fintech competitors that don't have a centralized AI innovation strategy are falling behind their big bank competitors.
AI research, patents and partnerships can all help a bank set itself apart with new products and processes.
What's happening: Top banks are using AI to be more competitive in markets such as high-frequency trading and payments and to improve performance in fields from fraud detection to marketing.
Many banks have developed AI labs or, in the case of BBVA, an "AI factory." But the report authors say only six banks — all in the U.S. or Canada — are pursuing patent registration strategically, including in unexpected areas such as marketing.
It's a huge challenge for a bank to use AI to harness its data, from sourcing computing resources to structuring data and choosing when to build and when to buy models, while ensuring these investments support new products.
By the numbers: The surveyed banks employ 650 AI researchers, making them players in the fight for AI talent. J.P. Morgan Chase hired more than 40 in 2022, per the report.
Some banks are actively investing in AI startups, from incubation to scaling — sometimes aiming to generate client returns, other times looking for their own direct access to AI innovations.
Zoom out: Many experts are expecting a wave of consolidation in the banking sector, which could be intensified and accelerated by AI.
Smaller banks and credit unions, which often rely on premium customer service as a differentiator, are already behind in AI development and deployment. As those experiences become increasingly driven by AI, smaller players could struggle, per McKinsey.
Yes, but: Top U.S. banks have a large lead over global competitors, though it's shrinking in some areas.
European banks are better positioned on early-stage investments in AI companies, with six of the top 10 pre-seed and seed investors coming from Europe.
U.S. banks as a group published the most AI research papers compared to banks in other regions. But China-based Ant Financial has overtaken J.P. Morgan Chase as the financial institution publishing the most papers.
A May report from analytics firm LeadGenius and Punks & Pinstripes, a network of Fortune 500 executives, concluded that while big banks have ramped up AI recruitment, they're also often losing people to tech companies.
What they're saying: "Maintaining a 'wait and see' approach to AI innovation looks increasingly risky given the pace at which the leaders are accelerating away from the rest of the field," Annabel Ayles, co-founder and COO of Evident, said by email.
"While AI innovation comes at a cost, it is cheap if measured as the cost for survival," Ayles said.
Go deeper