Lawsuit seeks to block first religious charter school in U.S.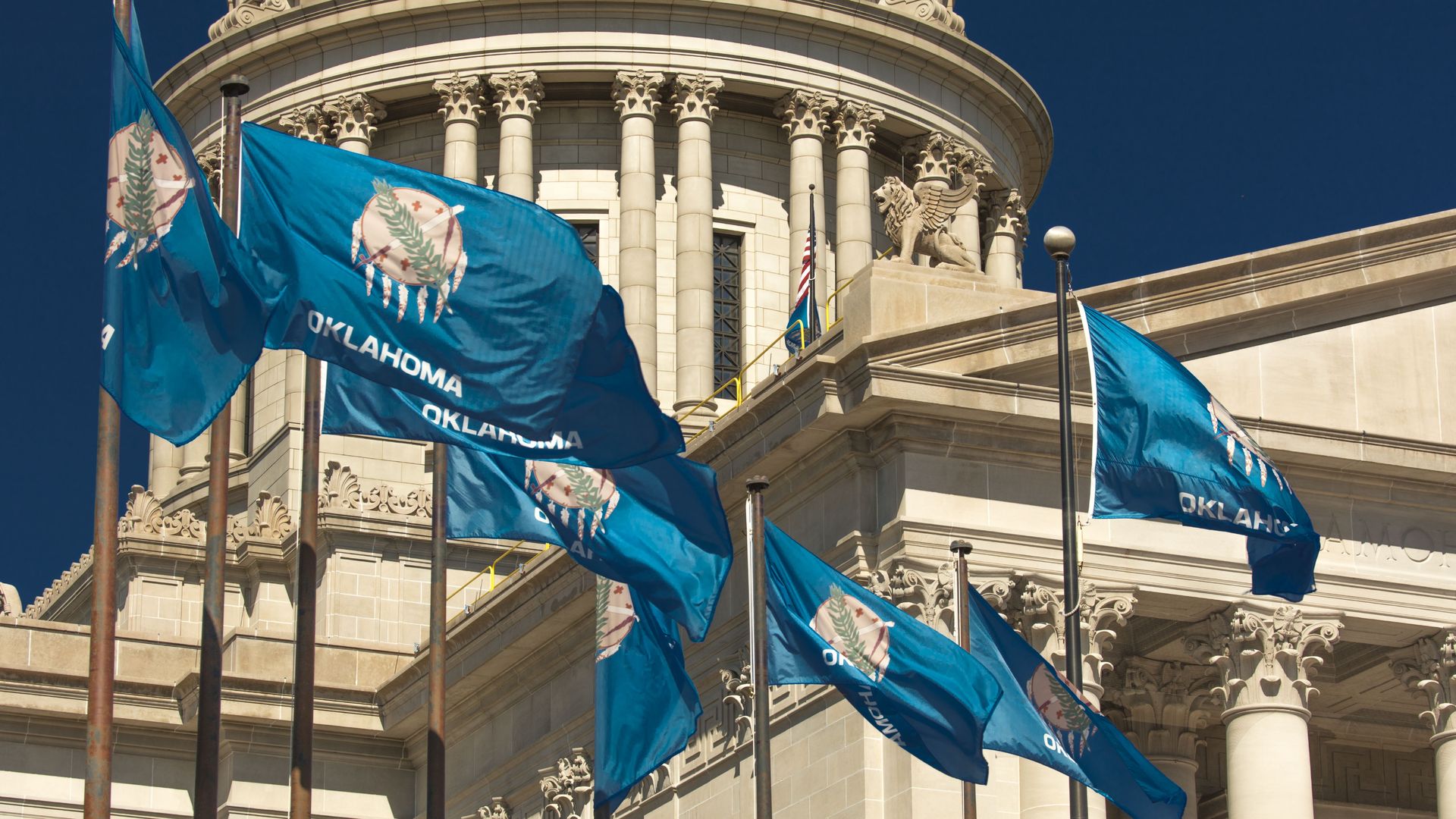 A lawsuit filed in Oklahoma on Monday seeks to prevent the state government from funding what may become the first religious charter school in the U.S.
Why it matters: The legal challenge to the St. Isidore of Seville Catholic Virtual School likely sets off years of litigation that may decide whether the constitutionality of state governments using taxpayer dollars to fund religious schools.
The case could either open a door, or close one, for additional publicly funded religious charter schools around the country.
Driving the news: In June, Oklahoma's Oklahoma Virtual Charter School Board approved the school as a virtual charter school that would be overseen by the Archdiocese of Oklahoma City and the Diocese of Tulsa.
The board did this despite state statutes requiring charter schools to "be nonsectarian in its programs, admission policies, employment practices, and all other operations."
After St. Isidore was approved, Oklahoma Attorney General Gentner Drummond (R) said the decision was unconstitutional "and not in the best interest of taxpayers."
He also warned it would create a "slippery slope that will result someday in state funded Satanic schools, state funded Sharia schools," according to KFOR-TV, an NBC affiliate.
What we're watching: The school is set to open in August for the 2024-2025 school year.
What's happening: The plaintiffs in the lawsuit, a group of parents, clergy members and education activists, asked the District Court of Oklahoma County to block St. Isidore from operating as a charter school and the state from funding it.
They argue that St. Isidore's creation violated the Oklahoma Constitution, state laws and the virtual charter board's own regulations.
St. Isidore's application and its approval was also unlawful because it will discriminate against students of different faiths, LGBTQ students or students with disabilities if it opens, they argue.
The plaintiffs are being represented by Americans United for Separation of Church and State, the American Civil Liberties Union, the Education Law Center and Freedom From Religion Foundation.
What they're saying: "Allowing a religious charter school not only defies the will of the Legislature," said Robert Kim, executive director of the Education Law in a statement on Monday.
"[I]t also upends the very notion of public education by endorsing a school that has indicated it will refuse to abide by core principles, including non-discrimination requirements, that are essential to a public education system," Kim added.
"We have been advised by counsel to withhold further comment while litigation is pending," Avery Holt, the interim director of communications for the Archdiocese of Oklahoma City, said in a statement on Monday.
The big picture: Charter schools are publicly funded but privately owned and operated.
Advocates of charter schools say they provide an affordable alternative to private education and allow parents to tailor their child's educational experience.
Advocates of public schools, such as the National Education Association, argue charter schools undermine public schools by diverting funding and students away from them, increase segregation by race, ethnicity and income and often do not require their teachers to meet the same requirements as public school teachers
Go deeper