Black lawmakers blast Alabama's new congressional map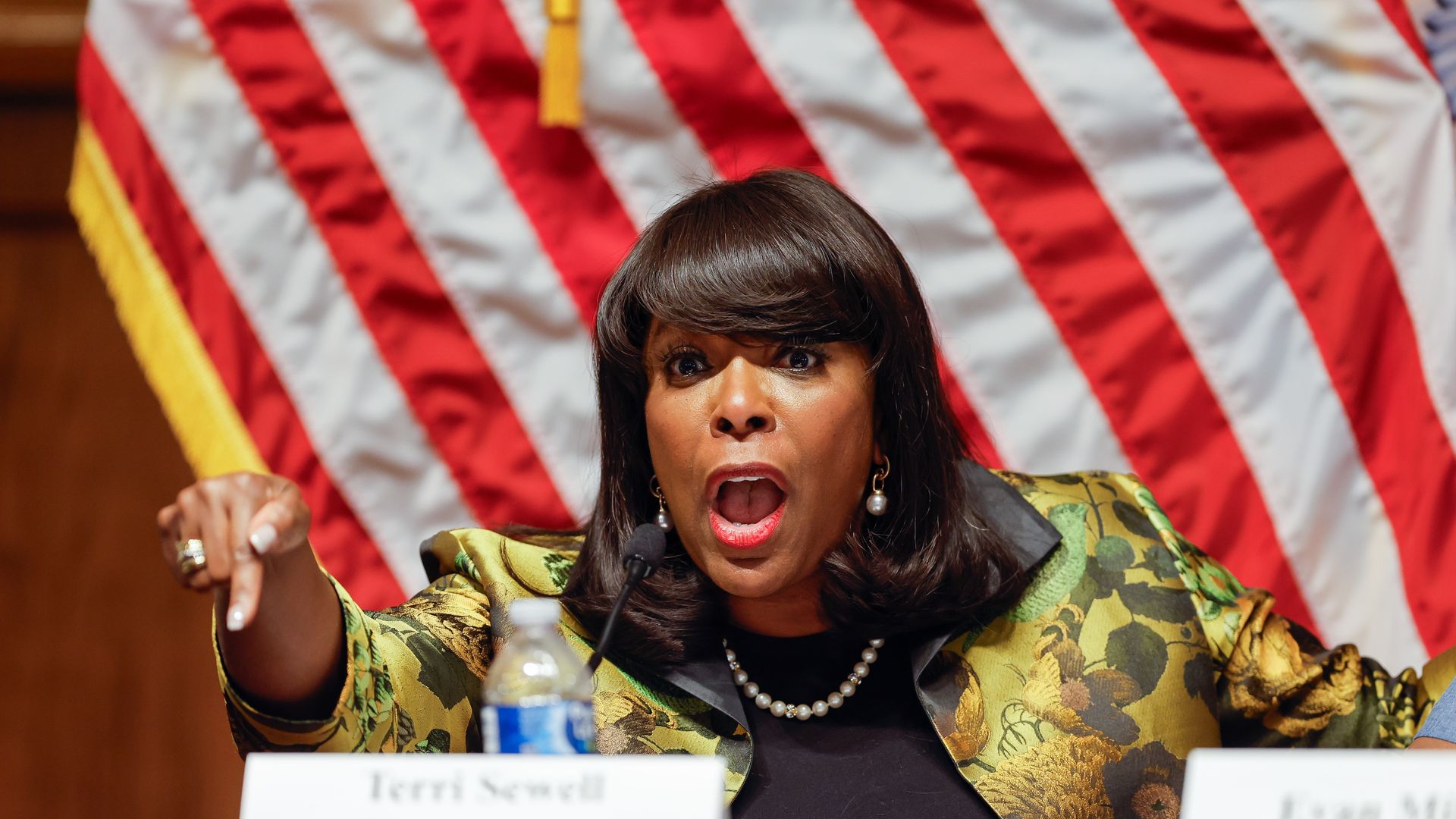 Congressional Black Caucus members on Thursday criticized the Alabama Legislature's new congressional map as a "shameless" attempt to limit the voting rights of the state's Black residents.
Driving the news: "At a time when many are trying to erase our history and roll back our progress, this is a reminder that old battles have become new again," said Rep. Terri Sewell (D-Ala.), the state's only Black representative in Congress.
Why it matters: Alabama's Republican-led legislature recently redrew the state's map under orders by the U.S. Supreme Court, which had ruled that Black residents were illegally underrepresented. But state lawmakers' solution has drawn widespread criticism.
The stakes in the Alabama case — and a similar one in Louisiana — are particularly significant at a time when Democrats need to flip just five U.S. House seats in the 2024 elections to take control of the chamber from Republicans.
What's happening: The court's ruling last month put pressure on Alabama lawmakers to create a second majority-Black congressional district in the state, which has seven House seats.
27% of Alabama's population is Black, but under the previous map nearly a third of the state's Black residents were crammed into a single district, which Sewell represents.
State lawmakers' new map would maintain just one majority-Black district, with the six other districts having Black populations ranging from 7.2% to 42.5%. It would decrease the Black population in Sewell's district.
What they're saying: Congressional Black Caucus chair Steven Horsford (D-Nev.) cast the legislature's move as a refusal to honor the Supreme Court order — and the latest example of efforts by Republican lawmakers to limit Black Americans' political power.
"Black people are under attack in America ... Our fundamental rights are under assault ... But we will not stand by quietly as it happens," Horsford said.
"This map does not comply with the Supreme Court's order and is an insult to Black voters across this nation," Sewell said. "I fully expect that it will be rejected by the courts."
Gov. Kay Ivey (R-Ala.) defended the new map and dismissed suggestions that a three-judge panel should not accept it on Aug. 14, when it will meet to decide whether to approve the map or have a court-appointed panel draw a new one.
"The Legislature knows our state, our people and our districts better than the federal courts or activist groups, and I am pleased that they answered the call, remained focused and produced new districts ahead of the court deadline," she said in a statement.
How we got here: The Supreme Court's ruling said Alabama's existing map violated the Voting Rights Act, which requires providing minority voters with "an equal opportunity to participate in the political process."
Alabama's NAACP had taken the state to court, criticizing a redistricting plan created after the 2020 Census that the group said limited the voting power of the state's Black residents.
What's next: The NAACP Legal Defense Fund will file objections to the Legislature's proposed map on Friday.
Sewell plans to introduce voting rights legislation in Congress aimed at restoring the part of the Voting Rights Act that once required Alabama and other states with a history of racial discrimination to get federal approval before changing voting laws.
Go deeper