Tattoos becoming hot trip souvenirs or destination draws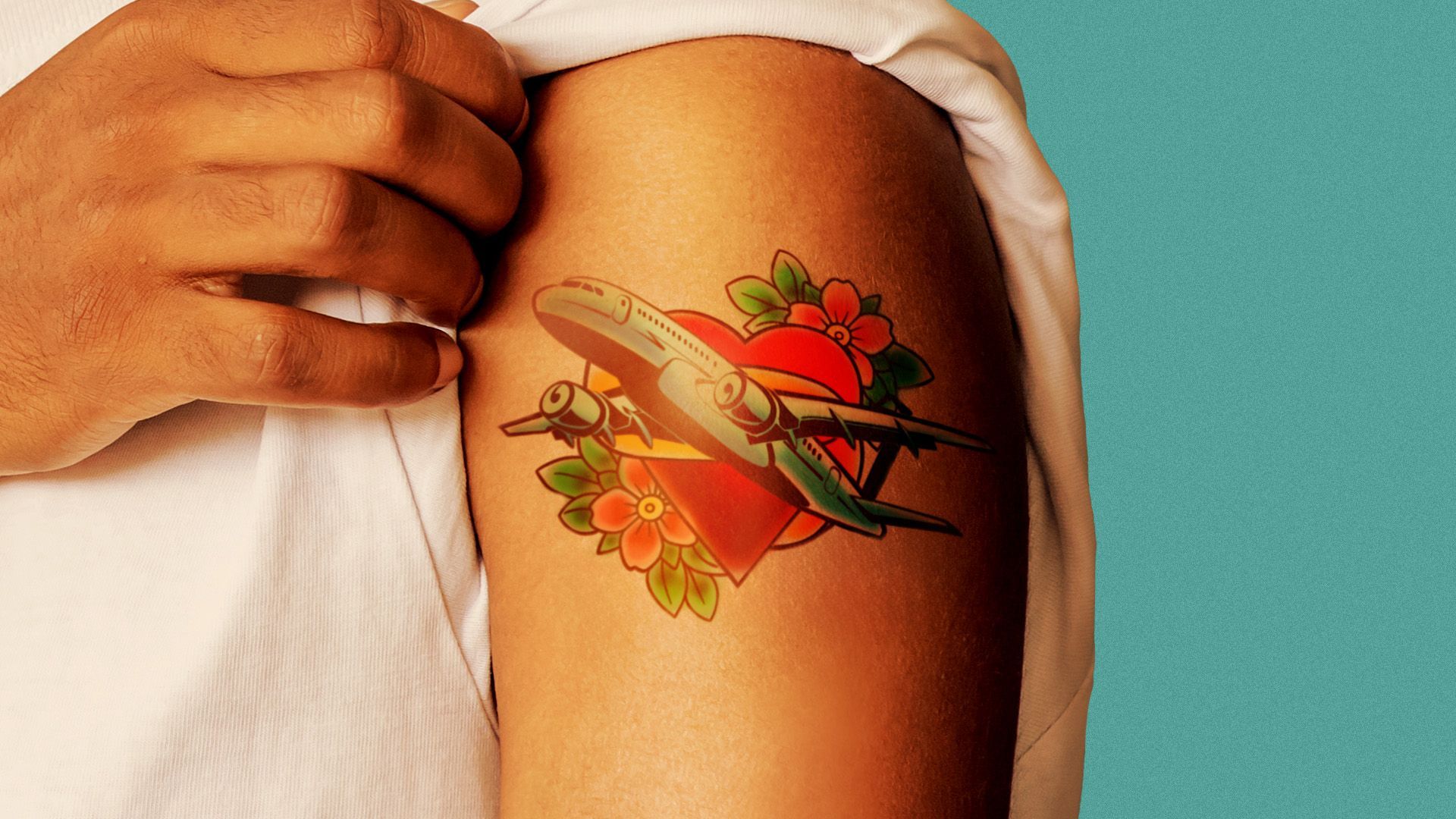 Finding a niche tattoo artist has never been easier, if you're willing to travel.
Why it matters: People are embarking on road trips and booking flights for new ink, expanding options and opportunities for themselves and artists alike.
Driving the news: Tattoo artists with massive social media followings are attracting clients from across the globe.
"A decade ago, transcontinental tattoo trips were rare, but nowadays, thousands of people make these pilgrimages," the Washington Post reported last year.
Instagram in particular has taken the place of tattoo magazines, which publish industry news and market artists' work, said Doy Gardner, the owner and manager of Black 13 Tattoo Parlor in Nashville, Tenn.
About 40% of Black 13's clientele travels to Nashville specifically for the shop's artists, and another 40% are tourists who want a piece done while they're visiting, Gardner said.
Most people who travel for tattoos are in their late 20s and 30s with the financial means to travel along with the flexibility in their schedules to do so, he added.
Context: Nearly half of people aged 13 to 39 have tattoos, according to 2022 polling from YPulse, which conducts Gen Z and millennial market research.
For some young people, tattoos are viewed as a form of self-care, per YPulse.
The intrigue: Seeking out a specific style is a common reason for clients to travel for a tattoo, as they can range by region.
People have driven five to eight hours from North Florida or Georgia to Miami for Kimi Do's fine-line work, she said. In the future, Do plans to travel to California to get work done by artists who create neo-Asian tattoos.
Jasmine Romero specializes in sigil tattoos, or custom symbols created collaboratively with clients. They recently tattooed a client who traveled to Jersey City, N.J. from Atlanta for a piece after about a month of coordinating.
"What people tell me when they come to me is that they're excited to see someone doing work that has a touch of more whimsy and more magic," Romero said.
Our thought bubble from Axios' Kerry Flynn: I got a free tattoo courtesy of Pinterest at the Cannes Lions International Festival of Creativity in France this summer.
The artist from London specializes in fine line. I chose the word "manifest" as a tribute to my dream back in 2015 as a fledgling reporter to attend Cannes. That became a reality in 2019, but this past one was even more magical.
The big picture: Hotels and cruises are capitalizing on the tattourism trend.
Mark Mahoney, who has tattooed Adele and David Beckham, has been a guest artist at The Mandrake Hotel in London at least twice.
Florida-based Virgin Voyages has a tattoo shop on its cruises, with registration beginning once the cruise reaches international waters.
"Being able to say I got the tattoo in international waters on yet another adventure just makes it all the more special," Madison Blancaflor wrote in The Points Guy after getting a tattoo on a 2021 cruise.
Go deeper: Latino tattoo art makes waves
Go deeper