Gretchen Rubin's new rules for happiness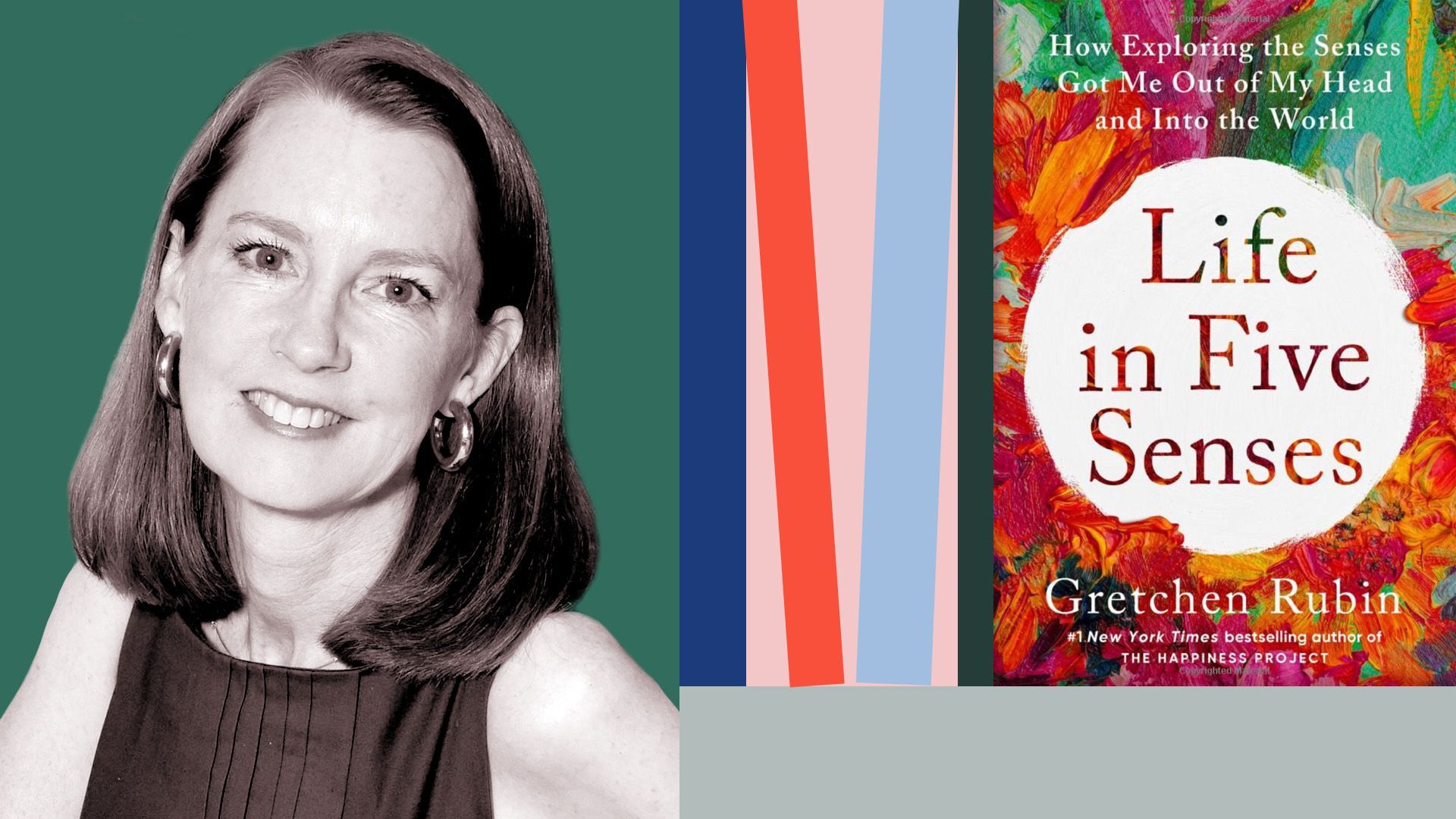 As the author of New York Times' bestsellers "The Happiness Project" and "Better Than Before," Gretchen Rubin is something of an authority on staying positive.
But during a doctor's appointment for a bout with pink eye, she got a jolt from news that she had an increased risk of vision loss.
While her vision was still fine, she walked out of the office with a renewed sense of purpose. She wanted to better appreciate the sight of her husband, the smells of home, the taste of something as simple — and complex — as Heinz ketchup.
Driving the news: The result is her latest book Life in Five Senses: How Exploring the Senses Got Me Out of My Head and Into the World.
Her previous work centered around how to use our individual tendencies to find personal happiness. But stepping away from the rush of life often comes down to simply tuning into the five senses of sight, hearing, smell, taste and touch.
"If you want to calm down and gain more serenity ... if you want to spark creativity, if you want to have more productivity and focus, if you want to evoke memories, the five senses are a tool where whatever direction you aim it, it works," Rubin said during a recent interview at the Aspen Ideas: Health conference, where she spoke on a panel about her book.
Picture this: As she sat at an outdoor table overlooking the greenery of the Rockies against the bright blue sky, she paused every so often to take in a deep breath of mountain air and appreciate the view.
Yes, but: There are so many ways in everyday life, not just while we're traveling, to use our senses to connect with others — like dining in the dark, for example.
"For me, the most important thing was engaging with other people because, if you have to pick one thing that's the secret of a happy life, it's relationships with other people," Rubin said.
Here are some of the ideas she offered:
👁 Make an "Album of Now." In a world where our phones are filled with vacation selfies, Rubin suggests collecting images of the mundane.
"The very day-to-day details become far more interesting later on, but we don't memorialize it. You take a picture of your family in front of the Eiffel Tower, but you don't take a picture in front of the hot dog grill," Rubin said. "I swear to you, in future years, it will mean so much more to you."
🎧 Get out of your default. Especially coming out of the pandemic, people are hungry for novelty but struggling to mix it up. Think about your senses, Rubin said.
"There are a lot more possibilities, but I think sometimes we just reach for the obvious thing," Rubin said. "You're meeting up with a friend? Go hit a sound bath instead of going to get a coffee."
Instead of a snack during your 3 p.m. slump, listen to some music or breathe in the scent of a new perfume, she said.
👅 Take a taste tour. Rubin and her daughters had her mother-in-law take them on a tour around New York to introduce them to the deli foods and baked goods she'd enjoyed as a child.
"She was clearly remembering things she'd forgotten, like talking about the knish and why it was like what her grandmother made," Rubin said.
"When I was planning it, I thought, 'Oh, this will be a fun adventure,' but it ended up being much more profound."
Go deeper