The U.S. and EU take cautious steps toward geoengineering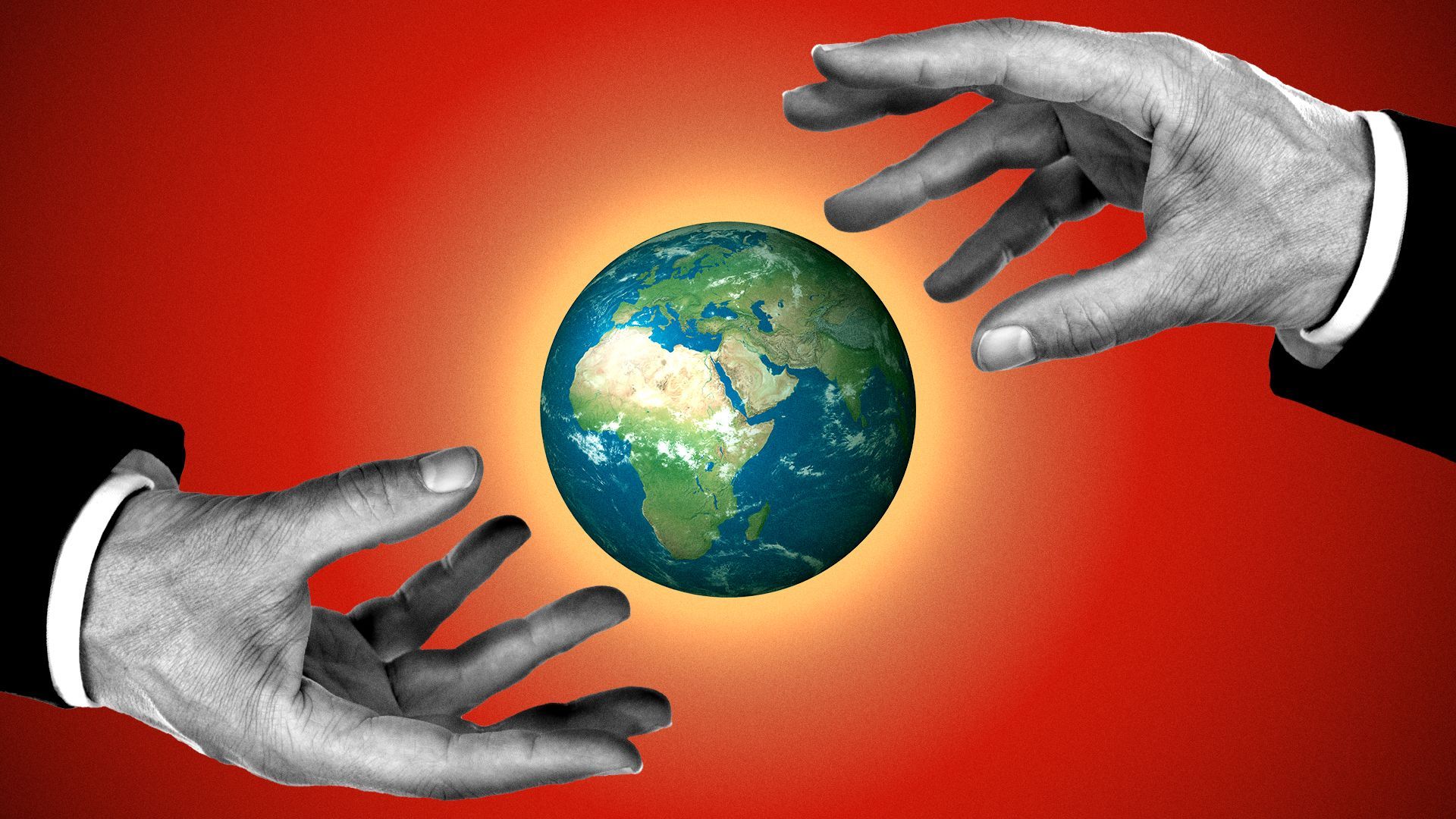 The U.S. and the European Union took separate, tentative steps toward researching the complexities involved with deliberately interfering with the planet's climate to temporarily offset the severity of human-caused global warming.
Why it matters: The moves demonstrate the growing interest in and concern about geoengineering as the world hurtles toward exceeding the Paris targets, and climate change leads to more extreme weather events worldwide.
Any geoengineering option, be it solar radiation management (SRM) or marine cloud brightening, would be a stopgap measure while countries work to cut greenhouse gas emissions from fossil fuel burning and other sources.
The big picture: Geoengineering could have unintended consequences that range from damaging ecosystems to causing droughts and other extreme weather events around the world.
This raises a host of political, ethical and legal questions that policymakers are only beginning to grapple with.
Zoom in: The Biden administration quietly released a report on June 30 — just ahead of the July 4th holiday weekend — outlining a potential research program primarily focused on solar radiation management.
The report notes that it was mandated by Congress in a 2022 appropriations bill, and is not part of any Biden administration climate initiative.
"Importantly, the issuance of this report does not signal any Executive Branch policy decision(s) regarding SRM," the report states.
Between the lines: The report was issued by the White House Office of Science and Technology Policy after input from 10 federal agencies.
It outlines what could be involved in an SRM research program in the U.S. It indicates that even if the country chose not to pursue that path, the blueprint would prove instructive in case another country or private actors tries it.
Importantly, the report does not recommend comparing the risks of pursuing geoengineering with the benefits of simply not going that route.
Instead, it advocates a "risk-risk" approach, recognizing that SRM has its downsides — but so to does continued, worsening climate change.
The intrigue: The White House identified one objective of a research program as being able to detect the use or experimentation of geoengineering by another country or private company.
Currently, no international governing structure oversees such work, and nothing prevents a country or private actors from moving to full-scale implementation.
Meanwhile...The European Commission is calling for high-level talks on how to govern research and the potential use of geoengineering.
Documents released June 28 stated: "In the current state of development, a deliberate intervention in the Earth's natural systems, such as a solar radiation modification (SRM) deployment, represents an unacceptable level of risk for humans and the environment."
The Commission emphasized that the only solution to climate change is to address the root cause, which is emissions of planet-warming greenhouse gases.
What they're saying: "The most consequential aspect of this report is its existence," Shuchi Talati, founder and director of the nonprofit Alliance for Just Deliberation on Solar Geoengineering, told Axios via email.
"After decades of avoiding this topic and the taboo surrounding it, the significance of U.S. federal engagement cannot be understated."
Janos Pasztor, who directs the Carnegie Climate Governance Initiative, said governance is urgently needed for managing SRM, "Whether one is for or against, or unsure" about it, he told Axios in an email.
"This report addresses many of the needed governance elements, without prejudging any future decisions on whether or not SRM should be deployed."
Both Talati and Pasztor, however, faulted the U.S. report for lacking recommended follow-up actions. "This is where I am totally unclear," Pasztor said.
Go deeper