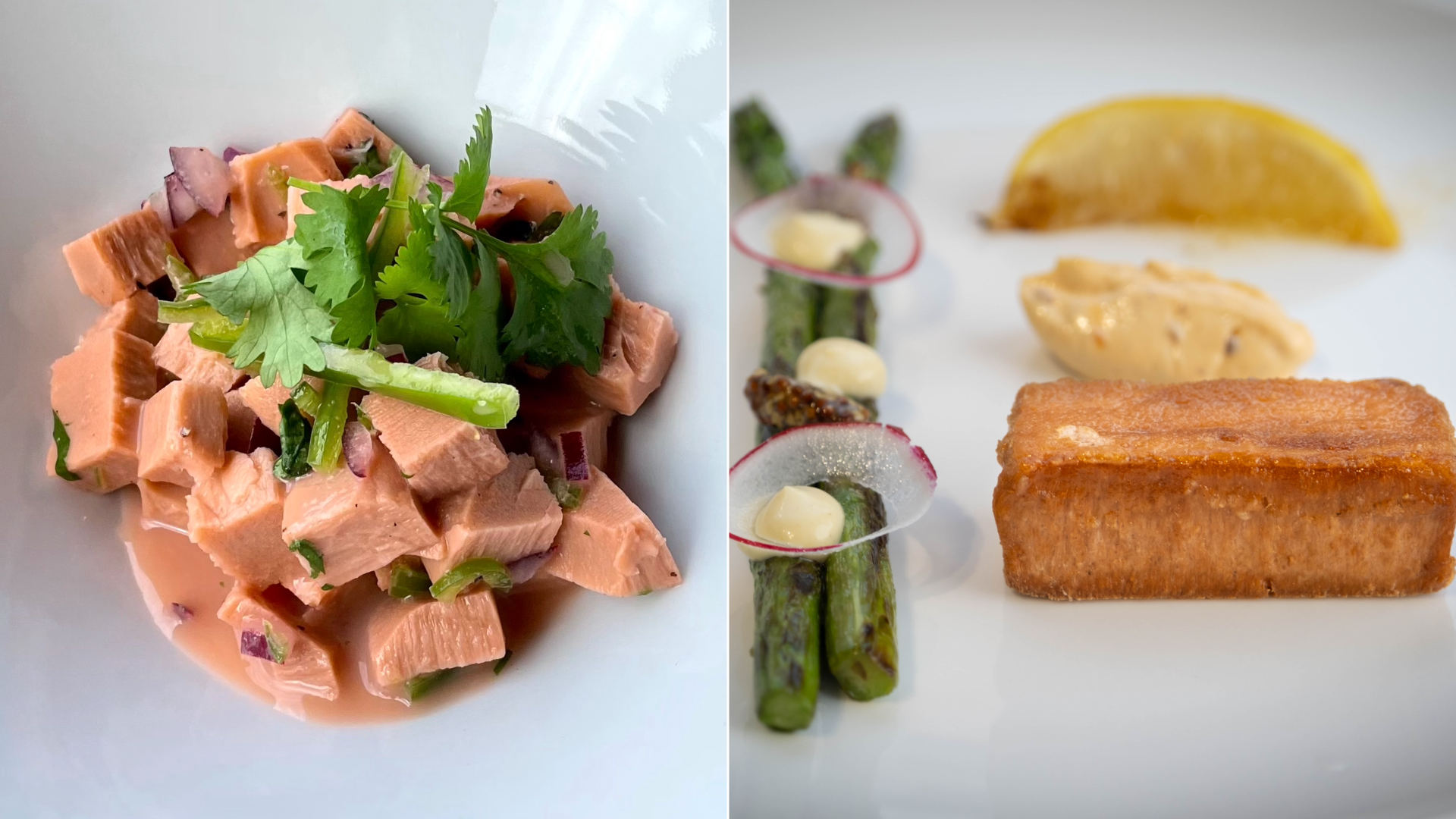 Plant-based faux salmon could be ready for fine dining soon.
The intrigue: New School Foods, a Toronto-based startup developing plant-based protein alternatives, invited a few journalists to a fancy dinner on Wednesday featuring its fish alternative.
The details: Guests were served an eight-course meal, with four dishes that included New School's plant-based salmon prepared three ways: seared, oven-roasted and in lemon juice ceviche-style.
Zooming in: As Axios Pro's Megan Hernbroth noted in February, New School Foods' process "includes freezing a plant-based gelatin block from the bottom up to create pre-measured icicle channels that are then filled with the alternative protein replacement."
My take: The faux salmon was fairly impressive. Its texture was fish-like, it had a salmon-y taste, and it played nicely with the garnishes and seasonings in the various dishes.
The ceviche's consistency most impressed me, especially since, according to the company, the product isn't meant to be eaten raw.
Yes, but: It's not quite there.
The company is still working on getting it to "flake" in the same way real salmon does (it had a firmness more like tuna, in my opinion). And the taste was a bit faint for me when compared to real salmon.
Flashback: The company recently raised $12 million in seed funding led by Lever VC, with Blue Horizon, Hatch, Good Startup and Alwyn Capital also participating. It also has grant funding from Sustainable Development Technology Canada and Protein Industries Canada.
What's next: The company will continue to tweak its salmon, and says it expects to roll out the product in restaurants first.
Go deeper