Biden's push for electric cars alienates longtime union allies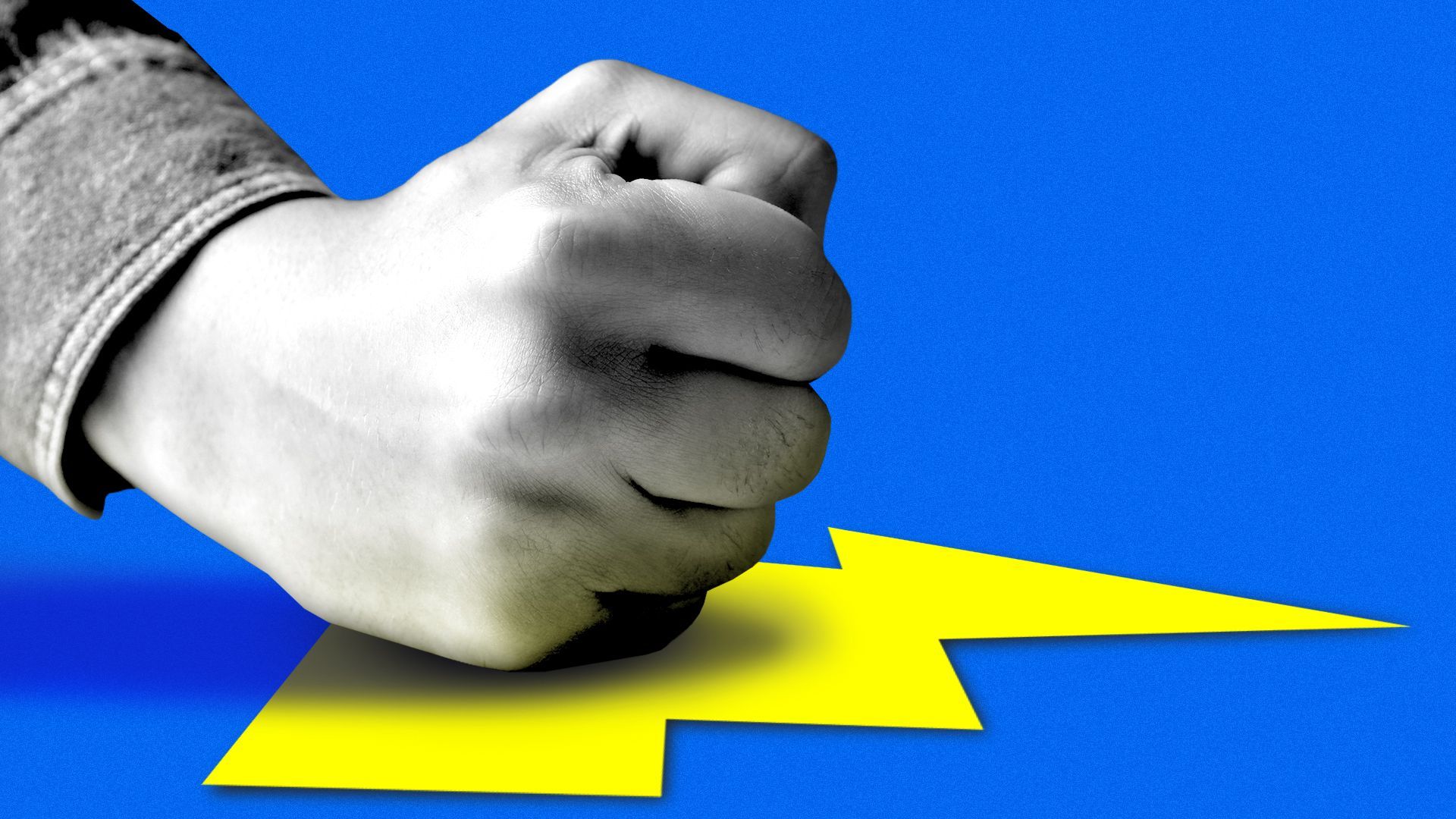 An emerging alignment between the United Auto Workers and former President Trump over electric vehicles threatens to sour the longstanding alliance between the union and the Democratic Party.
Why it matters: The UAW, representing more than 400,000 active workers, has long been a powerful force in progressive politics, serving as a Midwestern bulwark for Democrats.
But about one in three UAW members voted for Trump in 2016 and 2020, according to the organization's own polling.
And while President Biden has touted his aggressive push toward electric cars as part of a major reinvestment in American manufacturing, many auto workers aren't on board.
State of play: The newly elected president of the UAW has struck a fiery tone, saying the administration is "actively funding the race to the bottom with billions in public money."
UAW President Shawn Fain ripped the president after the Energy Department announced a $9.2 billion loan to Ford to build battery plants in the South.
"Why is Joe Biden's administration facilitating this corporate greed with taxpayer money?" Fain said in a statement.
The UAW is withholding an endorsement for Biden's 2024 campaign, after backing him in 2020.
"We want to see national leadership have our back on this before we make any commitments," Fain wrote in a memo to members, first reported by The Detroit News.
The big picture: The UAW's first job, before deciding which political candidates to support, is to protect its members — and most of them are building gas-powered vehicles, which are gradually being phased out in favor of EVs.
Fain worries EV factories won't employ as many people as traditional assembly plants because EVs are simpler to build, with fewer parts.
Plus, the union is upset about the prospect of lower wages at new battery-making joint ventures with foreign partners without collective bargaining agreements.
The intrigue: Fain's attack last week on Biden's EV incentives came two days before Trump descended on Michigan — the heart of the UAW — and echoed Fain's criticisms, hoping to score points with worried autoworkers.
Trump said the transition to EVs would lead to a "decimation" of Michigan's auto industry.
"It's going to be a level that people can't even imagine," he added.
Context: It's not the first time Trump and the UAW have been aligned on policy.
The union initially backed many of Trump's protectionist trade policies when he was president, including renegotiating the North American Free Trade Agreement (NAFTA), which they blamed for allowing U.S. manufacturing jobs to go to Mexico.
Reality check: There's no way the UAW will endorse Trump over Biden in 2024.
"Another Donald Trump presidency would be a disaster," Fain wrote in his letter to members.
What's next: The heightened political rhetoric comes as the UAW prepares to enter difficult labor negotiations with Detroit automakers next month.
Analysts and industry insiders say a strike is likely.
The other side: "The UAW is working toward the same goal as the President, which is to ensure the future of the auto industry is made here in America, with good-paying, union jobs," a White House spokesman said.
"America's auto workers are essential to achieving that goal. The most 'pro-labor President ever' is more than a slogan. It's a critical part of the President's effort to rebuild the middle class and empower workers as he ushers in this new American manufacturing boom."
Biden's re-election campaign, meanwhile, points to the historic early endorsements from the AFL-CIO and 17 others unions as proof of the president's pro-labor stance.
The bottom line: At a time when Democrats need the Midwest to preserve political power, the president's commitment to promoting EVs is testing his support among longtime allies.
Go deeper