Joby's next-gen aircraft begins production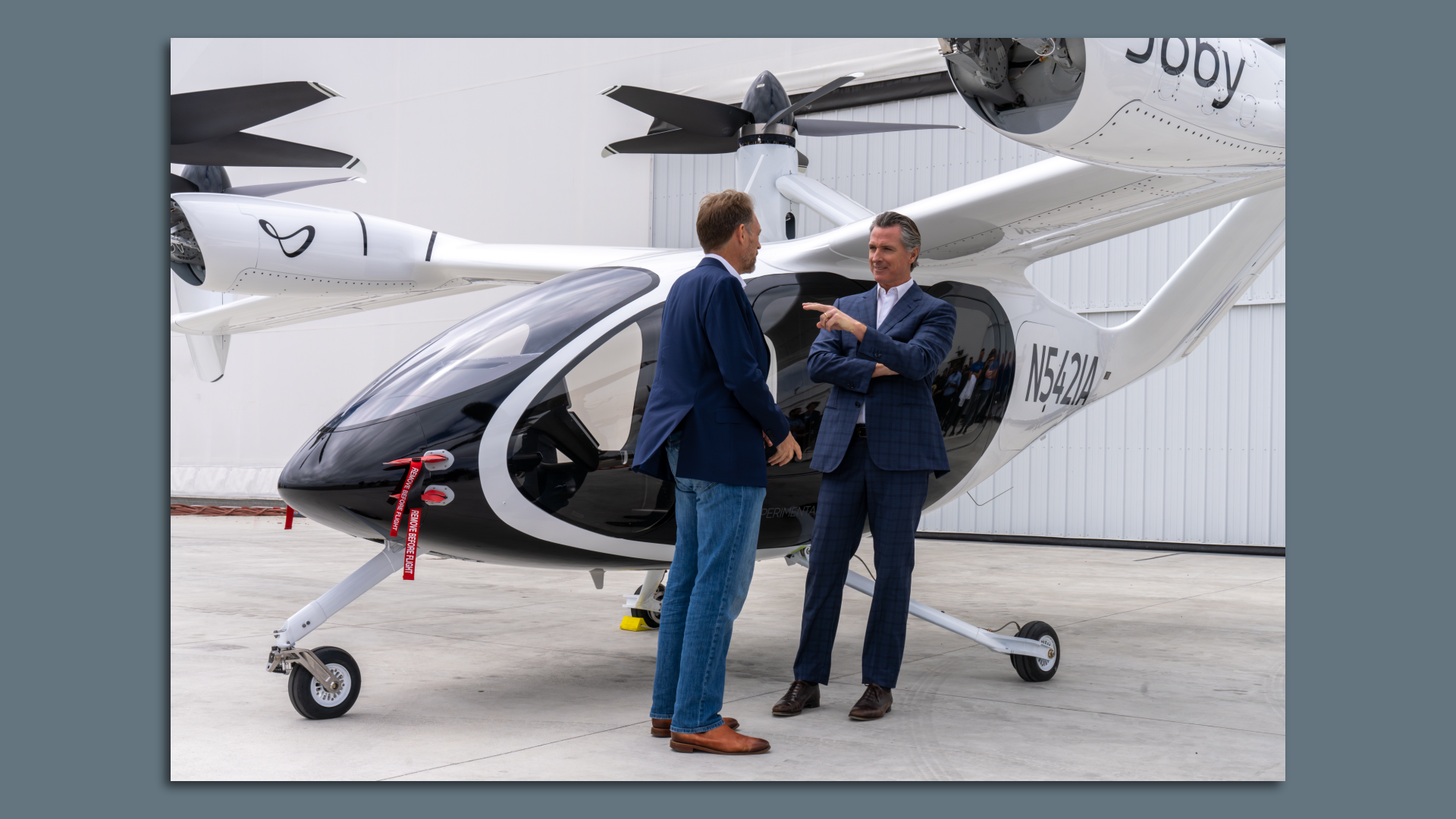 The electric aircraft of tomorrow are finally being built, albeit slowly, as the makers of innovative air taxis prepare to write aviation's next chapter.
Why it matters: These "flying taxis" could change the way people and goods move around, but only if such aircraft can be mass-produced in a cost-effective way.
What's happening: Several major players have started — or will soon begin — initial production, with plans to scale manufacturing in the next couple of years.
Electric air taxis could begin shuttling passengers as soon as 2025, pending Federal Aviation Administration certification.
Driving the news: Joby Aviation began production of its electric vertical takeoff and landing (eVTOL) aircraft on Wednesday.
While Joby has been building and flying pre-production prototypes since 2017, this is the first aircraft to be built in its pilot production plant in Marina, California, using processes and techniques learned from its biggest outside investor, Toyota.
What they're saying: "Toyota is the best company in the world when it comes to designing and building for reliability and then being able to make very complex assemblies at massive scale," said Joby founder and CEO JoeBen Bevirt.
Yes, but: Joby is still in the "crawl phase" of production, Bevirt said.
The company's manufacturing processes, as well as its aircraft, must be validated by the FAA before it can move to higher-scale production.
"The machine that builds the machine is a significant thing," he said.
What's next: The aircraft is the first of nine that will be delivered to Edwards Air Force Base under a contract with the U.S. Air Force, worth up to $131 million.
Meanwhile: Joby rival Archer Aviation earlier this month outlined progress on its manufacturing partnership with automaker Stellantis, saying the companies were pivoting from the "concept" to "execution" phase.
Archer's Georgia-based manufacturing facility is "well underway" and on track to come online by mid-2024, the company said.
A third company, Electra Aero, recently unveiled a variant on air taxis: an ultra-short takeoff and landing plane that uses a hybrid powertrain and "blown lift" technology to get airborne.
It plans to be ready to fly a full-scale prototype in 2025 as it works toward FAA certification by 2028.
Go deeper