FDA creates path for psychedelic drug trials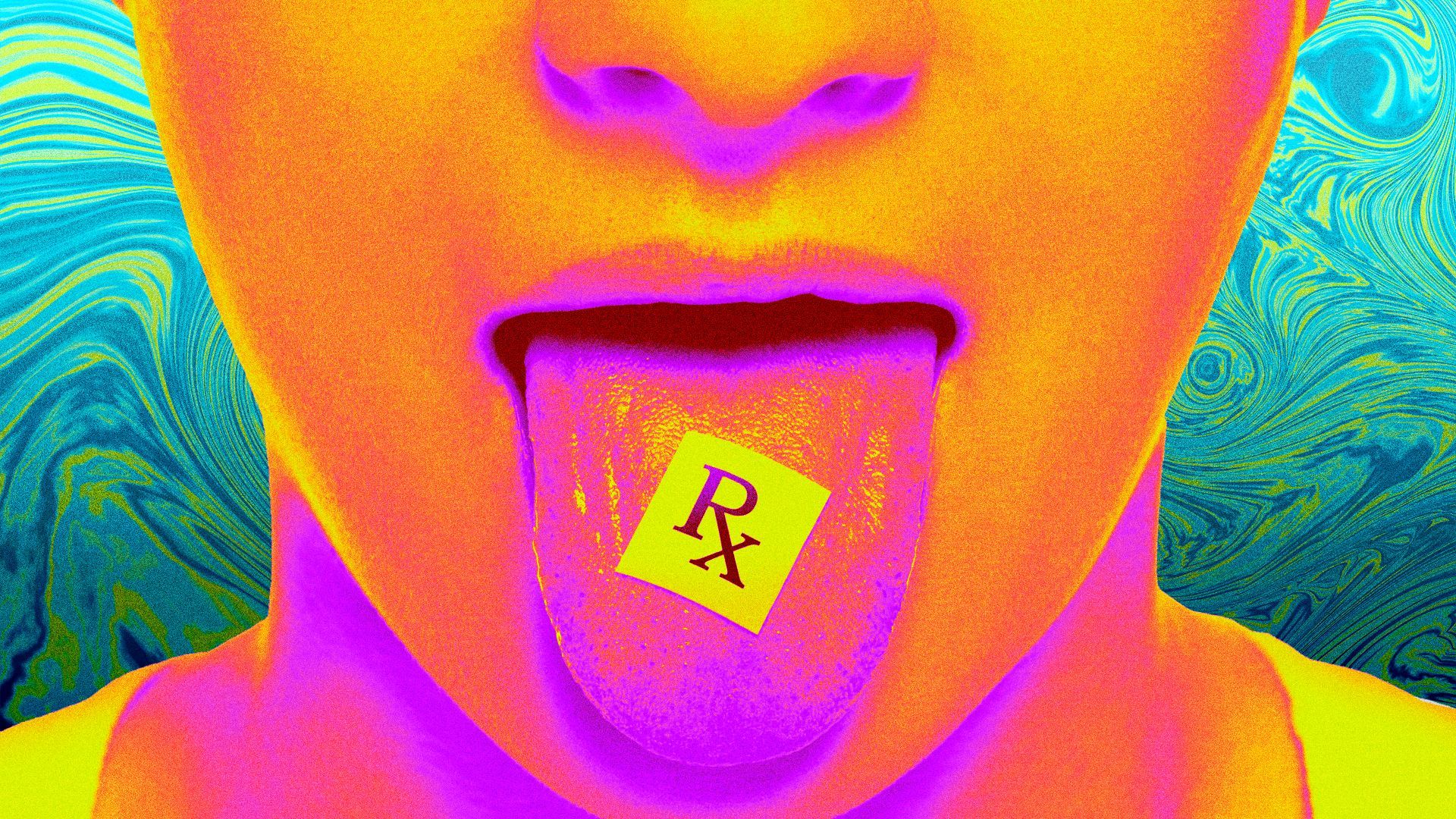 Federal regulators are laying out guidance for psychedelic drug trials for the first time, in a move that could encourage the mainstreaming of substances like magic mushrooms and LSD as behavioral health treatments.
Why it matters: Psychedelics are turning into a multi-billion industry and gaining widespread acceptance after decades of concerns about recreational use of the products — and the high risk for misuse. But research to date has largely been backed by private sponsors.
Driving the news: The Food and Drug Administration on Friday released first-ever draft guidance outlining considerations — including trial conduct, data collection and subject safety — for researchers looking into psychedelic treatments for a variety of conditions, including PTSD, depression and anxiety.
The agency filed the 14-page document two days after a bipartisan coalition in Congress led by Rep. Dan Crenshaw (R-Texas) introduced legislation directing the issuance of clinical trial guidelines.
It also came as 10,000 attendees and hundreds of exhibitors converged on Denver for what was billed as the "largest psychedelic conference in history," with guests ranging from New York Jets quarterback Aaron Rodgers to National Institute of Mental Health director Joshua Gordon.
Details: The FDA guidance covers studies on "classic psychedelics" like psilocybin (often called magic mushrooms) and lysergic acid diethylamide (LSD), or "entactogens" or "empathogens" like methylenedioxymethamphetamine (MDMA).
These drugs have shown promise for treating a range of addictions and mental health disorders.
With the guidance, the FDA hopes to "help researchers design studies that will yield interpretable results that will be capable of supporting future drug applications," said Tiffany Farchione, director of the FDA's Division of Psychiatry.
This includes a focus on potential interactions with drugs like antidepressants or lithium.
Yes, but: "People want to enter the market without having to do the experimentation and the safety and efficacy analysis," said Kimberly Chew, an attorney at Husch Blackwell focused on psychedelics and emerging therapies.
Most don't want to go through the FDA approval process because it's expensive, resource intensive and "they just want their business to thrive," Chew added.
Businesses might instead opt to follow state frameworks for allowed uses, leaving the psychedelics they market as unapproved and illegal under federal law.
The envisioned use of psychedelics in combination with therapy could also drive up costs for sponsors, and make it harder to assess the drugs' efficacy.
The big picture: An April analysis in JAMA Psychiatry estimated that most states will legalize psychedelics by 2037.
At least 25 states have considered legislation, with most introduced in the past two years, per researchers.
Between the lines: Psychedelic drugs seem to be facing much less pushback than medical cannabis did.
Chew told Axios a possible reason is that psychedelics have been shown in pilot studies to have some clinical benefit while cannabis was mainstreamed largely through legislation.
Zoom in: The FDA said that if the guidance does become final, researchers must comply with the Drug Enforcement Administration, which classifies LSD, MDMA and psilocybin as Schedule I controlled substances that have a high addictive potential and have no current accepted medical use.
Their illegal status complicates research by, for example, requiring companies to file multiple applications and get a Schedule I license.
If the FDA did approve a psychedelic-based product it would correspondingly make a recommendation to move the drug out of the Schedule I for the particular use it was authorized for.
Don't forget: The FDA's draft guidance was largely expected by researchers in the field.
"This is a codification of recommendations and guidances that the FDA has developed as clinical trials for these substances have progressed," said Steven Grant, director of research for the Heffter Research Institute, which studies whether psychedelics can treat several health conditions.
The FDA is in constant communication with drug sponsors, "and this represents a compilation of responses that FDA has, so that everybody can be on the same page," Grant added.
State of play: Companies developing psychedelic drugs welcomed the regulatory certainty.
"It's really formalized in this guidance document that the way we have been approaching this over the past several years is consistent with current thinking ... from regulators," said Robert Barrow, CEO of MindMed, which has multiple ongoing trials on psychedelic drugs for the treatment of mental and neurological illnesses.
The Multidisciplinary Association for Psychedelic Studies's for-profit subsidiary, MAPS Public Benefit Corporation, said the guidance was "an important step forward for the development of psychedelics to support future drug applications."
The guidance "is aligned to what we already understand of the agency's thinking," said Christopher Williams, a spokesperson for drugmaker COMPASS Pathways. "We see no need for changes to our trial designs as a result of the draft guidance."
What's next: Public comment on the proposed guidance starts Monday and ends on Aug. 25.
Go deeper