Disaster investing, wildfire edition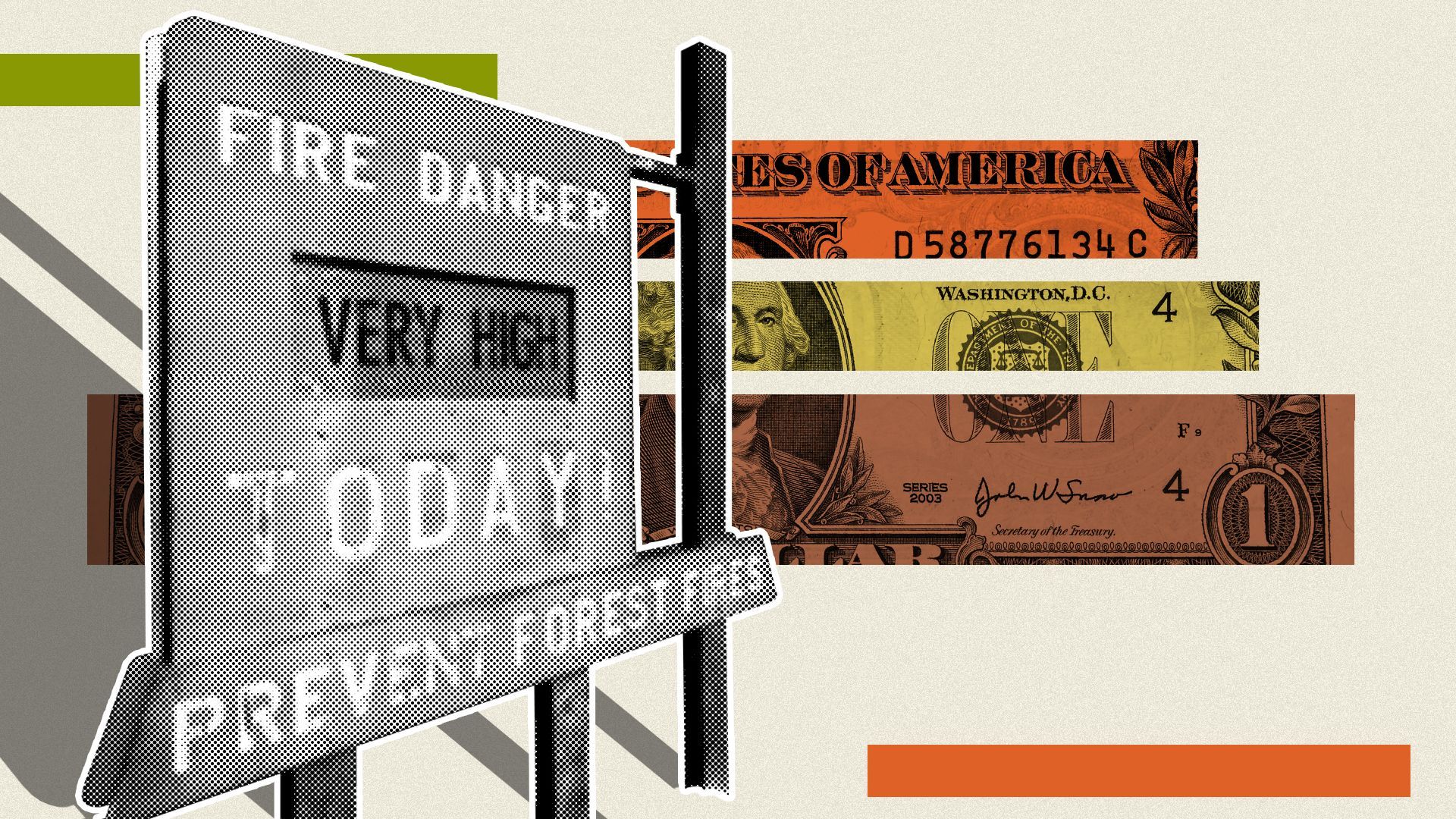 Since Canada's wildfires shrouded the East Coast with smoke and unhealthy air quality, Convective Capital — a young venture firm solely focused on wildfires — has been getting a lot more calls: from entrepreneurs, limited partners and people in related fields like insurance.
Why it matters: It's becoming clearer that wildfires are not isolated regional issues, especially when it comes to the effects of smoke.
And the smoke-filled skies over New York City and Washington, D.C., drove home the urgent need for solutions.
What they're saying: "Wildfires have always existed, for thousands of years," managing partner Bill Clerico tells me.
"What's new is these extreme mega-fires at scales we've never seen before — I look at the [Convective Capital] mission as curing the mega-fire issue," he adds.
Flashback: Clerico, who previously worked at JPMorgan after selling fintech startup WePay to the bank, raised Convective's inaugural $35 million fund last year.
He was inspired to start the fund after a wildfire erupted near his family cabin in Northern California in 2018 and he experienced the especially harsh air from wildfire season during the pandemic.
The big picture: Wildfires certainly cause a huge amount of destruction (just ask home insurance companies that are pulling out of markets like California!). But the impact of wildfire-related smoke is even greater.
One recent study estimated that globally, more than 33,000 people die every year from wildfire smoke.
Zooming in: Convective Capital has identified more than 300 startups working on wildfire-related technology, says Clerico. The entrepreneurs run the gamut: young tech founders who've participated in Y Combinator, experienced firefighters who've teamed up with technologists, academics and more.
"I think what we do see is overcrowding in certain areas and lack of focus in other areas," adds Clerico. "So part of my job is to help entrepreneurs think about areas that need more addressing."
For example, he gets countless pitches from startups developing tech to identify wildfires, but fewer focused on forest management.
So far, Convective's portfolio includes companies using drones and other robots like BurnBot and Rain; vegetation management startups like Overstory and Instinct; wildfire underwriting companies like Delos; power pole monitoring startups like Gridware; and wildfire detection outfits like Pano AI.
The intrigue: One surprise for Clerico has been the number of investors focused on climate tech who are interested — and end up backing — the companies in his portfolio.
Since it mostly invests at the seed stage, Convective aims to help its portfolio companies raise Series A funding from either a generalist venture firm or one focused on climate tech.
Between the lines: "There's a little bit of tension in the climate world between mitigation, and adaptation and resilience," he says, with some investors believing the industry should be singularly focused on reducing carbon emissions.
Wildfire tech is in the "adaptation and resilience" category, says Clerico, adding that he believes it's a better place to invest.
The bottom line: Although he expects to invest in this sector for many years to come, there are plenty of other climate disasters Clerico can expand his investing to if wildfires become more manageable, he says.
Disaster investing, chaos edition
For one venture capitalist, investing in "disaster tech" is a more subtle endeavor than writing checks to companies directly tackling a very specific type of disaster.
What they're saying: "[Army] generals are always fighting the last war. Whatever the next disaster is, we haven't done the prep yet," says Chaotic Capital managing partner Julie Fredrickson.
She adds that tools that increase resilience in regular life are much more likely to be helpful to people when disaster does strike.
"If your only buyer is the government, then you're optimizing for the government, not the people on the ground."
Backstory: Fredrickson spent much of her professional career as an exec and entrepreneur in retail and e-commerce. She tells me her experience in 2012 with Hurricane Sandy in New York planted the seeds for her interest in investing in tools for resilience.
While she struggled to get medication for a chronic illness, as federal law precluded her from stashing large quantities, her husband was busy helping to keep his employer's infrastructure going.
More recently, the pair relocated to Montana from Colorado after the Marshall Fire struck Boulder, where they'd moved early in the pandemic.
Zooming in: Chaotic Capital, which Fredrickson set up with her husband, Hiro Systems CEO Alex Miller, is a rolling venture fund they expect will amount to about $5 million during a typical deployment timespan.
"The thesis was, 'how do we enable individuals to act like large organizations, and how do we enable large organizations to act like individuals,'" she says of the types of companies they back.
So far they've invested in companies like open-source database startup Chroma and blockchain treasury management startup Squads, with several more in the pipeline.
Investors include Joel Spolsky, Balaji Srinivasan and Jim O'Shaughnessy, among others.
Between the lines: "Disaster is just one data point," Miller says. "Resilience is multiple nodes across four-dimensional human experiences. We do graphs, not data points."
The bottom line: Minimizing the impact when bad things happen is just as important as preventing it in the first place.
Go deeper