Grandfathers take on new nicknames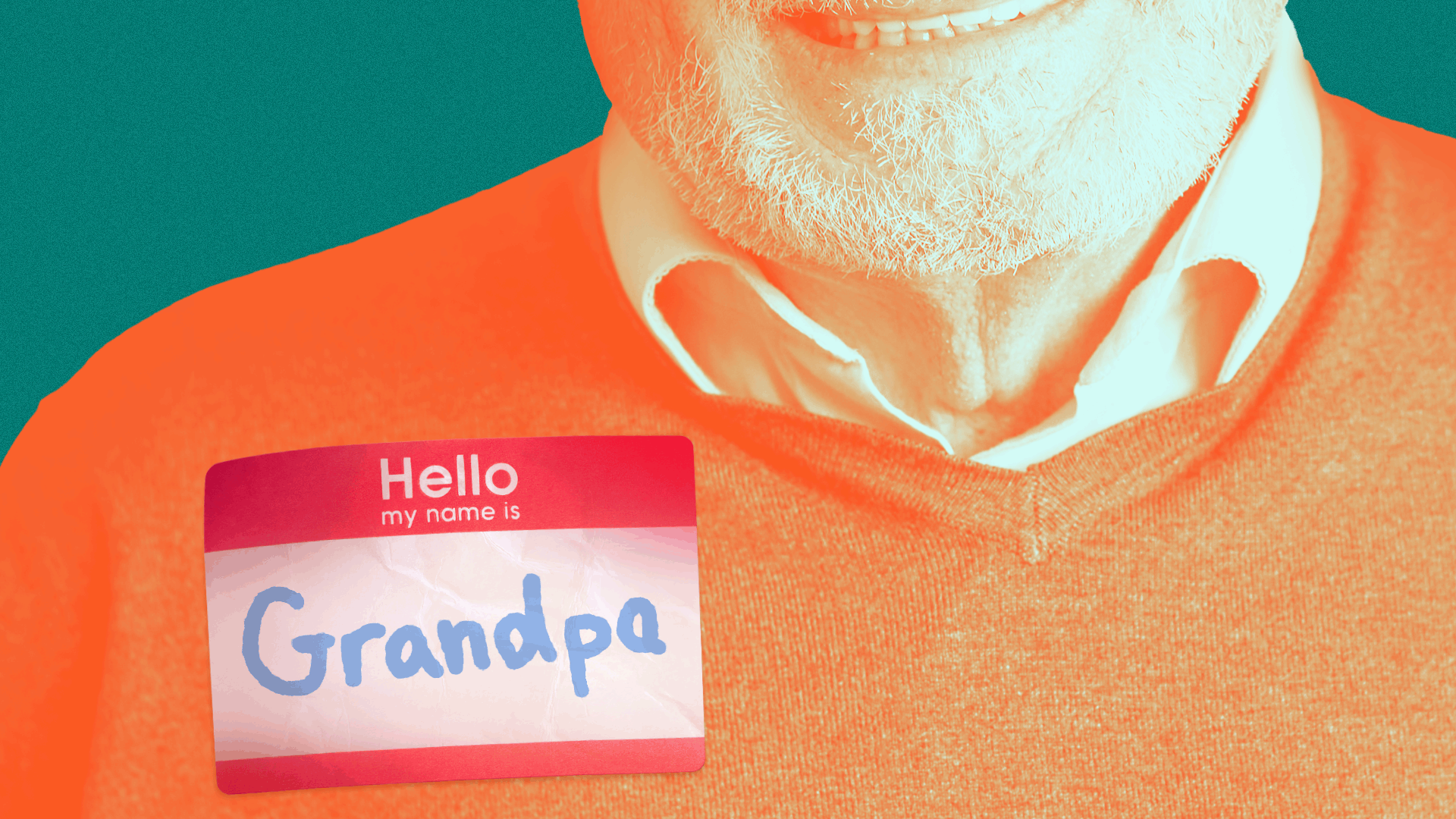 He's a father who's grand, but these days, he might not want to be called a "grandfather."
The big picture: New grandparent nicknames are inspired by cultural heritage, inside jokes and even concern about sounding old.
By the numbers: In a survey conducted this week by parenting site BabyCenter, the classic "grandpa" and "papa" reigned supreme as the names that users' kids called their parents.
But one-third of grandfathers went by other languages' words for grandfather, including the Spanish "abuelo," German "opa" and Italian "nonno," according to Rebekah Wahlberg, associate editor and baby name trends specialist at BabyCenter.
What they're saying: Grandparents often help care for kids, pass on tradition and share family history.
"You want to give them license to pick the name that they feel suits them, and that captures their spirit," said Grace Bastidas, editor-in-chief of Parents.com.
As more baby boomers become grandparents and families are blended, "there definitely has been a shift in how we pick these names," Bastidas told Axios.
"This generation is younger, they're working into their later years [and] they may want a name that feels a little bit more tied to where they are in their lives."
Modern nicknames can be inspired by the way grandkids talk, according to a number of Axios Finish Line readers.
"Pompaw" is the name of Madison Wisdom's grandpa, because her oldest cousin couldn't pronounce Papa.
"Bumpa" is what came out when Lisa Reynolds' son, Damian, tried to call her dad "Grandpa," and it remains his nickname.
"Baboo" is what Melanie Sewell's daughter, the first grandchild of the family, said while trying to pronounce "Grandpa," and it's stayed eight grandkids later.
Creative grandpa monikers are also commonplace.
"Quasi-Lolo" is what Leonard Greenberger calls himself as a step-grandfather to three Filipino/El Salvadoran grandkids. "The older ones call me 'Lolo,' which is Tagalog for grandpa," he said.
"G-Minor" is Carl Lashley's name for his granddaughters — and his wife is G-Major — because the family "wanted something musical that started with G," he said.
"GranDoug" is the nickname that distinguishes Alex Frenkel's dad (named Doug) from other grandparents.
Meanwhile, many choose names directly from their culture — and from other cultures.
"Abuelo," "Ito" (short for "Abuelito") and "Fonchi" (a nickname for Alfonso) are some of the names that Bastidas — who's Latina — says her daughters call her dad.
"Zayde" is the Yiddish name that grandpa Martin Swartz goes by. "Along the way, I was 'Tatti,'" he said, "which is Yiddish for Dad."
"Nonno" is the grandfather name for one of Bastidas' friends — despite the fact that he lacks Italian heritage. "I think that is allowed as long as you're doing it in a celebratory way," she said.
The bottom line: "There's no one way to choose a name," Bastidas said.
Editor's note: This story has been corrected to note that Grace Bastidas is Latina, not Latin, and to make clear that one-third of grandfathers went by the word for grandfather in other languages (not by nicknames in other languages).
Go deeper