Crypto Inc is illegal now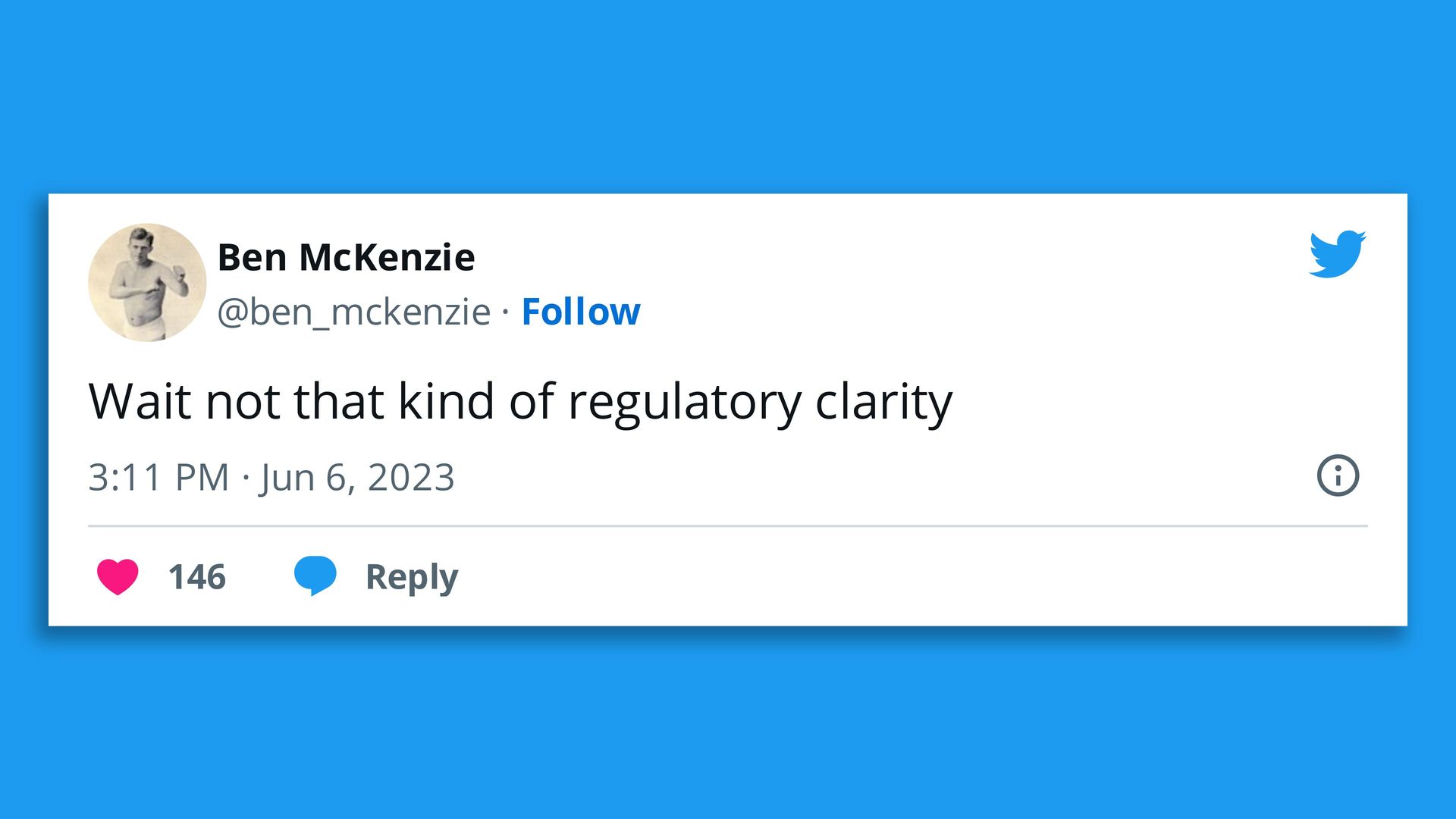 The U.S. government seems to have decided to kill the crypto ecosystem.
Why it matters: For over a decade, crypto was allowed to be given the benefit of the doubt. But those days are over.
The big picture: Crypto has, on its face, never been entirely aboveboard. Indeed, the initial dream, of creating a digital currency that could and should replace the U.S. dollar, seemed to be illegal from day one.
The FBI explicitly said more than a decade ago that "it is a violation of federal law for individuals … to create private coin or currency systems to compete with the official coinage and currency of the United States."
Yes, but: Bitcoin users and companies largely escaped prosecution unless they used their crypto in furtherance of other crimes, like extortion or theft or money laundering.
Between the lines: A lot of rich and powerful people were convinced that blockchain technology would prove to be just as revolutionary as the internet, and that it would be ludicrous for crypto to be illegal in the country that's home to Silicon Valley and most technological breakthroughs of recent decades.
Authorities held back on a broad crypto crackdown as the industry developed. Coinbase was allowed to go public, crypto bank Silvergate was regulated by the Federal Reserve, and Congress perennially mulled bills that would regulate the industry and give it (or at least certain companies) the government's formal stamp of approval.
Be smart: Other companies, from Uber to Citigroup, have also benefited from being allowed to remain in operation pending a change in the law. As SEC chair Gary Gensler puts it, crypto companies made a similar "calculated economic decision."
"Ask for forgiveness rather than permission" is a very common strategy in industries where first-mover advantage can be worth billions.
What happened: The implosion of FTX obliterated any hope that Congress would pass legislation that would retroactively legitimize the crypto industry.
Once that was clear, an SEC crackdown on crypto scofflaws was only a matter of time.
What they're saying: "The overriding goal of policymakers should be to keep crypto systemically irrelevant," wrote business professors Stephen Cecchetti and Kim Schoenholtz after FTX collapsed.
"Rather than creating a new legal and regulatory framework that legitimizes crypto, we should simply let it burn."
The bottom line: The crypto industry is burning down, and the SEC is pouring gasoline on the fire. Congress seems to be perfectly happy to stand alongside crypto skeptics and watch the fire burn.
Go deeper