The science behind teen girls' mental health crisis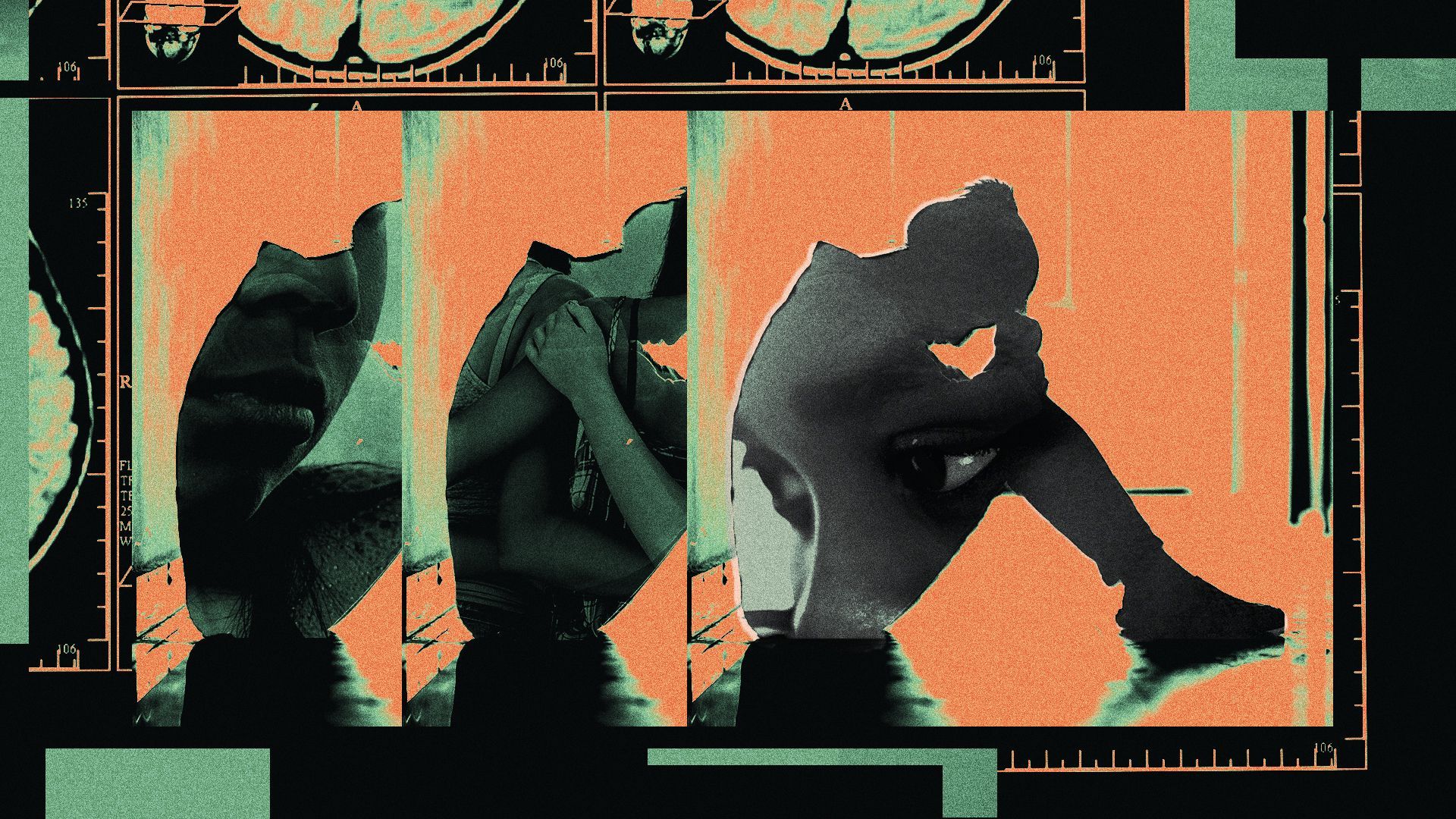 A brain chemical essential to decision-making and managing stress is emerging as another indicator of why teen girls are bearing the worst of the youth mental health crisis.
Why it matters: The way stress physiologically affects brain development is under-researched, leaving it unclear if there are better ways to identify and treat groups facing increased rates of suicidal behavior, sexual assault and depression.
The big picture: Gamma-aminobutyric acid, or GABA, is a neurotransmitter that plays a role in controlling anxiety and impulses. Low levels of it are associated with addiction and disorders like ADHD, PTSD and depression.
GABA levels during puberty are overall lower than they would be for 18-to-22-year-olds, but they're even lower for girls in the weeks leading up to their period, said Marisa Silveri, who leads Harvard's Neurodevelopmental Lab on Addictions and Mental Health at McLean Hospital.
This, under certain circumstances, can put them at greater risk for self-harm and the use of substances like alcohol, which can temporarily boost GABA levels, Silveri told Axios.
"Developmentally, they don't yet have that forward thinking to be like, 'This is a stressor right now. It's going to subside,'" Silveri said. "So part of the work with kids is how do you validate their worries no matter what they are and how do you teach them to sit with it?"
Driving the news: Teens girls who cope poorly with stressors like interpersonal conflict, or feel ill-equipped to find a solution, might be at elevated risk for suicidal behavior, according to a recent study from the American Psychological Association.
Adding targeted treatment and skills training to school curricula could help adolescent girls handle conflict and potentially reduce that risk, said lead author Olivia Pollak.
Surgeon General Vivek Murthy told a Senate hearing on Thursday that tackling the roots of the youth mental health decline will have to include "investing in school-based programs that equip children with the tools to manage their emotions" and rebuild social connection.
"For many young people, their confidence in the future has been undermined by the serious challenges," Murthy said. "They are set to inherit from economic inequality and climate change to racism and gun violence."
Zoom in: Prolonged stress can contribute to low GABA levels and affect the capacity to withstand stress or problem-solve.
Chronic stress and trauma can also trigger memory loss, prematurely age the brain and impair cognitive function.
Girls, who tend to internalize their feelings more than boys, are craving connection and emotional validation but "it doesn't seem like girls are getting that," said Maya Barnett, an immediate response clinician at ChildSavers, a Richmond, Virginia nonprofit focused on therapy for kids.
They're also regularly faced with "unrealistic expectations about clothing and about body image," said Lisa Ciappi, chief program officer at Effective School Solutions, which provides mental health services to schools across the country. "There's a little bit more regarding perfectionism."
"It's not a weakness and it's not a lack of their abilities," said Harvard's Silveri, whose lab focuses on the role of GABA in brain development. "It's just a developmental time course that we have to pay attention to."
What we're watching: One of the largest studies of adolescent brains with nearly 12,000 kids in the U.S. is underway to determine how childhood experiences affects development.
Go deeper