Arizona restricts new Phoenix housing over groundwater shortage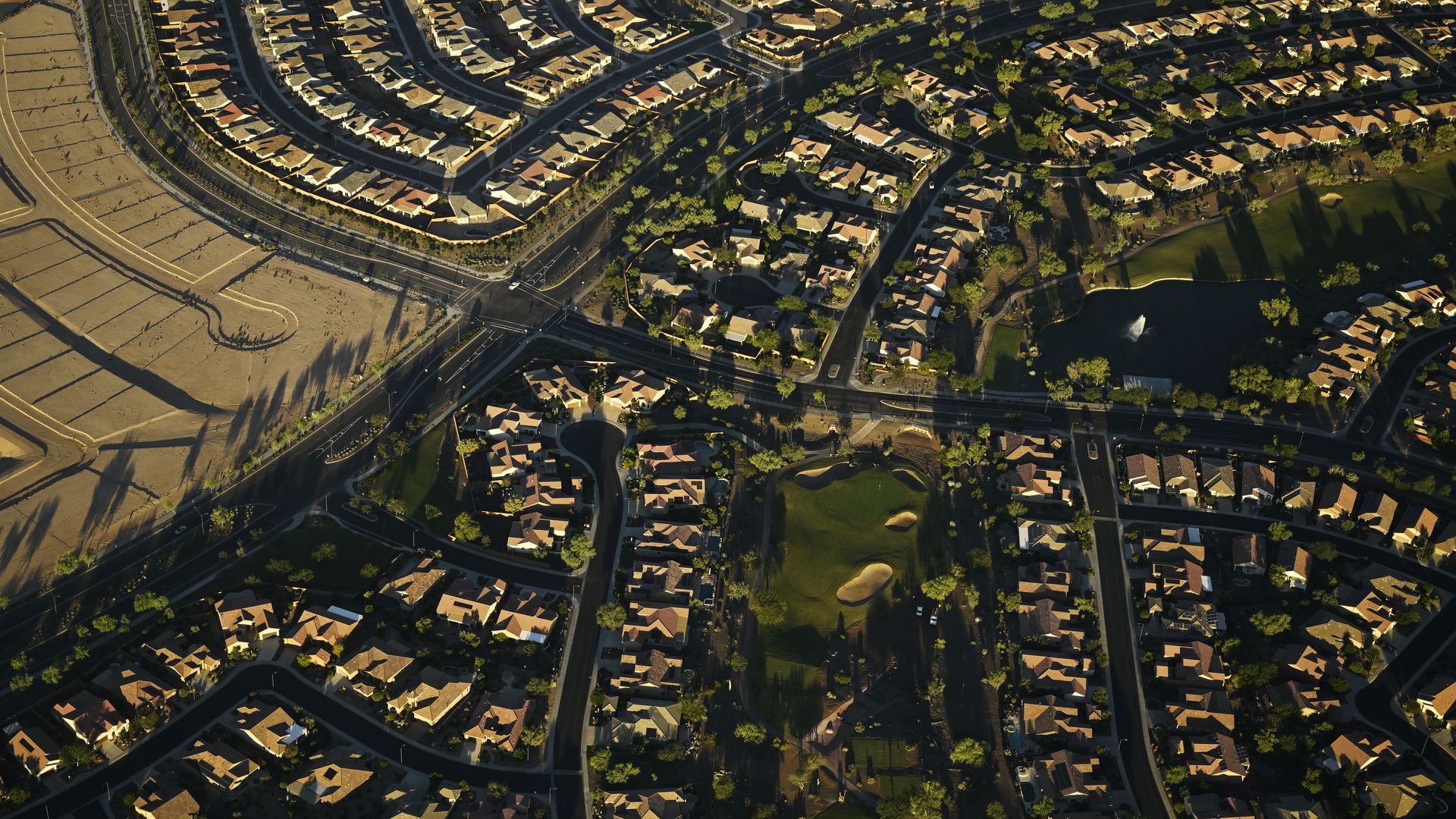 Arizona has paused approval for new housing subdivisions in the Phoenix area that would have relied on groundwater alone, a move that's likely to limit expansion in fast-growing parts of the west and southeast Valley.
State of play: Gov. Katie Hobbs (D) announced the policy Thursday in response to a new report from the Arizona Department of Water Resources (ADWR) showing the Phoenix area faces a projected 4% shortfall in groundwater demand, or nearly 4.9 million acre-feet, over the next century.
Of note: An acre-foot is about 326,000 gallons, which is enough for two to three houses per year.
The big picture: Fueled by climate change, Arizona and the rest of the Colorado River basin are in the throes of a 23-year megadrought that ranks as the worst the region's seen in 1,200 years.
Context: The Phoenix metro is one of six active management areas (AMA) where new subdivisions must demonstrate to ADWR that they have a 100-year supply of water.
ADWR will no longer issue 100-year certificates for groundwater, though they'll still be available for new housing that relies on other water supplies.
The agency enacted a similar policy in 2021 for the Pinal County AMA.
Why it matters: The policy will primarily affect fast-growing areas in the Valley like Buckeye, Queen Creek, the portion of San Tan Valley that's in the Phoenix AMA and other nearby communities.
"I'm not aware of any available supplies in the short term," Spencer Kamps, a lobbyist for the Home Builders Association of Central Arizona, told Axios Phoenix.
He also expects the cost of housing will be "significantly impacted."
What they're saying: "My message to Arizonans is this: We are not out of water and we will not be running out of water because, as we have done so many times before, we will tackle the water challenges that we face with integrity and transparency," Hobbs said.
Zoom in: Buckeye spokesperson Annie DeChance told Axios Phoenix the city's water future is secure and Certificates of Assured Water Supply it's already received from the state will support 20 to 25 years of growth.
Yes, but: Hobbs emphasized at a press conference yesterday the policy won't affect 100-year certificates for 80,000 homes in the Phoenix area that have already been approved, and that it won't impact industrial development.
She said major cities in the Valley have "robust water portfolios" that will allow them to continue growing based on other water sources, which are unaffected by the new policy.
ADWR director Tom Buschatzke said people can still meet their 100-year requirements with non-groundwater sources, long-term storage credits and other supplies.
What's next: The proposal only covers the next three years, and there's no guarantee that Arizona won't take additional cuts to its allotment of Colorado River water after 2026 if the drought continues or worsens.
Go deeper