Native Hawaiians reclaim energy sovereignty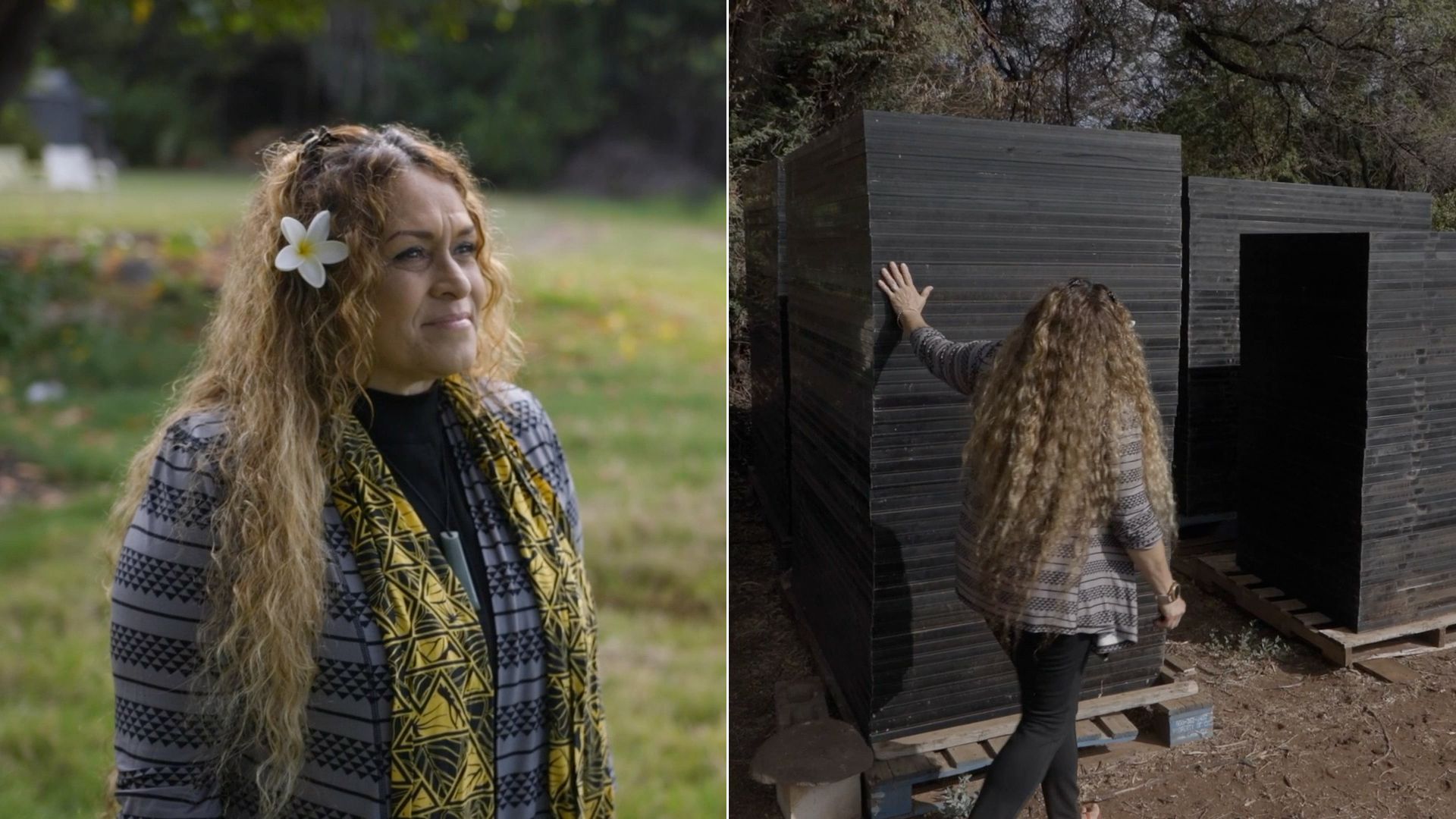 On the Hawaiian island of Moloka'i, a group of volunteers is tirelessly working toward 100% locally owned clean energy.
Why it matters: They are reclaiming energy sovereignty for the area's largely Native Hawaiian population.
How it works: Since launching in 2020, the Ho'āhu Energy Cooperative has installed rooftop solar panels on a handful of off-grid homes, trained local residents to become solar installers, and secured a contract awarded for Hawaii's first community-owned renewable energy resource project.
The latest: Last month, the volunteer organization submitted the Pālā'au Solar and Kualapu'u Solar projects contract to the Hawaii Public Utilities Commission, with a decision expected by the end of the year.
Public benefit corporations Shake Energy Collaborative and Mana Pacific are signed on as project developers.
Representatives of Ho'āhu tell Axios that, if approved, these projects will serve around 1,500 households or 20% of the island's population of about 7,400.
What they're saying: "We can build the best project that has the least amount of harm to our environment, because we understand, as a people, how important our environment is. We depend on it," Ho'āhu Energy Cooperative's co-founder "Aunty" Lori Buchanan tells Axios.
Buchanan, who is Native Hawaiian from Moloka'i, cites how burning fossil fuels for energy consumption drives climate change, which she sees as affecting the food security of her community.
Meanwhile: Buchanan is quick to point out that Hawaiian Electric, which is headquartered on another island, is currently the only supplier of grid electricity on Moloka'i.
"When I think about energy equity, I think about the one energy provider having that control, over a people that don't have control," Buchanan says. "It's like oppression to me."
State of play: In 2014, Hawaii set a goal of 100% renewable energy for electricity by the year 2045, becoming the first U.S. state to do so.
According to their own estimates, Hawaiian Electric reported reaching 32% in electricity generated by renewable resources in 2022.
Zoom in: Hawaii had the highest household electricity price among U.S. states last year, according to 2023 Statista data, with electricity rates surging statewide by 34% in April, compared with 2021 costs, per the New York Times.
Yes, but: Ho'āhu's project developer Shake Energy Collaborative's Ali Andrews tells Axios they're aiming for at least 20% savings for subscribers of the pending community solar projects.
More than 20% of the island's residents live below the poverty line, per the 2021 census.
Zoom out: Kilia Purdy-Avelino, a Ho'āhu Energy Cooperative volunteer board member, tells Axios she has lived off-grid on a Moloka'i homestead — or ancestral trust land set aside for Native Hawaiians through federal legislation — for nearly a decade.
At first, her family relied on an at-home solar system for charging smaller appliances — until it stopped working, which saw them switching to power supplied by generators. (Those also broke down repeatedly, which was costlier than she expected.)
The intrigue: Having recently completed Ho'āhu's micro-grid training program, a big difference she's seen with the cooperative is how Native Hawaiian homesteaders have been involved from "the very beginning."
"In the past, organizations overstepped ... whether they [were] aware of our homestead organizations or not, they sometimes just [went] after the land," Purdy-Avelino says. "We wanted to be proactive and have representation."
The bottom line: "Traditional Hawaiian culture, that's the way it was. You don't do things for yourself," Purdy-Avelino tells Axios. "'Laulima' means 'many hands.' Everybody helps each other, so everybody moves forward together."
Go deeper