Extended-stay hotels enjoy boom as travelers look for bargains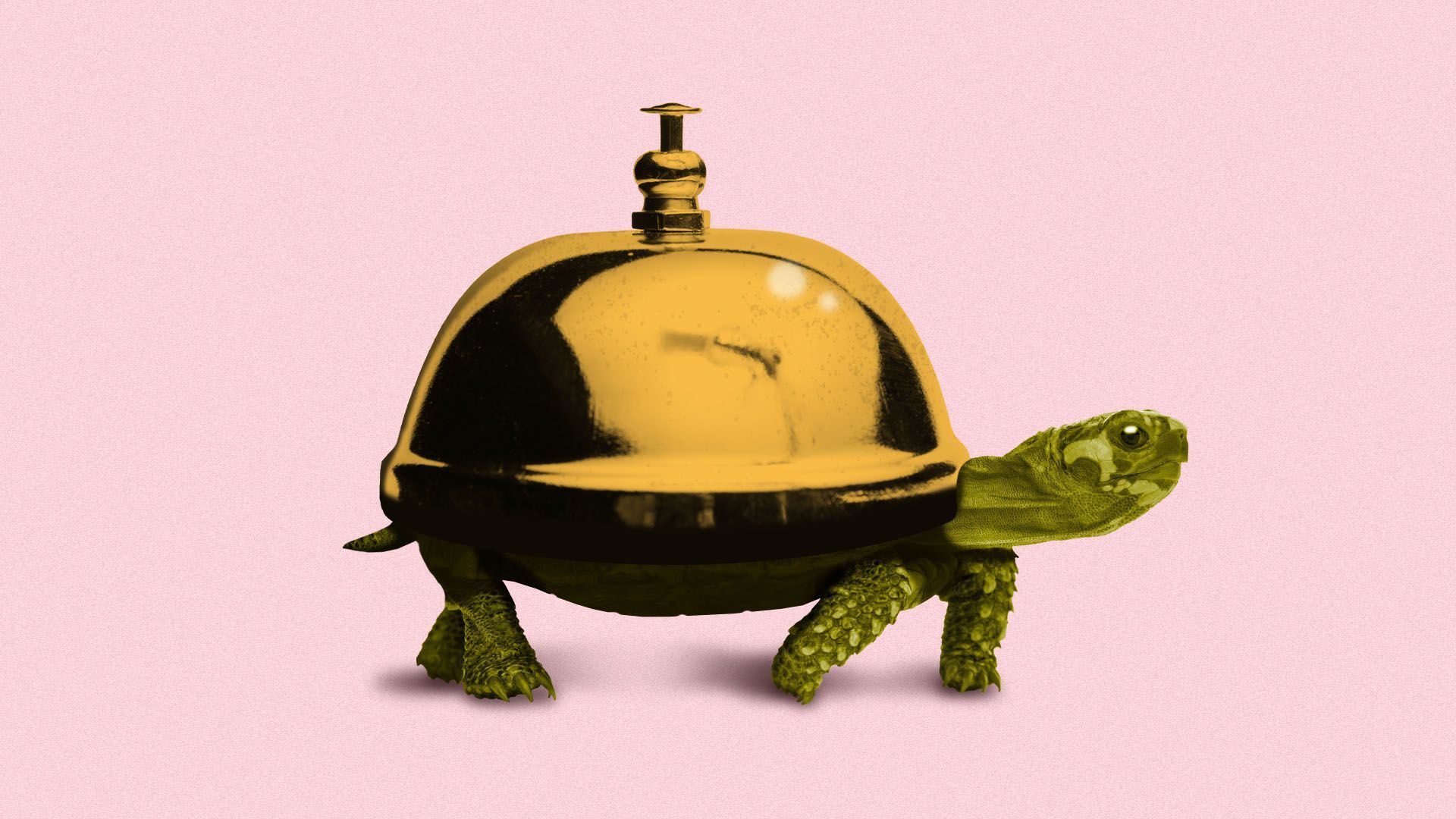 Extended-stay hotels are enjoying a surge in popularity.
Why it matters: Cheaper to build and operate, no frills extended-stay brands are having a moment, satisfying a need for temporary workers, people between homes and budget-conscious travelers.
Driving the news: Marriott, Hilton and Hyatt have each announced plans in recent weeks for new extended-stay hotel brands — defined as lodging with a kitchenette but without a lease requirement.
Hilton last week revealed plans for a "lower midscale brand" geared toward guests who need to stay for 20 or more nights, describing "Project H3" as providing "apartment-style" rooms.
Marriott CEO Anthony Capuano earlier this month announced plans for a new extended-stay brand with "basic services and amenities" at "a mid-scale price point."
Hyatt in April announced Hyatt Studios as its "entry into upper-midscale lodging in the Americas," featuring "complimentary grab-and-go breakfast" and a kitchen with a convection microwave.
Wyndham last year launched ECHO Suites Extended Stay by Wyndham — and it quickly took off, with CEO Geoff Ballotti calling it "the fastest growing brand in our development pipeline."
By the numbers: The U.S. hospitality industry had 51.5 million extended-stay room nights available in the first quarter of 2023, up 43% from 2016, according to a report by hospital consultancy The Highland Group provided to Axios.
Extended-stay room revenue totaled $4.37 billion in the first quarter, up more than $2 billion from the same period in 2016.
The intrigue: Extended-stay hotels were particularly resilient during the pandemic because they did not rely as much on transient travelers as traditional hotels, The Highland Group partner Mark Skinner tells Axios.
"That really heightened investor attention on the sector," he says.
Zoom in: Investors and chains are particularly attracted to extended-stay brands because they're less expensive to operate with fewer frills, fewer check-ins and less housekeeping, he added.
Also, "extended-stay hotels are cheaper to build and finance for new construction and conversions compared to higher-end hotel brands," CFRA Research analyst Siye Desta adds in an email.
Be smart: With conventional hotels pricing some travelers out of the market, the "favorable value proposition of extended-stay hotels" attracts consumers who "increasingly feel the impact of inflation and tighter financial conditions," Desta says.
Extended-stay hotel rates averaged $116.74 per night in the first quarter, according to The Highland Group.
Between the lines: In addition to long-term stays, these hotels attract short-term stays by budget-conscious travelers, such as government workers who like to pocket their per-diem for food by making meals in their room, Skinner says.
They're also popular among traveling youth sports teams and with international families visiting destinations like Disney World, he says.
"You can get multiple players in a room, so the per-player cost is relatively low," he says. "You've got full-size refrigerators, you've got laundry on site to clean all their uniforms, you've got the refrigerators to stock their drinks."
Meanwhile, extended-stay brands are fielding more interest from people who are between permanent homes due to housing prices and from construction workers living temporarily in growing states like Texas, Florida and Colorado, Skinner says.
"Construction is the single largest employment sector generating demand for extended-stay hotels," Skinner says.
The bottom line: Extended-stay hotels are extending their reach.
Go deeper