Communicator Spotlight: Laurie Schalow, Chipotle's chief corporate affairs and food safety officer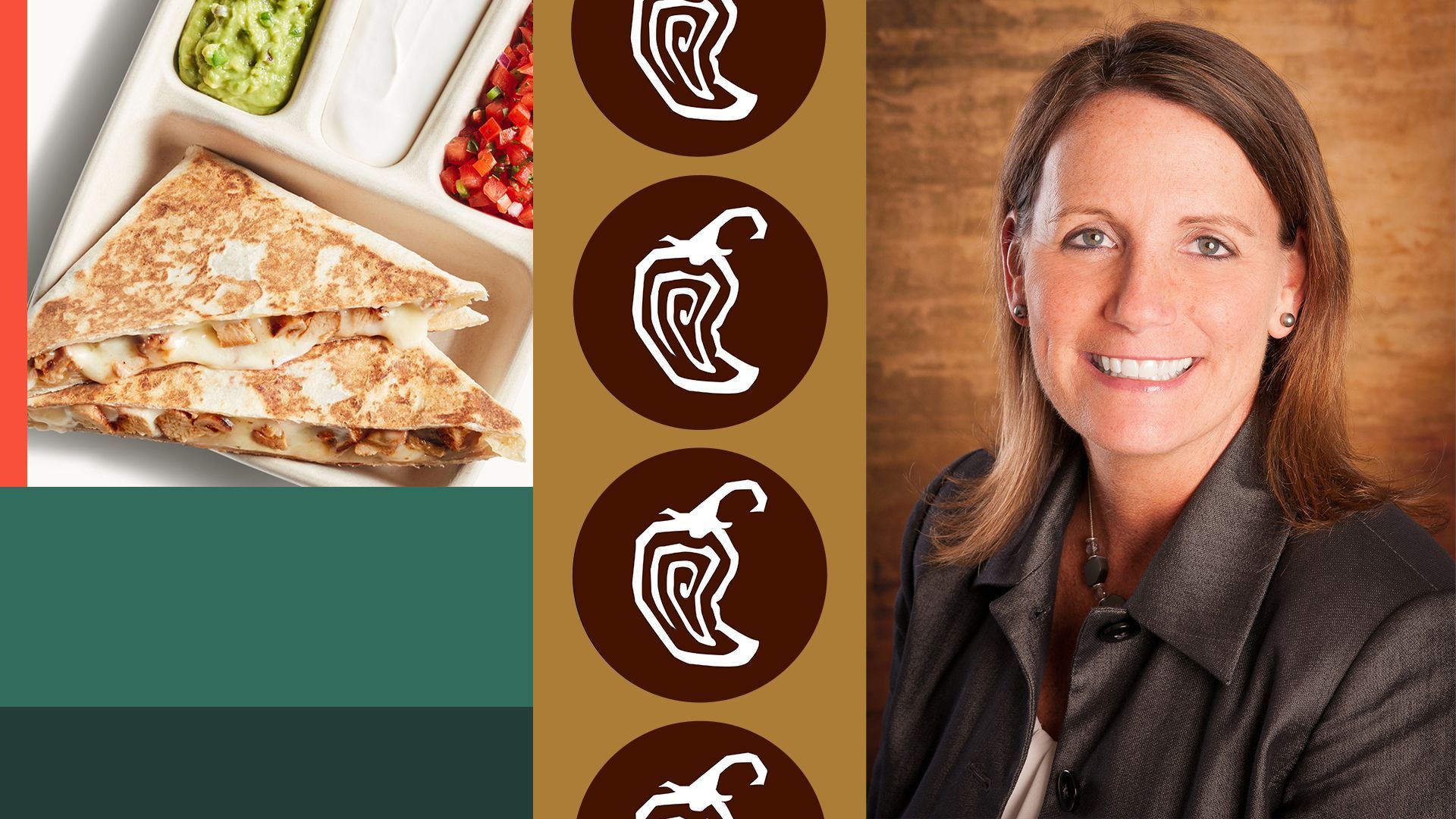 Laurie Schalow is Chipotle's chief corporate affairs and food safety officer, overseeing internal and external communications, sustainability, employee and guest service centers, social listening, food safety and quality assurance, as well as the Chipotle Cultivate Foundation efforts.
Why it matters: Schalow was brought in shortly after Chipotle's e coli outbreak in 2016 and has since put the food chain on the offensive.
"My job is to protect and promote our brand, and we do that through communication," she tells Axios.
The fast-casual restaurant is one of the biggest gainers on this year's Axios-Harris Poll 100 reputation ranking and one of the top performers of the Q1 earning season.
📍How she got here: Schalow has always worked in the food industry — her first job was scooping ice cream at Baskin Robbins in Bay Village, Ohio.
In her professional capacity, she spent over 20 years working across brands like Taco Bell, KFC and Pizza Hut. Most recently, she led public affairs for Yum! Brands.
"I joined Chipotle in the summer of 2017, which was a great opportunity to rebuild the brand image and be more forward thinking on communication strategies, [because] the brand had been struggling with some reputational risks around food safety."
📝 Comms goals: "In everything that we do, we want to make sure that consumers understand that we are more than just a restaurant company. We support farmers and help local communities from an environmental perspective, as well as an employee perspective — the majority of whom are located in in the restaurants across the country."
On engaging frontline workers: "We own and operate all of our restaurants, so we have an advantage that we can communicate directly ... but it's really hard to reach individuals, especially our hourly employees who tend to be a little more mobile. We are leveraging new technologies and new ways of communicating with individuals where they are — like communications through television screens, monitors and QR codes."
📈 Trend watch: Emerging social media platforms.
"I have two teenage girls, so I try to stay current and use all these new social apps that they're using, but it does help us to understand where people are getting news."
🏖 De-stress routine: Schalow is a southern California resident, so she unwinds by walking her chocolate labradors, Java and Latte, on the beach.
🎶 Guilty pleasure: The "Pitch Perfect" movies.
"It's kind of a joke within our family ... if there's nothing on [TV] we'll turn on 'Pitch Perfect.'"
📱Favorite social platforms: Instagram and Facebook.
🧠 Best comms advice: Learn to write clearly so that all audiences can understand the message.
Go deeper